Shedding Light on Workers' Interests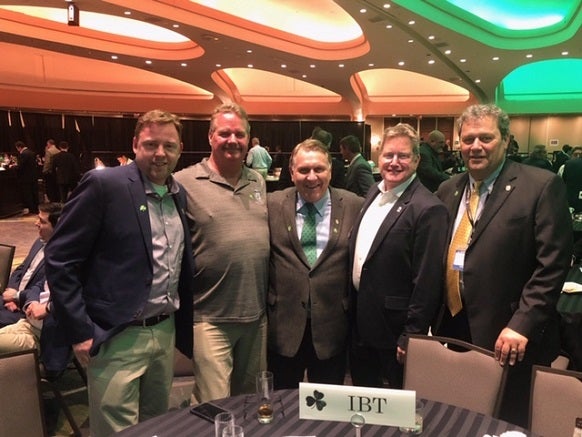 Teamsters from around the country joined with their fellow North America's Building Trades Unions (NABTU) members at NABTU's Legislative Conference this week to talk policy and hear from a slew of presidential candidates about moving the country in a direction that would prioritize the needs of workers above the corporate class.
Talk of infrastructure investment was mixed in with discussions about the need for enhanced job training as well as pension reform, and a slate of panels held at the conference addressed those topics. Attendees also visited their congressional members on Capitol Hill to lobby them to institute changes that would help workers.
Paul Slattery, Political Director at Local 120 in Minnesota, said the conference provided unionists with a venue to discuss ways to keep the union movement strong.
"It gives us a chance to talk about things like project labor agreements (PLAs) and why those are important, and why it is important to have union drivers bringing in supplies to the job sites," he said. "It helps us network on these PLAs so we are supporting each other."
Those in attendance, which included Teamsters General President Jim Hoffa, also heard from seven presidential hopefuls and two others still weighing presidential bids about what role unions would play in beefing up the economy for workers if they were elected. Those speaking were former Colorado Gov. John Hickenlooper; Sen. Elizabeth Warren (Mass.); Sen. Kamala Harris (Calif.); Rep. Tim Ryan (Ohio); Sen. Corey Booker (N.J.); and Sen. Amy Klobuchar (Minn.), as well as former Virginia Gov. Terry McAuliffe and Sen. Michael Bennet (Colo.).
Most of the contenders talked about the need to enhance unions in this country and further invest in infrastructure and job training, as well as the nation's growing income inequality problem. But some went further.
Warren drew several standing ovations from the audience during a speech that took aim at America's corporate class for forcing policies in place that hurt hardworking U.S. workers. She noted that big business was trying to "break the back" of unions, but they're not going to succeed. "Unions are not going away," she told the crowd. "Not today, not tomorrow, not ever."
She promised that if she becomes president, she would end so-called right-to-work (RTW) policies in place in 27 states, as well as work to create a trade policy that puts workers first. Warren also said she would treat opioid addiction "like the health emergency it is."
Ryan, a new entry into the 2020 presidential race, was also warmly received. He argued that for the last four decades, workers have done their job and played by the rules but "just can't make it" in an economy dominated by corporate interests.
"We are getting to the point that we have fallen so far behind that we may not find our way back," he said. "This is about whether leaders in Washington, D.C. give a damn enough to fix the damn thing."
Additionally, Klobuchar praised the Teamsters for their work on pension reform in the fight to save the Central States Pension Fund. And Swalwell announced that his staff will be members of Local 238 in Iowa after voting to join the Teamsters.
Slattery said candidates would be wise to focus on the needs of the middle class going forward. "When we talk about middle class jobs, we want to talk about things like health care, and the cost of health care and how we keep it affordable for workers," he said. "We also want to talk about retirement security. The people who work hard every year, they deserve a right to retire with dignity. And they also have to talk about middle class wages."
That's what it is going to take to win the votes of working Americans.
« Previous
Next »