Uncategorized
U.S. Workers Deserve Paid Vacation Time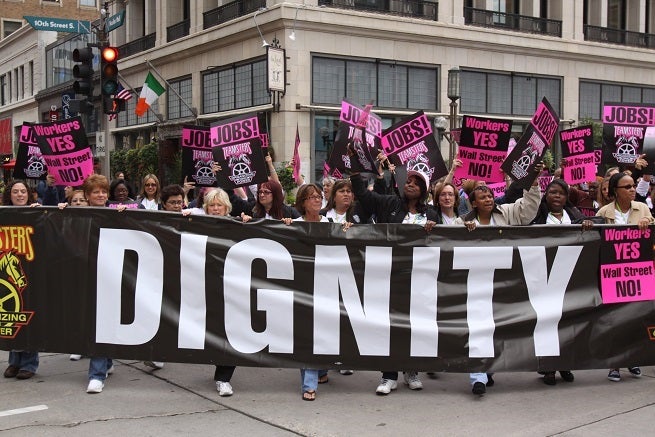 There's been a lot of talk about the need for higher wages, quality health care and retirement security in this space. But what about paid time off?
The U.S. is the only advanced economy that does not federally mandate any paid vacation days or holidays for workers. So as a result, companies don't prioritize it, and nearly a quarter of the nation's workforce doesn't receive any paid time off, according to an updated report by the Center for Economic Policy Research (CEPR).
"In the U.S., paid vacation and holiday benefits are based on luck in the boss lottery, not federal policy," said Eileen Applebaum, CEPR's co-director. "Since we did this study in 2007, there has been no progress on the national front to catch up with other rich countries. We can't depend on the largesse of employers to do the right thing."
Not only is there no such policy federally, there isn't one at any level of government. New York City is currently considering a measure that would mandate paid vacation.
As it stands, the percentage of employers giving paid vacation to low-wage workers has fallen from 69 percent in 2007 to 52 percent today. Meanwhile, 91 percent of U.S. high-wage workers get paid vacation.
By comparison, workers in the European Union are legally guaranteed at least 20 paid vacation days per year. Canada and Japan, meanwhile, guarantee at least 10 paid vacation days a year. Spain tops all nations in total paid vacation and holidays at 39 per year, followed by Austria with 38 days. Finland and Sweden are next at 36. The closest to the U.S.'s zero mandated paid days is Canada with 19.
Workers deserve respect and dignity on the job. But that is the exact opposite of what they are getting in this country when they are not given the right to take a vacation day with pay. The government sends a message that workers are disposable by not requiring companies to grant paid vacation.
It is time for elected officials to side with their constituents instead of their corporate cronies. Working Americans deserve mandatory paid time off!
« Previous
Next »