Airline Division News, Week Ending July 12, 2019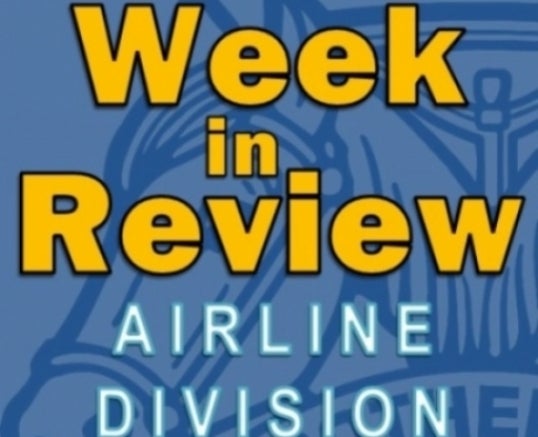 Governmental and Regulatory
A bipartisan group of House lawmakers assembled on the lawn of the US Capitol July 10 alongside union officials representing pilots, flight attendants and technicians to announce legislation that would renew stalled efforts to target "flag of convenience" carriers.
The US Commerce Committee voted along party lines to advance Steve Dickson's nomination to head the FAA, setting the stage for a showdown on the Senate floor over whistleblower allegations that surfaced recently regarding his tenure as Delta Air Lines SVP-flight operations.
Four unions representing US aviation safety inspectors and mechanics wrote to Department of Transportation (DOT) secretary Elaine Chao urging the Department to implement three long-delayed Congressional directives intended to boost oversight of foreign repair stations that work on US aircraft.
US Department of State announced (24-Jun-2019) the US and UAE held their sixth economic policy dialogue on 20-Jun-2019, during which delegations from the countries discussed civil aviation matters. Both governments reaffirmed their support for the US-UAE air transport agreement (ATA) of 11-Mar-2012 and the understandings in the record of discussion between the governments of 11-May-2018.
Airlines, Industry and Labor
Atlas Air's William Flynn will retire from his role as CEO effective Jan. 1, 2020, and will become chairman of the board. The company also announced that current Executive Vice President and Chief Operating Officer John Dietrich will succeed Flynn as CEO. Current Board Chairman Robert Agnew, who will assume the role as the Board's Lead Independent Director in January, praised Flynn's 13 years of extraordinary leadership and expressed confidence that Dietrich is uniquely suited to ensure the company's continued success in the future.
U.S. airlines are rediscovering the rest of the world after years of ceding market share to rivals and international partners on overseas flights.
FedEx Corporation has announced that it has filed suit in U.S. District Court in the District of Columbia seeking to enjoin the U.S. Department of Commerce from enforcing prohibitions contained in the Export Administration Regulations ("EAR") against FedEx.
David Neeleman's new airline, tentatively named "Moxy", is due to receive its first Airbus A220-300 from GECAS in April 2021. The new carrier is planning to launch operations in May 2021.
A man has been ordered to pay Hawaiian Airlines more than $172,000 due to disruptive behavior that forced a flight bound for South Korea to return to Honolulu. The traveler was also sentenced to six months in jail for interfering with flight attendants and crew members.
American Airlines announced plans to retire its McDonnell Douglas MD-80 airplanes on Sept. 4 as a part of the company's ongoing fleet renovation. The airline has 26 planes still in service.
« Previous
Next »