Airline Division News, Week Ending July 27, 2019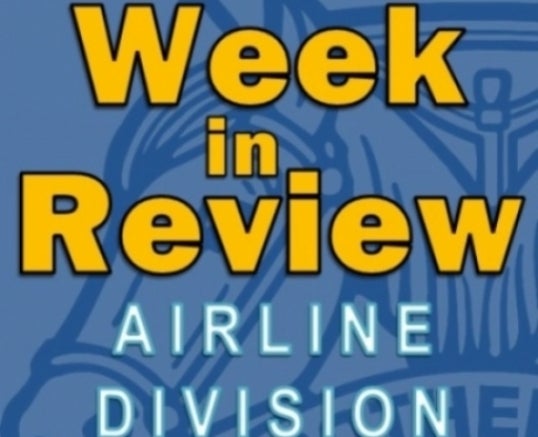 PAMA Board Approves New Director Appointment
On July 9th the board of directors of PAMA (Professional Aviation Maintenance Association) approved the presidential appointment of a new director.
Chris Moore, who serves as the President of The Aviation Mechanics Coalition (TAMC) and will serve a two-year term. As founder of TAMC, Moore works tirelessly to advocate for aviation workplace safety and to promote the craft and the intrinsic value of aviation maintenance personnel.
Moore is an FAA-certificated mechanic with over 30 years airline experience. He is administering mechanic contracts, overseeing safety programs, and coordinating the Division's License Protection Program. He is also deeply involved with industry coalitions seeking to find solutions to the current pilot and mechanic shortages.​
"I could not be happier for Chris," said Airline Division Director Captain David Bourne. "His focus on issues that impact not only aviation maintenance professionals, but our industry as a whole is incredible. Additionally, his work through the Teamsters Military Assistance Program, helps our nations troops transition from their military careers into the civilian sector by helping with professional credentialing assistance that converts their military training and licensing to civilian licensing and allows them to secure good paying jobs in the private sector. I congratulate PAMA on the outstanding choice and know Chris will serve with distinction," he concluded.
Airline Industry News
Airlines, Industry and Labor
Atlas Air Worldwide Holdings is leasing a new facility in Erlanger, Ky., near Cincinnati/Northern Kentucky Airport. The facility is anticipated to launch in 2021, and job postings hint it will be a flight operation and dispatch center.
The chief executive of Boeing has said the manufacturer might consider slowing down or halting production of the 737 Max as the company reported a US$3.4 billion (£2.7 billion) loss due to the troubled aircraft model.
The pilots of the Coalition of Airline Pilots Associations (CAPA); the Air Line Pilots Association, Int'l (ALPA); including the Independent Pilots Association (IPA); and the International Brotherhood of Teamsters Local 1224 today announced renewed efforts to achieve one level of safety for all-cargo pilots and issued collective support for legislation that would close this dangerous loophole and ensure that all airline pilots fly under the same safety standards. The Safe Skies Act, introduced by Senators Amy Klobuchar (D-MN), Maria Cantwell (D-WA), Richard Blumenthal (D- CT), Ed Markey (D-MA), and Tammy Duckworth (D-IL), would apply the same flight, duty, and rest rules to cargo flights as commercial airlines to prevent dangers posed by fatigued pilots.
Air and ocean forwarder Flexport filed a complaint against Western Global Airlines (WGA) in a U.S. District Court in New York, alleging that "service failures" led to the carrier's inability to meet the contractual obligations of a three-year operational leasing agreement the two parties signed last year.
Preliminary results for June airport volumes worldwide are out, indicating continued market weakness across the globe, though this come as no surprise given continued tensions between China and the U.S. and looming Brexit concerns.
American Airlines' cargo traffic fell 16.2% during the second quarter to 644 million cargo ton miles, or about 940 million freight tonne kilometers, leading to a 15.4% decline in cargo revenue, the company said this week during its earnings call.
« Previous
Next »