At Netroots, Panelists Say Workers Want Focus on Economic Issues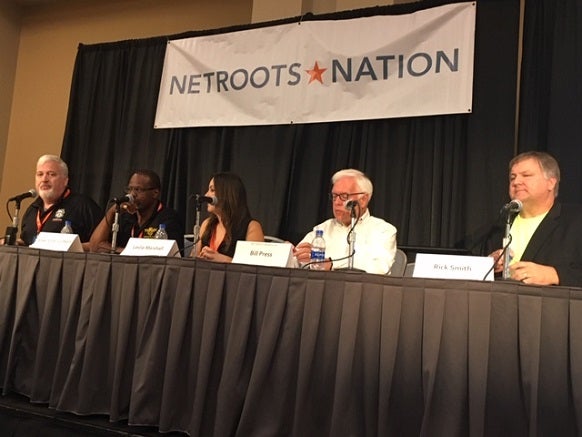 PHILADELPHIA – A trio of radio personalities well-versed in politics and policy said presidential contenders need to put workers first and address their concerns if they want to prevail in November 2020.
Speaking on a panel at the Netroots Nation conference sponsored by the Teamsters, the three commentators said candidates need to learn the lessons from 2016, when Democratic nominee Hillary Clinton didn't reach out enough to working Americans. Bread-and-butter issues like good-paying jobs are paramount.
"You have to look at what is going to appeal to the masses," said radio host and Democratic strategist Leslie Marshall. "How can you get me to not have to work three jobs to feed my kids?"
Rick Smith, host of nationally syndicated The Rick Smith Show, agreed. He said Democrats in recent years have spoken down to blue-collar workers, while conservative radio has lauded them as the heart of the nation. It shouldn't be surprising that they are shifting their political allegiances.
"These people have been struggling from deindustrialization and bad trade deals for 30 years," he said. "Neo-liberal policies should be frigging dead by now. We need fair trade and an even playing field."
Bill Press, former California Democratic Party chairman and CNN and MSNBC commentator who now is the host of his own podcast, said contenders need to talk the language of workers.
"We can win them back with the right message," he said. "We are the Democratic Party. We are the party that fights for people."
The Teamsters know a lot about fighting for workers. James "Curb" Curbeam, the union's Southern Region Organizing Coordinator and Chairman of the Teamsters' National Black Caucus, said workers want to see candidates focus less on social issues and spend more time talking about topics that will put more money in their wallets.
"Blue-collar workers want someone to stand up for them and fight for them," he said. "We need people who are going to stand up for all Americans, not just a handful."
Hardworking Americans want more discussion about higher wages, better health care, affordable housing, improved infrastructure and retirement security, all agreed. And they are more focused on reasonable policy than pie-in-the-sky promises.
"Americans are tired of the infighting. They want solutions," Marshall said. "The majority of voters care about jobs. Unions have a saying – 'In Solidarity.' And that's what Democrats need to be."
« Previous
Next »