Uncategorized
Stopping 'Scabby the Rat' is Latest NLRB Ploy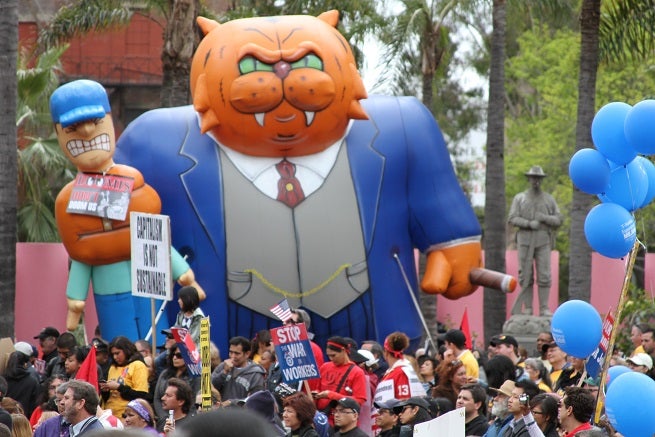 The National Labor Relations Board (NLRB) is mulling a move that would curb unions' freedom of expression on the picket line.
For nearly three decades, inflatable balloons like "Scabby the Rat" and "Corporate Fat Cat" have informed the public about construction companies and others who are hiring non-union labor or engaging in anti-union activity. But now the NLRB is considering a crackdown on their use and those of banners as well, saying they could scare away customer from "neutral" businesses.
"Their use is unlawful under the [National Labor Relations] Act and not protected under the First Amendment because they are being used specifically to menace, intimidate and coerce in aid of an unlawful purpose," NLRB general counsel Peter Robb asserted in a brief filed last month.
Of course, this has never been an issue before. Previously the agency allowed unions to express themselves as they saw fit. But corporations don't like it. And they are using their power to push for political decisions in their favor.
Mind you, all this has happened on the heels of several pro-worker regulations being rolled back in recent years. Rules pushed by the Obama administration, for instance, that would have raised the salary levels of workers eligible for overtime or tamped down on companies hiring outside firms to pressure workers not to organize have been scrapped.
Let's call this what is really is – a continuation of a Republican effort to boost the corporate profits of big business at the expense of workers who are doing all they can to keep their heads above water. Fewer rules for companies, but more rules for those who want to hold them accountable.
Unions can and do push back against corporate power, but it is clear the NLRB is trying to make that harder to do. Halting unions' use of some giant inflatable balloons, however, will not stop this movement. It has the support of the people and resolve of union leadership to push forward either way.
« Previous
Next »