Teamsters National Black Caucus Celebrate 11th Annual Women's Day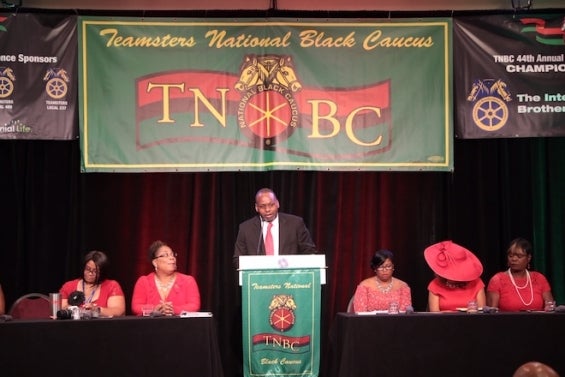 Teamster brothers and sisters filled the room, dressed in red to represent power, love and Teamster women on the 11thannual Women's Day at the Teamsters National Black Caucus Conference. This is a day strictly for the women.
The luncheon is held in honor of the great Clara Day, a powerful, well-respected woman in her time and the women of the TNBC felt it necessary to celebrate women, for one whole day, during the annual conference to pay homage to the women who came before them. It's also a day to celebrate and educate themselves.
This year, the morning session began with an introduction by Teresa L. Smith of Local 41. Diahann Goode of Local 700 was the mistress of ceremony. Education on health, well-being and self-care was the focus this year. Getting back to the soul of this nation, nurturing and providing love to not just others but themselves.
"We want to make sure that you enjoy yourself, but most of all educate yourself," said TNBC Chairman James 'Curb' Curbeam. "We want you to go back home and engage your members, counterparts and communities because if we don't talk about what we done here, it's all for nothing."
He encouraged everyone, men and women to take what they learned back to their communities, co-workers and families.
Keynote speaker Dr. Brenda Boyd-Bell, PhD, CEO of Chrysallis Empowerment and Transformation, gave an amazing speech on implicit bias. She spoke on how important it is to have humility and love for others. Especially, your brothers and sisters.
"Being here is giving me the opportunity to walk into a dream that I never thought would be fulfilled," Dr. Bell said.
Bell spoke her truth, reminding everyone to look back but not to get stuck there; just to remember the good, the bad, the ugly and the things that shaped and created us. Consciously and unconsciously.
Dr. Elaine Ferguson spoke from the heart on the importance of taking care of not only our bodies, but our minds and spirit. Dr. Ferguson made it a point to remind everyone to be mindful of what your internal voice is saying because it will affect your physical health.
Dr. Ferguson is the child of a Teamster family and she talked about her father, his years of service at Local 337, how much he loved the Teamsters and how beneficial the union was to her family. Dr. Ferguson was a great asset to this year's women's day and was greatly appreciated due to the knowledge she shared and the questions she answered.
"When you give your body what it needs, which is not only good food and nutrition, but a healthy mindset, a way of thinking and being in the world that allows you to protect and shield yourself from the harm that is visited upon you, that's when you can create optimal health and well-being," Ferguson said.
« Previous
Next »