Uncategorized
Golden State Teamster Talks About 'Future of Work'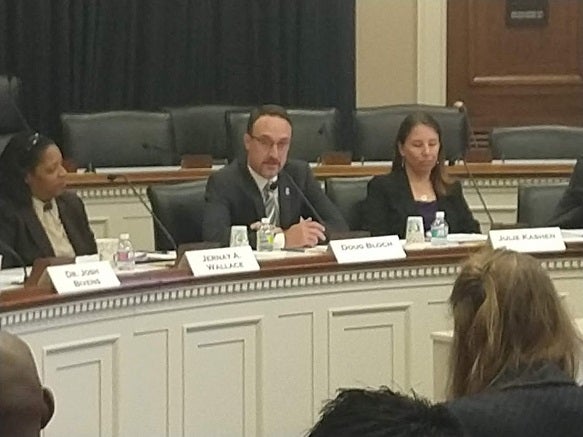 A Northern California Teamster political leader told Capitol Hill officials this week about the union's involvement in shaping a better future for workers, including the fight against misclassification and for joint employer liability in the Golden State.
Doug Bloch, Joint Council 7's political director, spoke at a House Education and Labor Committee-hosted forum Wednesday about what the Teamsters are doing to ensure the workplace is fair for those hardworking Americans who show up each day.
"Our union has been innovating since the horse and carriage disappeared," he noted, and that is not going to stop now. However, elected officials need to get involved. "We have to redefine innovation to not just benefit shareholders and companies developing the technology, but also workers."
Bloch, a member of California's Future of Work Commission, said the increased use of independent contractors is weakening worker power and contributing to the growth of income inequality in this country. Such workers have no legal right to join a union and have no protections when it comes to wages, overtime pay, workers comp, unemployment or access to Social Security. That's why lawmakers need to act soon.
"We need to address worker misclassification and give workers the legal tools for good quality jobs," he said.
Congress would be wise to follow the lead of California, which recently enacted AB 5 – legislation that codifies and expands a landmark state Supreme Court ruling that established a new test for whether a worker is an independent contractor or employee. Chief among the changes is a revised test that assumes every worker is an employee and puts the burden of proof on employers to show otherwise.
Bloch said workers are already seeing the benefits from the legislation, as many employers – even those who employed contract workers in the past – are voluntarily reclassifying workers as employees.
But some are looking for other methods to continue to evade paying workers their fair share by moving to use staffing agencies instead. This practice allows business bosses to be one step removed from responsibility for workers when the companies they contract with break the law. That is why establishing join employer liability is so important, he said.
Bloch's participation in this panel comes as two House Education and Labor subcommittees prepare to hold their own Oct. 23 hearing on the same topic.
« Previous
Next »