Uncategorized
Much Is At Stake With 2019 Elections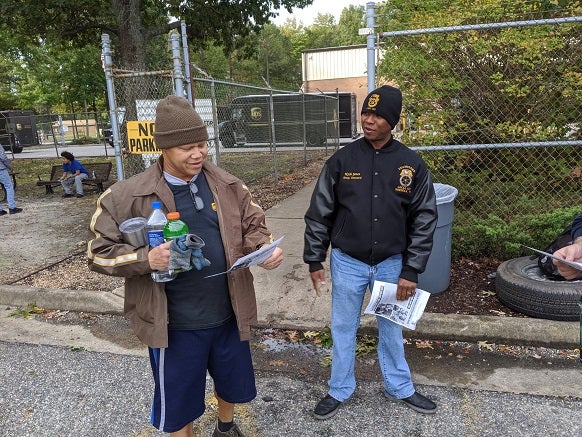 When it comes to shaping policy, much of the public's focus has been in the 2020 election. But in several states, an election next week could help pave the way toward more worker-friendly policies.
Kentucky and Virginia top the jurisdictions with the most consequential elections on the Nov. 5 ballot, although voters in other states will also go to the polls. These "off-off" elections, as they are known, are often overlooked. But their results can still be significant for those who live within their borders.
In the Bluegrass State, for example, virulent anti-union Gov. Matt Bevin faces a significant challenge from Andy Beshear, the state's current attorney general. During his first week in office the Legislature under Bevin's directive pushed through a so-called right-to-work bill in the state that was quickly signed into law. Bevin also curbed public pensions in Kentucky.
As the Teamsters' noted in a mailer sent on Beshear's behalf, "Beshear will also keep fighting to protect workers' retirements. Beshear already stopped Governor Bevin's attacks on the pensions of public servants such as our teachers, fellow Teamsters at Local 783, police officers and firefighters."
Meanwhile, in Virginia, control of both the House and Senate are at stake. The GOP currently holds a 51-48 majority in the lower chamber and a 21-18 advantage in the upper chamber, with a vacancy in each body. But with changing political allegiances in the Old Dominion continuing and a court-ordered redistricting recently implemented, Democrats seem poised to take control of the Legislature.
Nick Jones, Local 822's political coordinator and the assistant political coordinator for Joint Council 83, has been working as a lost timer since Sept. 11 engaging with his fellow Teamsters. He is one of five Teamsters doing so in southern Virginia.
During that time, Jones said he has visited more than 20 worksites and interacted with some 3,000 workers, many of whom weren't aware that there was an election coming up. Lost timers like him have stressed that these state elections cannot be missed.
"Throughout this time of talking to our members, we've made them aware that if they want to make a change in Virginia, now is the time," Jones said. "If we want to get rid of right to work, this is the year to go out and vote."
But state races aren't the only ones on the ballot. The Teamsters have endorsed fellow members in local campaigns across the country, including:
Local 707 President Kevin McCarthy for Suffolk County (N.Y.) Legislator
Local 229 member Debi Domenick for Lackawanna County (Pa.) Commissioner
Local 117 union representative Takele Gobena for SeaTac (Wash.) City Council
Local 469 business agent Vince Minichino for Brick Township (N.J.) Council
Local 676 business agent Thomas Lyon for Delran (N.J.) Town Council Member
Teamster Jon Turco for Peabody (Mass.) City Council
Don't forget to vote Nov. 5!
« Previous
Next »