Uncategorized
New California Law Takes Aim at Misclassification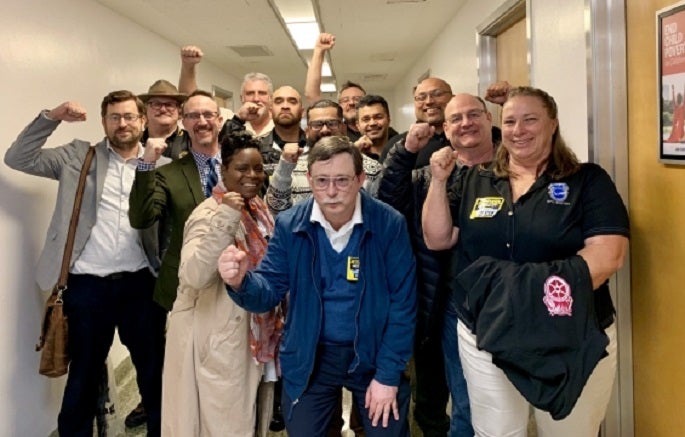 California enacted a landmark new law last month that rewrites the state's employment law to crack down on the use of independent contractors by companies, and the Teamsters played a huge role in getting it done.
Authored by Assemblywoman Lorena Gonzalez (D-San Diego), a former Teamster labor leader before she was elected to the Legislature in 2013, this union took an active role in its passage from the outset. It's an issue the Teamsters have been involved in for years, going back to its first involvement protesting the treatment of port truck drivers at the ports of Los Angeles and Long Beach.
Back in February, Teamsters from all over the Golden State gathered in Sacramento to press lawmakers to support AB 5, saying it was time to end misclassification. They noted that good employers who play by the rules should not be undercut by companies that misclassify their workers as independent contractors to avoid the minimum wage, payroll taxes, Social Security, unemployment insurance, workers' compensation and more.
The Teamsters continued to ramp up pressure to approve the bill during the legislative process.
"Misclassification is an attempt to weaken the power of workers, including the thousands of truck drivers in California who deserve a living wage and full rights as employees," Teamsters General President Jim Hoffa said in September after the state Senate voted to approve AB 5. He called its vote, "a strong stand with workers who should earn a living wage and have the protections to which they are entitled."
Meanwhile, misclassified port truck drivers who work at NFI/Cal Cartage Express went on their fifth unfair labor practices strike last month at the Port of Los Angeles. With the help of the Teamsters Port Division and Teamsters Local 848 in Long Beach, the drivers at the twin ports have been challenging their misclassification as independent contractors and exercising their rights as employees. These workers have filed and won individual wage claims and class action lawsuits over their employers' violations of state and local laws, including failure to pay the minimum wage.
Under the new law, which takes effect Jan. 1, companies that misclassify their workers as independent contractors will no longer put lawful employers at a competitive disadvantage and workers in jeopardy.
"Assembly Bill 5 is an important step," California Gov. Gavin Newsom (D) wrote in his signing statement. "A next step is creating new pathways for workers to form a union, collectively bargain to earn more, and have a stronger voice at work – all while preserving flexibility and innovation."
« Previous
Next »