Teamster Truck Drivers Shine at National Driving Championships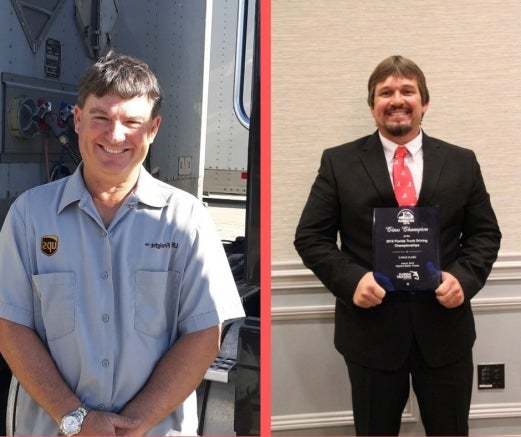 Five Teamster truck drivers finished in the top three spots recently in the various competitions at the National Truck Driving Championships.
Brian Walker, a 33-year employee of UPS Freight and a member of Local 391 in Greensboro, NC, finished first in the 3-Axle Class at the championships held in late August. The championships are sponsored by the American Trucking Association.
"The key for me is just being patient and a lot of practice and a lot of studying for the written portion of the test," said Walker, a city driver, who has participated in 12 annual championships. Prior to this year's top finish, he came in second twice before and third three times.
"I'm thankful for all the years I have driving and all the seniority," Walker said. "I'm thankful to have a good-paying job."
Jeff Slaten, a member of Local 79 in Tampa, Florida, came in second place in the 3-Axle Class. "It's a lot of hard work–I practice all the time," Slaten said of the written test, the pre-trip inspection and six obstacles that are involved in the competition.
Slaten has worked at YRC Freight for more than 23 years, and he is a proud Teamster. "I attend our union meetings and I've helped with organizing campaigns," he said. "I think it's very important that we keep building our union to make it stronger."
Slaten has participated in numerous driving competitions, and he won Grand Champion (the top award) in 2004 and 2005 while driving for Roadway Express.
"We're very proud of Jeff's accomplishments, both behind the wheel and his involvement with making our union stronger," said Brian Rothman, Local 79 President.
Other Teamsters finishing in the top three of the various classes included:
David Hall, ABF, who finished first in the 5-Axle Class;
Alphonso Lewis, YRC Freight; second place, 5-Axle Class;
Donal Lynch, UPS, third place, Twin-Trailers Class.
« Previous
Next »