Teamsters Look to the Future of Work in N.J., Calif.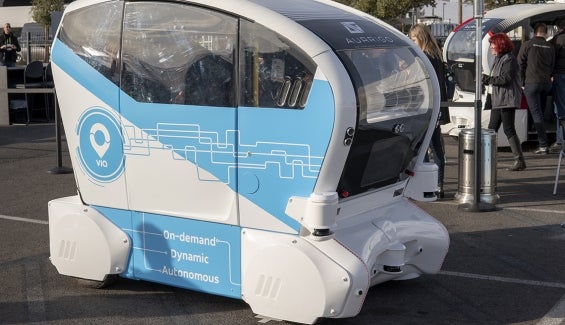 Fred Potter, Teamsters International Vice President from New Jersey, and Doug Bloch, Teamsters Joint Council 7 Political Director from Northern California, were both recently appointed by their respective state's governors to provide critical guidance and leadership concerning the future of work.
Potter, who is also President of Local 469 in Hazlet, N.J., was appointed to the New Jersey Future of Work Task Force by Governor Phil Murphy. The select group of 25 is tasked with making planning and policy recommendations to prepare for the future of work. As technological developments progress, the Task Force will look at how to support and protect workers and prepare for advancements in automation and robotics. The Task Force consists of leaders in economics, labor and industry.
"While many new technologies will have positive impacts on workers' daily lives, the risk of worker displacement and job loss should not be overlooked. Unions and workers should have a prominent place in policy discussions related to automation," Potter said. "I'm ready to go to work to represent Teamster members and the workers of our state in these important discussions on how the future of work will be shaped in New Jersey. It must be an economy that works for everyone, and that includes workers."
Potter noted that California recently took a major step by passing AB5, legislation that will expand employment protections to thousands of workers who are currently misclassified by their employers as independent contractors.
"Misclassification hurts workers who make on average 30 percent less (or more) than their properly classified counterparts, costs states billions of dollars in revenue and weakens social safety net programs necessary to aid in future work force transitions. Our governor has taken important steps to fight misclassification and protect workers, and we should make legislation similar to AB5 the standard in New Jersey, as well," Potter said.
In California, Bloch was appointed to the state's Future of Work Commission by Governor Gavin Newsom.
There are 21 members of the commission. The commission brings together prominent leaders in business, technology, labor and other areas throughout the state to make recommendations to state leaders regarding the jobs of the future, the impact of technology on work and how to promote better quality jobs and better working conditions.
The commission is tasked with making recommendations to help California leaders plan for the future of the state's economy while ensuring workers and their families are part of that success. Education, training and the creation of good jobs will be critical components.
"The California Teamsters have led the nation by championing laws that preserve good jobs and challenging the efforts of corporations to avoid responsibility for their workers," Bloch said. "Whether it's cracking down on worker misclassification through AB5, protecting workers who are hired through temp agencies, or securing jobs in new technology sectors, we are fighting for the future of workers."
In addition to AB5, in California in 2014 Teamsters celebrated the passage of AB 1897, landmark legislation that requires companies hiring workers through temporary or staffing agencies to take responsibility for workers getting paid what they are owed, for a safe work environment and for paying local and state taxes. The next year, Teamsters Local 350 prevailed in a significant national decision establishing the same joint employer liability for organizing and collective bargaining, the Browning-Ferris decision. Teamsters organizing campaigns in both food processing and solid waste and recycling played central roles in both victories.
« Previous
Next »