Uncategorized
Teamsters on the Trail: Sept. 30-Oct. 6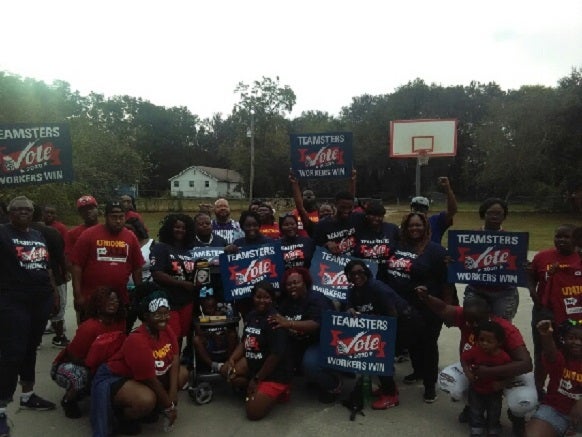 In week eight of the Teamsters 2020 Primary Engagement program, the number of candidate hits ticked up over 100 … 108 to be exact. Union members from Iowa and South Carolina pressed candidates to go further in their commitments on Teamster issues like protecting our pensions and standing up for collective bargaining.
Friday, Oct. 4
Tipton, Iowa: Members of the Local 238 Rapid Response Team got out to a meet-and-greet with Dr. Jim Biden at the Cedar County Democratic Party headquarters. Luann Helm, a steward at Oral-B in Iowa City, attended her first campaign event but hopefully not her last. She urged the Biden campaign to support the boosting of multiemployer pensions plans. See photo here.
Saturday, Oct. 5
North Charleston, S.C.: Teamsters showed up in force to the Palmetto State attended the Charleston County Democratic Party's Blue Jamboree. Clad in their Teamsters 2020 t-shirts, nearly two dozen Teamsters marched with striking McDonalds workers into the festivities. They also got the opportunity for face-to-face communication with a number of presidential contenders, including Sen. Kamala Harris, Sen. Michael Bennet, Rep. Tulsi Gabbard, Tom Steyer and Andrew Yang.
Harris stressed her support for workers to organize and collectively bargain, while Bennet said he realizes workers are under attack and was encouraged to co-sponsor S. 2254, the Butch Lewis Act, which would bolster multiemployer pensions plans. Gabbard, meanwhile, was thanked for her support of the House version of the same pension reform legislation, while Steyer said he supports the pension bill as well as the right to organize. Yang stated he supports the Teamsters, unions and working people. See photos here, here and here.
Columbia, S.C.: Governor Steve Bullock met with Local 509 leadership to discuss Teamster priorities and his history of supporting our union as Governor of Montana, and before that as a Teamster attorney for Local 190. See photo here.
« Previous
Next »