Trades Women Build Nations Conference Meets in Minneapolis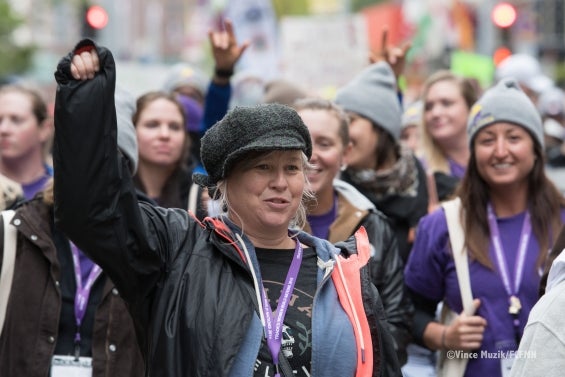 The largest attendance yet for the Trades Women Build Nations Conference recently convened with 2,800 registrants in Minneapolis. Women in the construction trades heard presentations on the future of work, developments in the construction industry and the challenges ahead for the country's critical need for infrastructure projects during the multi-day conference. Sponsored by North America's Building Trades Unions (NABTU), this was the ninth year for the gathering.
"This conference grows exponentially every year, and the impact is phenomenal," said NABTU President Sean McGarvey. "NABTU is committed to empowering current and future tradeswomen as we increase opportunities for and retention rates of women in fulfilling union trade careers. Every day, we recruit more women into great union construction apprenticeships and careers, and these trailblazing tradeswomen are moving up in the top ranks of leadership. This conference is a celebration of these trailblazers and a testament to the growth of tradeswomen among our ranks."
Teamster members from local unions 200 and 120 attended the conference, helping out at the Teamsters National Pipeline Training Trust booth in the exhibit area and attending workshops.
Wendy Oberdorf, a member from Local 200 in Milwaukee, said that she enjoyed meeting sisters in the building trades. "I'd suggest that anyone considering attending this next year (in Washington, D.C.), that they should sign up for the workshops early, because they fill up fast!"
One of the plenary speakers surprised the attendees with an inspiring video greeting from U.S. Supreme Court Justice Ruth Bader Ginsburg. Justice Ginsburg's speech concluded with, "Women who build are here to stay," which drew great enthusiasm from the conference attendees.
Iliana Flores, a senior training instructor in the Teamsters Department of Training and Development, also attended the conference. "It was overwhelming, the number of registrants we had," Flores said. "We had nearly 1,000 more attendees this year than last year."
"One of the most popular workshops was organized by Sheryl Sandberg, the author of the book 'Lean In: Women, Work and the Will to Lead,' and it was tailored for women in the union construction industry," Flores said. "We are having a follow-up meeting, 'Lean In Circles for Union Tradeswomen,' next month in St. Louis, hosted by our own Teamsters Local 682." (click here for more information)
In addition to workshops, participants also took to the streets of downtown Minneapolis for a parade and rally. (Click here for photos)
« Previous
Next »