Pittsburgh Post-Gazette Lays Off 30 Local 211 Teamsters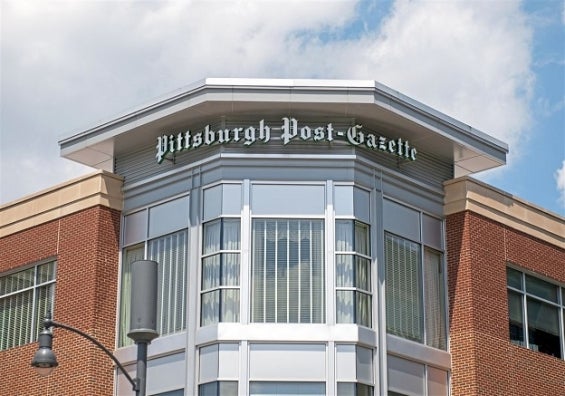 Block Communications, Inc.'s unconscionable economic assault on unions at the Pittsburgh Post-Gazette continues with the illegal laying off Sunday of about 30 Teamsters and three pressmen who are also Teamsters. Those let go have decades of service to the paper yet have only been offered a paltry maximum of six weeks severance pay. In keeping with its cruel tactics, the Toledo-based, Block family-owned media company made sure that most of the Teamsters who remain were put on part-time status, meaning they will lose their health care benefits.
The unions have responded by filing a complaint in federal court seeking to enjoin the Post-Gazette from releasing at least 30 employees and removing their healthcare as well as that of the employees remaining, and to compel the Post-Gazette to comply with the terms of the contract which requires employees to be paid six months wages and reach mutual agreement with the Teamsters before altering employees' schedules and work.
The latest assault on loyal Post-Gazette employees is occurring as the Teamsters and other unions at the Post-Gazette representing the newsroom and advertising staffs are approaching 14 years without a raise. On Sept. 10, the unions marked 5,000 days without an increase in their salaries.
Moreover, the unions have been negotiating for new contracts with BCI's union-busting, carpet-bagging law firm from Tennessee, King & Ballow for nearly three years. There has not been an iota of progress as BCI is demanding more and more givebacks. The PG has been bargaining in bad faith, steadfastly refusing to move off any of hundreds of draconian proposals that would leave employees with no rights, fewer benefits, and farther behind economically. Among the onerous company proposals is an inferior healthcare plan partially funded by employees that the company could unilaterally end, leaving employees with no health care insurance.
With no raises, the unions have lost more than 27 percent of the buying power they had in 2006, according to the Bureau of Labor Statistics. And because the unions, in an effort to help the company, have given back eight to 10 percent of their salaries over that period, their purchasing power has actually declined more than 35 percent from 2006 levels. Additionally, pensions have been frozen and the company has refused to pay for increases in health care premiums as required by contracts with the unions.
While the Post-Gazette, like most newspapers in the country, is losing money, the fact remains that its owner BCI is making tens upon tens of millions of dollars in profits annually on its reported 2018 revenue of $564 million.
"BCI is an extremely profitable corporation, particularly with its cable systems, but it refuses to recognize the loyalty of its PG employees, ignoring the economic sacrifices they have made for more than a decade to help the newspaper. The time for giving money to millionaires is over," said Joseph J. Pass, attorney for the Teamsters and other unions at the PG.
"BCI is involved in union busting. And we won't put up with that in Pittsburgh, the birthplace of unionism. It is unbelievable that the owners are threatening the very existence of this 232-year-old newspaper that just this year won a Pulitzer Prize."
"The corporation was built upon the one-time profits at the PG," Pass said. "Now it's time to give back to the PG employees. It is a public trust to own a legacy newspaper. The Blocks need to uphold that civic duty by treating its newspaper employees at the PG with dignity and respect, not degradation and disdain."
« Previous
Next »