Teamsters LGBTQ+ Caucus Holds Annual Meeting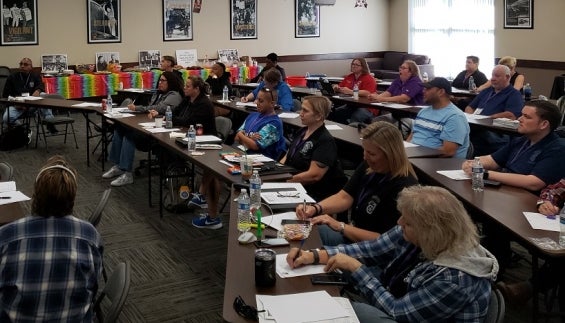 From November 1-3, the Teamsters LGBTQ+ Caucus held its Annual Membership Meeting at Local 1932 in San Bernardino, Calif.
Attendees discussed issues, legislation and initiatives affecting LGBTQ+ members, along with planning the caucus' agenda for 2020. A new board of the caucus was elected: Margo Storsteen (BLET 57), President; Sheri Orellana (Local 1932), Executive Vice President; David White (Local 639 and IBT), Treasurer; Carla Castro (Local 495), Recording Secretary; J.D. Spurgeon (Local 2010), Trustee; Misty Tanner (Local 137), Trustee; and Kathleen Brennan (Local 1932), Trustee.
Caucus members from across the country, including 11 local unions, the BMWED and the BLET, participated in the two-day meeting.
Also in attendance: Local 572 President Lourdes Garcia; Abigail Medina, San Bernardino School Board President and Candidate for CA Senate District 2; James Curbeam, President of the Teamsters National Black Caucus; Marcus King, Director of the Teamsters Human Rights and Diversity Commission; and IBT Attorney Raven Hall.
"We appreciate the hospitality of Local 1932 for hosting our meeting for the second year," Storsteen said. "And the support from the IBT, particularly the Communications, Training and Development and Legal Departments."
______________________
For further information about the Caucus, see our website – click here
Pride at Work, the national lgbtq+ constituency group of the AFL-CIO, supplied these materials to the meeting.  Union Guide to Discussing LGBTQ+ Issues
« Previous
Next »