BMWED, SMART-MD Coalition Bargaining Update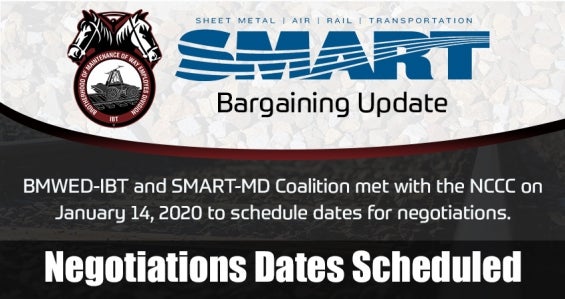 The Brotherhood of Maintenance of Way Employes Division of the International Brotherhood of Teamsters (BMWED-IBT) and SMART-Mechanical Department (SMART-MD) Coalition met with the National Carriers' Conference Committee (NCCC) on January 14, 2020 to schedule dates for negotiations.
The BMWED/SMART-MD Coalition is scheduled to conduct negotiations with the NCCC on March 18th and 19th; April 15th and 16th; and May 19th and 20th. Further dates will be scheduled between the parties as bargaining proceeds. The NCCC also advised that it was scheduled to convene with the Coordinated Bargaining Coalition in late February.
To read the entire post, click here.
« Previous
Next »