Hoffa Joins Local 988 Stewards at Conference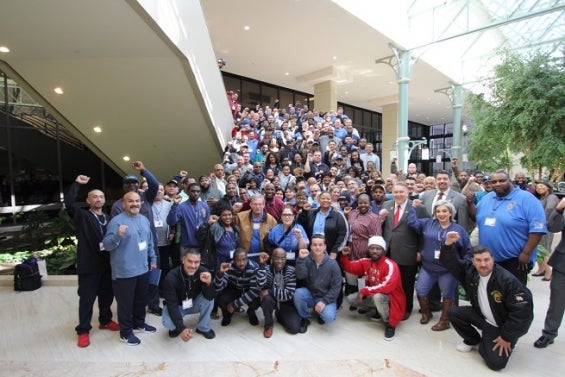 Teamsters General President Jim Hoffa joined some 150 Houston-area Teamsters last weekend to discuss the important role of shop stewards in the union and how they serve as the cornerstone of organizing and political power.
Hoffa spoke, met and greeted attendees at Local 988's fourth annual stewards conference, where on-the-ground union leaders received training on bargaining, communications and organizing, as well as got an opportunity to share best practices with one another at the all-day Jan. 25 event.
Robert Mele, Local 988's President, presented Hoffa with a plaque and thanked him for attending the event. He said the conference plays an essential role in beefing up the Teamsters at a grassroots level.
"It has always been important to our local that we strive to educate stewards and help develop them into strong leaders," Mele said. "Our annual conference has grown tremendously over the years, from a seminar to a full-day conference, and the event this year exceeded even our best expectations. We look forward to future successful steward conferences."
Allen Polk, a UPS steward and 31-year Teamsters member, said the event brought a lot of value to attendees and was the best he had attended. "It was great that General President Hoffa and IBT Trustee and Package Division Director Denis Taylor were here and that we got to hear them speak directly about the Teamsters union and how to continue to grow our union," he said.
« Previous
Next »