Teamsters Stand in Solidarity with Sanitation Workers at MLK Day Marches in Atlanta and Los Angeles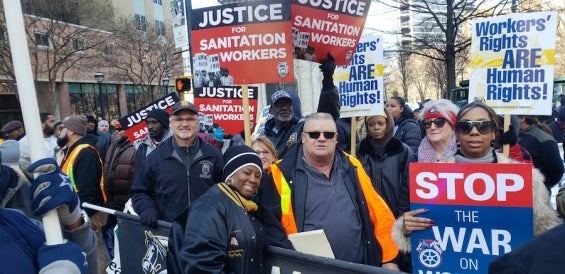 Teamsters from throughout the Atlanta Metro region joined thousands of marchers yesterday in Atlanta's annual Martin Luther King Jr. March. The march has significant meaning to Teamsters Local 728, which represents hundreds of waste and recycling workers. Dr. King, an Atlanta native, died at the hands of an assassin while supporting striking waste workers in Memphis, TN. For that reason, Local 728 and the Teamsters Waste Division has begun a national campaign to secure MLK Day as a paid holiday for waste workers employed by trash giant Republic Services. Local 728 is currently in contract negotiations with Republic for 80 workers at two facilities in McDonough and Cummings, GA.
"This company made 2.81 billion in profits in 2018, but they claim not to have the money to make MLK Day a holiday. But they do have the money spend hundreds of millions on stock buybacks and dividends," said Chuck Stiles, Vice President of Teamsters Local 728 and Assistant Director of the Teamsters Waste Division. "While company executives are flying on the corporate jet to Cabo and Aspen for vacations on the company dime, our members struggle to make ends meet in the 5th most dangerous job in America. This is exactly the kind of thing Dr. King was organizing against, and it's why we're in this fight."
In Los Angeles, Teamsters from across Southern California came together to celebrate Martin Luther King Jr.'s legacy and commitment to economic and racial equality. Los Angeles Mayor Eric Garcetti marched side by side with Teamsters and members of the labor community and expressed support for the important work of unions in the community.
"Dr. King lost his life in Memphis, TN supporting sanitation workers", said Teamsters International Vice President and Waste Division Director, Ron Herrera, it is imperative for leaders in a union to teach the new generation to know the foundation of equality and justice and to fight prejudice just like Dr. King did".
« Previous
Next »