Bauer's Drivers Take Action in San Francisco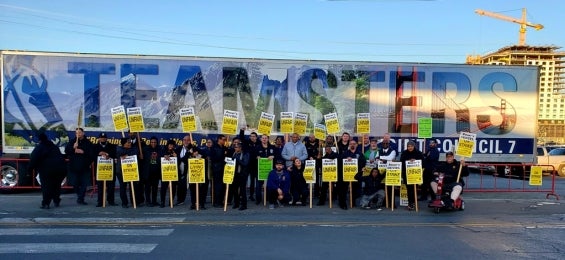 Teamster drivers with Bauer's Intelligent Transportation held a one-day action on Thursday at Pier 50 in San Francisco. Teamsters Local 665 members have been fighting for a contract since September that will provide the same fair pay, benefits and retirement that all other tech drivers in the city receive.
There are 90 drivers who operate commuter shuttles for Bauer's big tech clients, including Cisco Systems, Zynga, Electronic Arts, Intuit, Oath and Gilead.
The drivers joined the Teamsters in 2016 via card check and 100 percent of the drivers who participated in the process chose Teamsters representation.
"We have created area standards within the shuttle industry. Every other union employer is paying the same load except Bauer's. We refuse to let them undercut our master contract by paying their employees significantly less," said Tony Delorio, President of Teamsters Local 665.
Bauer's holds a permit to use San Francisco Muni bus stops. The San Francisco Municipal Transportation Agency (SFMTA) has a labor harmony requirement for companies operating under the city's commuter shuttle program. Bauer's has previously been denied an operating permit due in part to its poor labor harmony record and operational issues.
The Teamsters Union is part of a movement of labor, faith and community-based organizations and workers challenging income inequality in Silicon Valley through an innovative partnership called Silicon Valley Rising. For more information, visit http://siliconvalleyrising.org.
For more information on tech worker organizing with the Teamsters, visit https://teamster.org/tech-drivers-deserve-union.
« Previous
Next »