Teamsters, Coalition of Unions Petition FTC to Investigate Amazon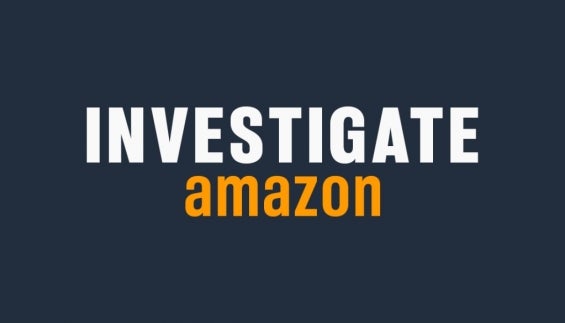 Press Contact: Kara Deniz Phone: (202) 624-6911 Email: kdeniz@teamster.org
(WASHINGTON)– A coalition of major labor unions representing a combined 5.3 million workers Thursday filed a petition calling on the Federal Trade Commission to open an investigation into anti-competitive behavior by Amazon. The petition is available at www.InvestigateAMZ.org.
The internet behemoth's multiple roles as marketplace, retailer, and provider of logistics and cloud computing enable and incentivize Amazon's anti-competitive practices, the International Brotherhood of Teamsters, Communications Workers of America, United Food and Commercial Workers, Service Employees International Union and Change to Win argue in their petition.
"Amazon is unique, not only in its current size and growth trajectory, but in the breadth of its interests across markets and its expansion into all levels of the supply chain," the unions argue in the petition. "The company demands urgent inquiry, best achieved through the Federal Trade Commission's unique authority and expertise."
Specifically, the unions asked the Commission to investigate:
· The extent of Amazon's direct and indirect control over the prices of goods on its ecommerce and cloud computing platforms;
· Whether Amazon ties favorable search rankings to its own profit and the purchase of unrelated Amazon services;
· Whether Amazon engages in price discrimination against users of competing platforms;
· Whether Amazon uses data obtained as a platform to its competitive advantage as a retailer and provider of cloud computing software; and
· Amazon's impact on wages in concentrated labor markets and fragmented labor supply chains.
"It's time for a forceful investigation into Amazon's practices. Amazon is rapidly accumulating market power and dominating our economy, while it resists inquiries into the anti-competitive practices that have made its dominance possible," said International Brotherhood of Teamsters General President James Hoffa.
Amazon Exercises its Dominance in Ecommerce
The petition details how Amazon appears to abuse its dominance. Among other practices, the company imposes anti-competitive price controls that prevent third-party sellers from offering goods for sale for a lower price on competitor platforms. Amazon's "fair pricing" algorithm disfavors products sold for less elsewhere and may delist these products from sale entirely. This reinforces Amazon's dominance in retail and has the potential to increase prices for consumers.
Amazon also ties favorable search rankings to the purchase of unrelated Amazon services, like Fulfillment by Amazon, ostensibly forcing merchants to use its fulfillment services if they want to succeed on the platform, the petition argues.
Amazon appears to use improper tactics to compete against eBay and other platforms by charging sellers more for fulfillment services when they are used for an order placed on a competing website instead of on Amazon.com. And it reportedly uses its access to third-party seller data to inform its internal product development and manipulate search results to increase private-label and other high-profit margin sales.
Amazon Abuses its Dominance in Cloud Computing
The petition for investigation also details how Amazon's fast-growing cloud computing business has expanded using some of the same tactics that make the company so dominant in ecommerce.
Amazon Web Services requires sellers to agree to a most-favored-nation clause, which bars them from selling their products at lower prices on competing platforms or on the sellers' own websites. This is the same requirement that Amazon abandoned in its contracts with third-party ecommerce sellers under fire from regulators in Europe and the United States.
And just as Amazon exploits its dual roles as retailer of consumer goods and platform host in its ecommerce business, the company can exploit its dual roles as retailer of software and platform host in its cloud computing business. AWS has been accused of unfairly competing with AWS Marketplace sellers by creating AWS software that imitates or repackages their open source products.
"American families and businesses have become dependent on infrastructure that Amazon controls," said Communications Workers of America President Chris Shelton. "It goes way beyond buying and selling merchandise. Look under the hood of the software that powers supply chain management, government services, banking, utilities, healthcare and hundreds of other industries and you will find Amazon Web Services. Regulators are behind the curve with this company, and an FTC investigation will shed needed light on the scope and impact of Amazon's anti-competitive behavior on workers and consumers."
Amazon's Monopsony Power Can Impact Wages
The unions' request for investigation also shows how Amazon's business practices may have significant, negative impacts on labor markets, both for its own employees and for employees of its economically-dependent contractors.
Amazon has drastically reduced its dependence on delivery companies and the US Postal Service by developing its own logistics network. Amazon's network is the second largest in the private sector, but much of its operations are conducted by small businesses and independent contractors whose viability depends on maintaining Amazon as a customer. Because of its size and power as a buyer of delivery services, Amazon can impose monopsonistic restraints on the treatment of workers within its supply chain while, at the same time, bearing no legal responsibility for their fair treatment.
Amazon exerts near-total control over the way in which its deliveries are made, including what nonemployee drivers wear, what they drive, and how many packages they are compelled to deliver, all for a flat fee to the contractor. Providers often have no choice but to accept these terms and their wage implications in order to gain a slice of Amazon's dominant market position.
The petition also points to statistics suggesting that workers in the warehousing and storage industry may be hurt by the company's dominant position. The research zeroes in on Mercer County, NJ; Lexington County, SC; and Chesterfield County, VA, where the opening of Amazon warehouses resulted in steep declines in wages for warehouse workers. In Mercer County, for example, Amazon opened a sprawling warehouse in June 2014 that now employs about 3,500 workers, or about half of all the county's warehouse workers. A $51,478 average annual salary for warehouse work in Mercer in 2013 fell to $37,546 in 2018.
"Amazon represents a clear and present danger to American workers and our economy. Every day, we are witnessing a company that is engaging in brutal practices," said UFCW International President Marc Perrone. "It is using its market size as a weapon to destroy competitors, jobs, and the future of work. The time has come for the government to put an end to Amazon's destructive practices before more social and economic damage is done that can never be repaired."
Founded in 1903, the International Brotherhood of Teamsters represents 1.4 million hardworking men and women throughout the United States, Canada and Puerto Rico.
The Communications Workers of America represents working people in telecommunications, customer service, media, airlines, health care, public service and education, manufacturing, and other industries.
The United Food and Commercial Workers is the largest private sector union in the United States, representing 1.3 million professionals and their families in grocery stores, meatpacking, food processing, retail shops and other industries.
Service Employees International Union unites 2 million diverse members working in the healthcare industry, in the public sector, and in property services in the United States, Canada, and Puerto Rico.
Change to Win is a democratic federation of labor unions representing over 4 million working people in the United States and Canada across a wide range of industries, including retail, manufacturing, healthcare, public service, banking and transportation. Change to Win and its union affiliates have engaged the Federal Trade Commission on a number of issues, including fair competition in the franchise industry and the pharmacy benefit manager sector, toward its goal of eliminating anticompetitive and abusive business practices that harm both workers and consumers.
« Previous
Next »