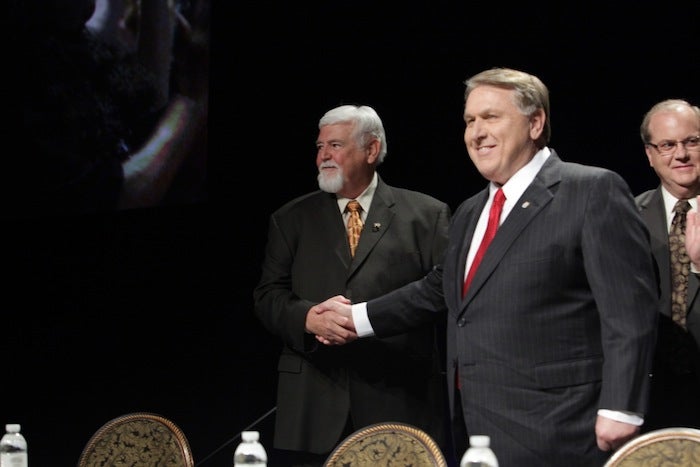 The Teamsters have been an active force on the campaign trail during the early 2020 election season, attending scores of presidential candidate events in an effort to get contenders on the record about the issues Teamsters and other working Americans care about—pensions and collective bargaining rights.
These Teamsters have then logged the details of those interactions with the union and they have been shared on a weekly basis as part of the Teamster Nation Blog.
While some of these candidates have since dropped out of the race, Teamsters have been holding them accountable every step of the way.
What follows is a sampling of their reports—Teamsters telling their fellow Teamsters about top issues, including answers to questions posed to them from union members and staff themselves.
Wednesday, Aug. 28
LAS VEGAS: Several Democratic candidates expressed their desire during a Nevada AFL-CIO forum for enhancing workers' rights, collective bargaining, fair trade and improved health care, including former Housing and Urban Development Secretary Julian Castro, Sen. Cory Booker of New Jersey, Sen. Kamala Harris of California and Sen. Amy Klobuchar of Minnesota.
Monday, Sept. 2
HAMPTON FALLS, N.H.: Sen. Elizabeth Warren of Massachusetts reiterated during her stump speech at a rally here the important role unions play in people's lives and her support of the rights of workers to organize.
Monday, Sept. 16
PHILADELPHIA: Teamster members from Philadelphia-area Locals 326 and 107 attended the Philadelphia AFL-CIO forum and heard from a number of the presidential candidates.
Highlights included former Vice President Joe Biden talking about how jobs in the future would increasingly be union because they would require special skills that only apprentice programs would provide. Klobuchar talked about her family's union history and spoke about the importance of reforming health care as well as addressing the opioid crisis.
Sen. Bernie Sanders of Vermont reiterated his support for a living wage as well as a "Medicare for All" single-payer health plan. Billionaire investor-turned-activist Tom Steyer and businessman Andrew Yang also addressed the forum.
Saturday, Sept. 21
DES MOINES, IOWA: The Teamsters were out in force for the Iowa Steak Fry, meeting candidates and getting photos and videos of them as part of the estimated 11,000 people in attendance.
Teamster members from Locals 120, 238 and 710 raised important Teamster issues with nearly every candidate in attendance, including Booker, Mayor Pete Buttigieg of South Bend, Ind., Rep. Tulsi Gabbard of Hawaii, Harris, Steyer and Yang.
Jim Romar, Local 238's political coordinator, said the dozens of Teamsters on hand really got a chance to get up close and personal with the candidates at the event, which he described as having a carnival-like atmosphere.
"We delivered a large turnout of Teamsters for this event because it is such a large event, but got good one-on-one contact with these candidates and a real chance to dig in on the issues with the candidates," he said.
Romar noted that the long history of the Steak Fry, started and originally hosted by former Sen. Tom Harkin of Iowa, made it a big draw.
Saturday, Sept. 28
RENO, NEV.: The coordinated effort by Teamsters across the country paid off as Steyer delivered a matter-of-fact answer at the "First in the West" dinner to a question about pensions. He said, "I have two words for you, 'Butch Lewis.' We are going to get it passed."
Saturday, Oct. 5
NORTH CHARLESTON, S.C.: Teamsters showed up in force to the Charleston County Democratic Party's Blue Jamboree. Clad in their Teamsters 2020 T-shirts, nearly two dozen Teamsters marched with striking McDonald's workers into the festivities.
They also got the opportunity for face-to-face communication with a number of presidential contenders, including Sen. Michael Bennet of Colorado, Gabbard, Harris, Steyer and Yang.
Harris stressed her support for workers to organize and collectively bargain, while Bennet said he realizes workers are under attack and was encouraged to co-sponsor the Butch Lewis Act, which would bolster multiemployer pension plans. Gabbard, meanwhile, was thanked for her support of the House version of the same pension reform legislation, while Steyer said he supports the pension bill as well as the right to organize. Yang stated he supports the Teamsters, unions and working people.
Monday, Oct. 7
IOWA CITY, IOWA: Local 122 member Payton Corbett joined fellow Teamsters in the Hawkeye State to talk to Booker about pensions and retirement security.
Booker, for his part, lauded the union for its efforts on the topic, saying "the Teamsters have been phenomenal in this issue and I want everyone to hear it because it is outrageous what is going on."
Asked what his solution would be to keep the Teamsters' Central States Pension Fund and other multiemployer pensions afloat, Booker said he understood a lot is at stake.
"What these men and women are saying is they need help to stabilize their pension funds," the senator told those in the audience. "I support the legislation currently in the Senate right now to stabilize those funds…If I am your president, you have my commitment…that I am going to drive this legislation across the finish line."
Wednesday, Oct. 16
AMES, IOWA: Local 238 member Tony Currin asked Buttigieg what he would do to make sure union pension plans remain solvent. In response, the mayor said, "I read the original Butch Lewis bill. And of course I will do everything in my power to make sure that or some incarnation of that does become law. And that it becomes easier for workers to unionize, as well." He also talked about the importance of unions.
Tuesday, Oct. 22
BURLINGTON, IOWA: Members from Local 238 were out on the trail again, this time talking with Harris about unions and raising the rights of workers.
Harris said, "Even if you are not a member of a labor union, thank them for your weekend, your eight-hour workday, sick leave, all of that. That is because the leadership of the unions fighting for all workers."
She said misclassification needs to be ended, and companies should depend less on the use of temp workers. As president, Harris said, "it has to be about running a government in a way that we respect the honoring of those contracts and agreements, and that there is an enforcement of agreements."
Monday, Oct. 28
PHILADELPHIA: Local 502 member Don Anticoli attended a Steyer event held at the University of Pennsylvania campus. When asked about pension reform and collective bargaining rights, Steyer called himself a passionate supporter of the Butch Lewis Act, and noted there has been a 40-year war on labor that must stop. He also said that good union jobs help people maintain good health insurance.
Friday, Nov. 1
DES MOINES, IOWA: Some 30 Teamsters, including members and officials of Locals 120, 238, 554 and 710, were among the thousands on hand at the Iowa Democratic Party's Liberty and Justice Dinner, where they listened for the 13 candidates to talk about their plans for workers if they are elected next year.
Sunday, Nov. 3
DAVENPORT, IOWA: A sign held by Local 710's Brenda Davis caught the eye of Warren during a rally, and the lawmaker told Davis she had the best sign at the event. Later, when Warren mentioned unions she told Davis to hold her sign higher so the whole auditorium could see, leading the crowd to erupt in cheers.
Saturday, Nov. 16
LAS VEGAS: Biden held a labor roundtable event where he heard from Teamsters concerned about pensions and retirement security. Biden said he would work to secure pensions as well as make it easier to organize, prioritize labor in trade deals and go after companies who misclassify workers.
Monday, Nov. 18
MINDEN, NEV.: Castro, asked by Brotherhood of Locomotive Engineers and Trainmen member Matt Parker about workers' rights and collective bargaining, said he would push Congress to enact reforms to the National Labor Relations Act and the Railway Labor Act that would give workers their voice and power back.
He also indicated he supports the PRO Act, believes more needs to be done to prevent misclassification of workers and expressed his belief that the government has a greater role to play in protecting workers' rights.
Saturday, Nov. 23
MANCHESTER, N.H.: Retired Local 633 President Dennis Caza met Warren. He asked how she would pass the Butch Lewis Act, and she said she would work hard to elect Senate candidates who would deprive Mitch McConnell of his majority and pass the bill to support pensions. She also mentioned that since the U.S. was perfectly happy to bail out Wall Street executives, it needs to be willing to support folks in multiemployer pensions who did nothing wrong.
« Previous
Next »