BLET and Smart-TD Request Emergency Order to Protect Rail Workers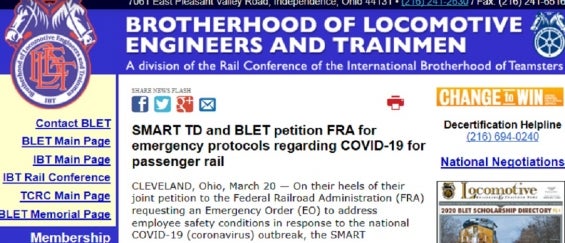 On their heels of their joint petition to the Federal Railroad Administration (FRA) requesting an Emergency Order (EO) to address employee safety conditions in response to the national COVID-19 (coronavirus) outbreak, the SMART Transportation Division and the Brotherhood of Locomotive Engineers are Trainmen (BLET) are now asking for a similar EO for Amtrak and passenger/commuter lines.
"Therefore, it is necessary that Amtrak and all railroads providing passenger and commuter rail service take immediate and appropriate precautions to mitigate against the spread of the virus amongst their workforces and passengers, to minimize the exposure of their employees to the virus during the performance of their duties, and to maintain sufficient staffing levels to compensate for reduced headcounts caused by sick employees and family members until the virus begins to subside," SMART-TD President Jeremy R. Ferguson and BLET President Dennis R. Pierce wrote in their petition.
The unions' request for an EO calls for an action plan to help address the potential spread of the coronavirus among rail workers using protocols established by the Centers for Disease Control and Prevention (CDC). To date, the FRA has failed to enact such an action plan. Several components of the unions' passenger rail EO request mirror those requested in their joint freight petition, which includes: locomotive sanitation, common room sanitation, employee temperature observation protocols, away-from-home terminal procedures, crew transportation sanitation, what to do if an employee develops symptoms, and furlough recall procedures. The unions' petition for a passenger EO covers: coach/passenger car sanitation standards, sleeper cars, and directives in case a passenger develops symptoms.
The unions suggest that 25% of furloughed rail personnel should immediately be recalled to service to deal with anticipated shortages and staffing needs, in accordance with President Trump's invocation of the Defense Production Act.
"In order to standardize and define the best protocols across the industry for mitigation of the spread of the virus and the protection of both passengers and employees, there exists a number of safety precautions that need to be immediately ordered by FRA," Presidents Ferguson and Pierce stated.
To read the original article on the BLET's website, click here.
« Previous
Next »