Message From GCC President Kurt Freeman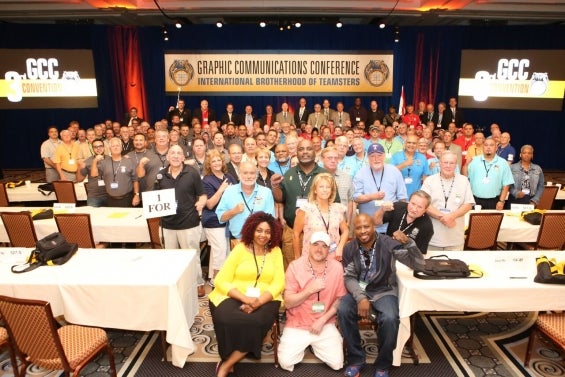 A message from Graphic Communications Conference President Kurt Freeman, April 27, 2020:
The COVID-19 crisis is presenting our union with many challenges. But, it is also showing us how our members and union companies have innovative ideas. The GCC/IBT has numerous companies that have retooled their operations and are now producing face masks and other PPE (See list below). We are sure that other print shops have been making similar changes to their workflow in order to assist those in need.
I want to remind everyone that the IBT's Safety and Health department has published some fact sheets that are very helpful. One in particular, The Union's Role in the Workplace, can be accessed here. https://teamster.org/wp-content/uploads/2018/12/ibtsafetyandhealthcovid19unionsroleinworkplacepreparationkm.pdf Another fact sheet, Exposed and Infected Workers Rights and Employers Responsibilities can be accessed here:https://teamster.org/wp-content/uploads/2018/12/424covid19positiveworkerapril22.pdf and gives valuable information should someone in your workplace become infected.
GCC/IBT represented shops producing personal protective equipment (PPE):
FACE SHIELDS AND COUNTER GUARDS:
Sand Alexander Inc. is producing PPE to help with this pandemic.
Website: www.sandyinc.com
Gene A. Palecco
SandyAlexander
200 Entin Road | Clifton New Jersey 07014
973 968 3333 direct
Face shields and counter guards.
FACE MASKS:
Rodney Eitland
American Unions Embroidery & Screenprinting, Inc.
365 Oak Street South, Bldg. 1
West Salem, WI 54669
Phone 608-612-0324
Washable face mask also KN95 and the Disposable medical mask.
Universal Promotions
1201 S. Ocean Dr. Suite 2503N
Hollywood, Florida 33019-2181
t. (954) 587-5316 · 1 855 257-3335
f. (954) 587-5279
buyunionmade@universalpromotions.com
Face masks
Cedar Stream
201 AT&T Drive Suite 101
CEDARTOWN, GEORGIA 30125
800.686.7488
Face masks
*More information will be added on a continuing basis.
« Previous
Next »