A Message to Public Services Teamsters from Division Director Jason Rabinowitz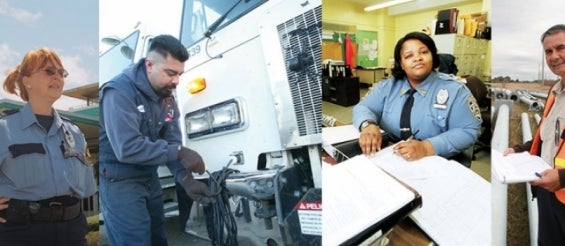 Since my last update, the IBT Public Services Division (PSD) has been working overtime—and in overdrive—to keep our members safe and to protect their rights on the job. In the face of this national crisis, the Teamsters Union is fighting for members so that no one will lose pay or benefits due to COVID-19:
Already, our Teamster Locals have won the right for thousands of our members to work safely from home. We've also won PPE and other safety measures in several locations throughout the country. And for those can't work due to COVID-related reasons, our Locals have won paid leave and protection from layoff for thousands.

The Division is collecting information regarding how public sector employers (e.g., state, county, local governments, school districts, air and water quality special districts, etc.) are responding to the coronavirus pandemic. Recently, we sent out an online survey to all locals representing public employees to better understand how we can prepare for and protect our members during this national crisis as well as in similar situations in the future.

We have been holding weekly calls with local unions to provide the latest updates, with the goal of enhancing communications for their PSD members. We have also held several political calls with locals to help explain what the recently-passed Families First and CARES Acts will mean for public employees in each state.

On Thursday, April 9, we held a town hall webinar for all public service members. The live event featured General President James P. Hoffa, and the Teamsters Health and Safety Director Lamont Byrd. Thousands of members joined in, but if you missed the webinar or wish to view it again, be sure to check out the recording online to learn what we are doing to fight for members and ensure worker safety during the COVID-19 crisis: https://youtu.be/uv735d6LkCs

Through this crisis, the PSD is continuing to build worker power from coast to coast. Despite the negative effects of the Supreme Court's Janus decision, our Division is proud to announce that membership in the public sector is higher today than it was the day of this anti-worker, anti-union ruling. Even in the wake of this crisis, we must not stop signing up new hires and organizing new members. I am proud to report that even during this pandemic, we have organized hundreds of new workers into our Division, including more than 140 county workers who joined Local 1932 in San Bernardino, California, and a unit of 150 prosecutors who joined Local 856 in Northern California less than a week later.
The 1.4-million members of the Teamsters Union have been working tirelessly, performing essential services and keeping America safe. Many of our 200,000-plus members are working day and night to serve the public and keep our nation running throughout this unprecedented crisis.
We are making sure our message is heard loud and clear: we insist all of our members are covered by the proper safety measures and PPE, and that employers must prevent layoffs as well as any loss of pay for members who are unable to work due to COVID-19. In the midst of this unprecedented crisis, I've never been more proud to be a Teamster. Together, united as one union, we will beat this and come out stronger than ever.
« Previous
Next »