Angelica Linens Teamsters Hard at Work in California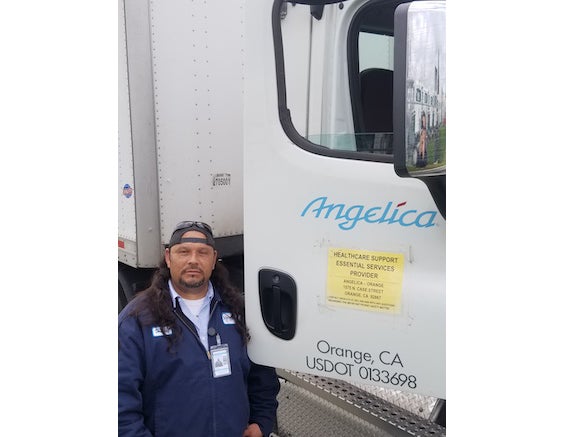 Members Pick Up and Deliver Scrubs, Other Linens, From Hospitals
Health care facilities and those who work in them are in the news a lot lately. While doctors and nurses certainly deserve our thanks, there are many workers that keep health care facilities running that are currently unsung.
Every day, hospitals produce thousands of pieces of dirty laundry. Angelica Linen, a Teamster employer, specializes in laundry from hospitals, long-term care centers, surgery centers, clinics and other health care facilities. Right now, those workers are considered essential, as are Teamster laundry employers like Aramark, AmeriPride, Alsco and Emerald Textiles.
"We deliver linen, scrubs, medical lab coats, patient gowns, and pretty much everything that's made out of fabric that a hospital or medical center could possibly need," said Harry Gutierrez, a driver with Angelica Linen and member of Local 952 in Orange, Calif. He is also steward for his bargaining unit. "We also pick up all the dirty linen, which includes the contaminated COVID-19 linen, and return it to the plant to be cleaned."
Gutierrez, who has worked at Angelica Linen for 13 years and has been a Teamster for 20 years, said wearing personal protective equipment (PPE) has always been part of his job.
"We've worked through SARS and H1N1. We have always been careful about how we pick up linens and scrubs and we're careful now," he said. "Work has been steady for us. Obviously the disinfecting methods have improved and gotten more detailed, but we're still out there grinding it out."
Disinfecting and sanitizing has become an even bigger part of work for Gutierrez and his co-workers. Vehicles get sanitized, as well as any part a driver might have touched. Drivers have more stringent protocols for safety than they did before the pandemic.
"Teamsters in the linen industry are some of the hardest working members we have," said Dave Dudas, Director of the Teamsters Bakery and Laundry Conference. "The union is working to make sure all our members are working safe, and I salute these essential employees for their continued work in such difficult times."
"We work in a gray area. We're in the medical industry but we're not a medical profession. Still, my co-workers and I take great pride in the quality of our linens, how they're delivered, how we communicate with customers," Gutierrez said.
His Angelica Linens location has been members of Local 952 since long before he started there.
"The Teamsters always give us the support and backing we need," he said. "My co-workers are very hardworking, reliable and proud Teamsters."
"These Angelica workers are showing what the Teamsters Union is all about," said Eric Jimenez, Secretary-Treasurer of Local 952. "Teamsters have always been essential. During this time of uncertainty, Teamsters across the country are proving it and we are going to keep doing what we do best to get our country back on track."
« Previous
Next »