BMWED: Face Coverings Important for Protecting Railroader's Health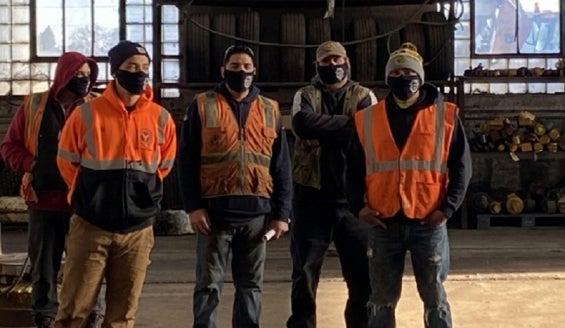 The Brotherhood of Maintenance of Way Employes Division (BMWED), a division of the Teamsters Rail Conference, posted an article this week about the important of wearing face coverings in order to help protect against the COVID-19 virus:
We have lost three BMWED Brothers to the COVID-19 pandemic. Countless others have gotten sick. Several of our members from across the country have been placed on medical quarantine.
The consistent use of face coverings is an imperative tool to help prevent the spread of this virus. Like the PPE that came before it, we know that working while wearing it is at times uncomfortable and difficult, but just as hard hats and reflective vests are important to prevent unnecessary injury or death, a face covering is just as vital. Our brothers and sisters are vulnerable at work. You are, too. Please wear a face covering while working within six feet of another person.
Some of the railroads have provided adequate face coverings; others have not. Public health officials have stated that a bandana, or t-shirt, or cloth covering of the mouth and nose is enough to help contain person-to-person spread. Additionally, there are face coverings that are available for purchase that can do the same, including through the Teamsters website. We urge you to find a face covering that suits you. We will continue pressing the railroads to provide suitable face coverings for all employees.
Solidarity during this pandemic is of utmost importance. We will not be successful in keeping our fellow friends and families healthy if we do not commit to our individual roles. Thank you for wearing face coverings, practicing social distancing whenever you can, and for taking the necessary precautions to keep everyone healthy.
To read the original article on the BMWED's website, click here.
« Previous
Next »