COVID-19 News Updates for May 29, 2020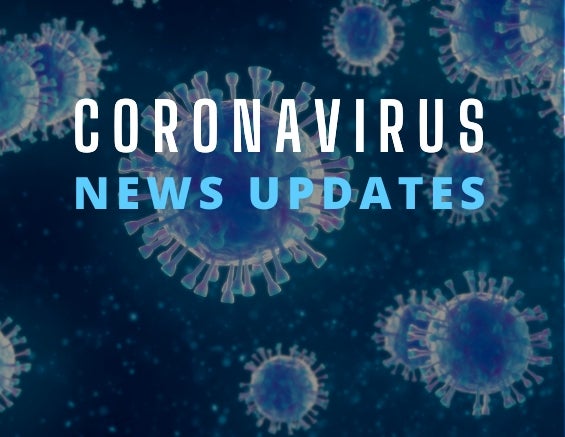 Guidelines for Opening Up America Again
President Trump has unveiled Guidelines for Opening Up America Again, a three-phased approach based on the advice of public health experts. These steps will help state and local officials when reopening their economies, getting people back to work, and continuing to protect American lives. Please click here for more information: Guidelines for Opening Up America Again
· Testing Overview (HERE)
· Testing Blueprint (HERE)
· Guidance for Cleaning and Disinfecting Public Spaces, Workplaces, Businesses, Schools and Homes (HERE)
· CDC guidance for Camps, Child Care Programs, Schools, Mass Transit, Restaurants And Bars, and Workplaces
· CDC Activities and Initiatives Supporting the COVID-19 Response and the President's Plan for Opening America Up Again (HERE)
White House COVID-19 Updates
· President Trump Holds a News Conference (HERE)
· President Donald J. Trump Is Protecting America From China's Efforts To Steal Technology And Intellectual Property (HERE)
· Proclamation on the Suspension of Entry as Nonimmigrants of Certain Students and Researchers from the People's Republic of China (HERE)
· Remarks by President Trump and Vice President Pence During Briefing on the 2020 Hurricane Season (VIDEO, HERE)
· Remarks by President Trump Announcing an Executive Order on Preventing Online Censorship (HERE)
· Remarks by Vice President Pence at a Roundtable Discussion with Small-Business Owners on Reopening America (HERE)
· Kratsios: Artificial Intelligence Can Serve Democracy (HERE)
CISA Releases New Cyber Essentials Toolkit (HERE)
· As a follow-up to the November 2019 release of Cyber Essentials, the Cybersecurity and Infrastructure Security Agency (CISA) released the first in a series of six Cyber Essentials Toolkits. This is a starting point for small businesses and government agencies to understand and address cybersecurity risk as they do other risks. CISA's toolkits will provide greater detail, insight and resources on each of the Cyber Essentials' six "Essential Elements" of a Culture of Cyber Readiness.
HUD Introduces "A Solid Foundation" Podcast Series for the Class of 2020 (HERE)
· Today, the U.S. Department of Housing and Urban Development (HUD) released a podcast series, "A Solid Foundation; Words of Wisdom for Graduates from the Class of 2020." Because of the coronavirus outbreak, many high school, trade school, college, and university students are celebrating graduations virtually in lieu of in-person ceremonies.
President Trump Announces Extension of Title 32 Orders (HERE)
· President Trump announced his intent to extend the Title 32 orders through mid-August. The President's current authority provides governors continued command of their National Guard forces, while being 100% federally funded under Title 32, enabling these states to use the additional resources to meet the missions necessary in the whole-of-America COVID-19 response.
FDA Takes Steps to Streamline Development of Tests with At-Home Sample Collection (HERE)
· Today the U.S. Food and Drug Administration took steps to further support the development of COVID-19 tests for at-home self-collection by including a voluntary EUA template for at-home sample collection kits to its website. As explained in FDA's guidance, Policy for COVID-19 Tests during the Public Health Emergency (Revised), this template reflects FDA's current thinking on the data and information that developers should submit to facilitate the EUA process.
o FDA Daily Roundup– May 28 (HERE)
Department of Justice Files Statement of Interest Challenging the Constitutionality of Maine Governor's COVID-19 Orders that Economically Harm Maine Campgrounds (HERE)
· The Department of Justice today filed a statement of interest in a Maine federal court in support of a lawsuit filed by campgrounds in Maine—and New Hampshire residents who wish to enjoy them—challenging a measure by Governor Janet Mills in response to COVID‑19 that treats Maine residents more favorably than out-of-state residents when they seek to patronize campgrounds and RV parks within Maine.
Georgia Woman Pleads Guilty to COVID-19 Related Federal Offense for Selling Unregistered Pesticides on eBay (HERE)
· A Georgia woman who sold an unregistered pesticide, which she claimed protected against viruses such as COVID-19, has pleaded guilty to violating the Federal Insecticide, Fungicide, and Rodenticide Act (FIFRA).
The Department of Justice Files Statement of Interest in Support of Freedom of Religion for Colorado Church (HERE)
· The Department of Justice today filed a statement of interest in a Colorado federal court supporting the First Amendment religious freedom claims of High Plains Harvest Church and its pastor.
The United States Continues to Lead the Global Response to COVID-19 (HERE)
· The United States continues to lead in the face of the COVID-19 pandemic, illustrated by recent announcements of new foreign assistance that are made possible through the American people's generosity and the U.S. Government's action.
Medical Specialists Outline How to Deal with COVID-19 Stress (HERE)
· Handling the symptoms of stress and anxiety begins at home with self-care, a panel of medical experts said during a media roundtable.
DOD Announces Two Defense Production Act Title 3 COVID-19 Projects to Support the Space Defense Industrial Base: $12.45 Million Investment to Improve Domestic Semiconductor Production, and $6 Million to Expand Domestic Production of Satellite Solar Array Panels (HERE)
· As part of the national response to COVID-19, the Department of Defense has signed a $12.45 million contract award with 5N Plus Semiconductor to improve semiconductor production processes to support long term business viability and maintain the sole domestic source of critical semiconductor technologies for space programs.
For the most up-to-date information, please see the below fact sheets and the CDC's website: www.coronavirus.gov.
« Previous
Next »