Double Contract Wins for Teamsters at Republic Services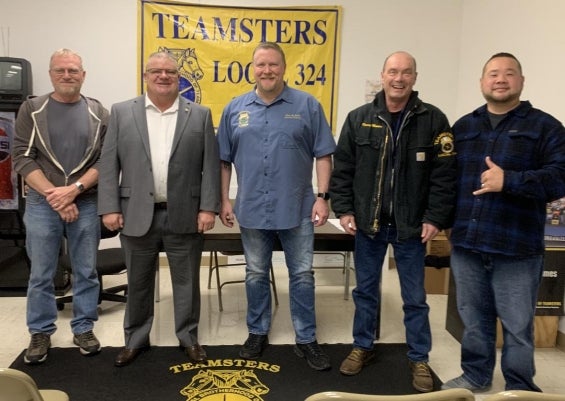 Members at Local 991 and Local 324 Secure New Agreements
Last week, waste workers at Republic Services in Mobile, Alabama and Salem, Oregon ratified two new contracts after a hard-fought battle at the bargaining table. Both agreements were approved by overwhelming margins and contain numerous improvements for each of the two units.
At Local 324 in Oregon, Republic Services workers stood united in the face of a company-led decertification campaign. With the support of Local 174 and the Teamsters Waste and Recycling Division, the 55-worker unit stood strong and was able to beat back the anti-union effort to win a significant new agreement.
"I'm very proud of these workers, especially our stewards Craig Larson and Ray Manibusan; both worked tirelessly to educate the membership and counter the company's divisive tactics. The workers' effort should serve as a great example of how they can empower one another and stand up to the lies from the anti-worker, anti-union forces," said Chris R. Muhs, Secretary-Treasurer of Local 324 in Salem. "We are also thankful to Chuck Stiles for his leadership, and Rick Hicks and our brothers and sisters at Local 174 for their support throughout this fight. Not only were we able to beat back the company's effort to divide this unit, we were also able to win an excellent new agreement that will improve the lives and working conditions for years to come."
Local 991 members in Alabama were also united in their efforts for an improved contract, holding negotiating sessions throughout the pandemic via conference calls and teleconference meetings to secure a strong agreement for the 24-person bargaining unit.
"We went into bargaining with very clear goals. This contract will give our members stability over the next three years, and provide them with the respect and dignity they deserve," said Jim Gookins, Secretary-Treasurer of Local 991 in Mobile. "Our members at Republic Services are an essential part of the community, and they deserve to be provided with the best possible pay, benefits and treatment. This contract was bargained in good faith and builds upon many of the gains from previous agreements."
Local 991 also worked closely with the Teamster Waste and Recycling Division at the bargaining table, Gookins noted.
"We were happy to assist these locals throughout the bargaining process, and I am proud of these workers for staying united throughout negotiations," said Chuck Stiles, Director of the Teamsters Solid Waste, Recycling and Related Industries Division. "By working together, we can fight and we can win."
Both of the new agreements will provide Local 991 and Local 324 members with wage increases as well as on-the-job protections and improved language for paid time off through 2023.
Founded in 1903, the International Brotherhood of Teamsters represents 1.4 million hardworking men and women throughout the United States, Canada and Puerto Rico. Visit www.teamster.org for more information. Follow us on Twitter @Teamsters and "like" us on Facebook at www.facebook.com/teamsters.
« Previous
Next »