Former Worker, Steward at Sysco Wins Back Pay After Arbitrator Rules He Was Illegally Fired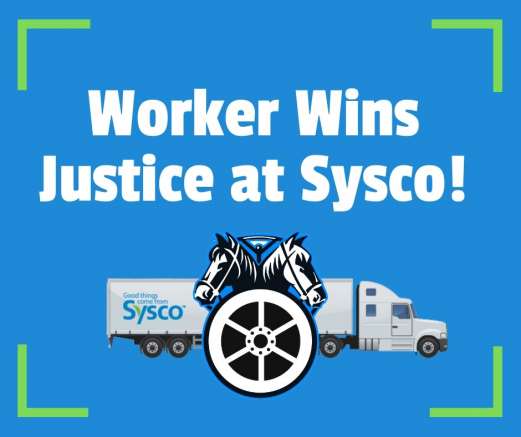 A former steward at Sysco in Oklahoma, one of five fired by the company several years ago for defending their coworkers' rights, was illegally terminated and should receive back pay, an arbitrator has ruled.
James Daniels, a member of Local 886 in Oklahoma City, was fired on June 1, 2017 for allegedly violating company policies regarding the use of tobacco products and drinking a soda on the job. His firing and the firing of four other stewards occurred after the five were vocal in fighting against a company-backed effort to withdraw recognition from Tulsa union members.
The union has filed numerous unfair labor practice charges against the company over the firings.
On April 29, 2020, the arbitrator ruled that the company did not have just cause to terminate Daniels, and added "that there was anti-union animus."
"I find that the Union has shown, by a preponderance of the evidence…the required causal connection between the Grievant's protected activities and the Company's termination of his employment," the arbitrator wrote.
The arbitrator ruled that Daniels should receive back pay from the date of the firing through July 11, 2018.
"I'm happy that the arbitrator ruled in our favor and saw that the company was not justified for firing me," Daniels said. "And I hope the company will settle with the other fired stewards now that the arbitrator has issued this decision."
"We expect Sysco to abide by the arbitrator's decision," said Tom Ritter, Local 886 President. "This is a clear demonstration of Sysco's anti-union acts and we will continue to fight to restore the jobs of the remaining fired stewards."
« Previous
Next »