Teamsters Local 777 Builds Political Power During COVID-19 Pandemic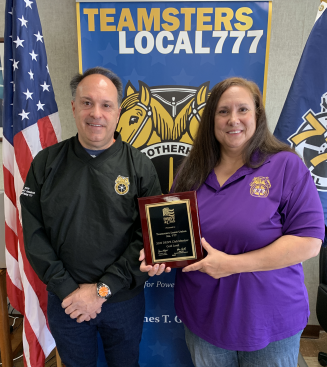 Teamsters Local 777 in Lyons, IL has been at the forefront of union organizing in the private school bus industry for quite some time, and with Election Day less than six months away, they're bringing their organizing strength to the political world by signing up as many members as they can to be a part of DRIVE.
DRIVE (shorthand for Democrat, Republican Independent Voter Education) is the Teamsters' political action committee. DRIVE is non-partisan and it works to get pro-Teamster candidates elected to public office up and down the ticket. Local 777 recently achieved gold status, meaning they signed up one in five of their members as donors to the PAC. They are one of the first Teamster local unions in Illinois to achieve this benchmark – no small fete in a state with tens of thousands of Teamsters.
"Our membership's involvement in DRIVE is a testament to their dedication, selflessness and passion for building worker power not just on the job, but at the ballot box," said Jim Glimco, President of Local 777. "I'm truly honored to represent such an amazing group of people."
"If we're not involved in politics, then politics won't involve us and we won't have a seat at the table," said Joe Russo, a Local 777 Member and DRIVE contributor. "Right now, our entire way of life is at a standstill because of the coronavirus. Union members and working families can't afford not being involved because we need to get our concerns addressed in the government's response to the pandemic."
The focus on political advocacy is already paying off: in 2018 Local 777 went above and beyond to get J.B. Pritzker elected Governor of Illinois. Pritzker beat incumbent Bruce Rauner in a landslide, and he hasn't forgotten who helped make that happen. His administration has worked closely with Illinois Teamsters to address the issues facing workers in the private school bus industry.
"Our members realize that their work is always subject to the political whim of who's in charge, and they need political allies if they want to create meaningful change and continue to drive up standards in the school bus industry," said Glimco.
« Previous
Next »