Teamsters Union Applauds California Attorney General's Lawsuit Against Uber and Lyft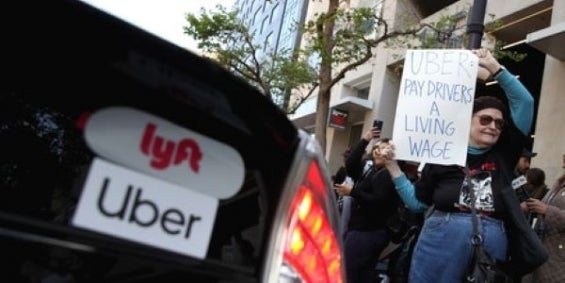 Press Contact: Kara Deniz Phone: (202) 497-6610 Email: kdeniz@teamster.org
(WASHINGTON) – The Teamsters Union applauds California's attorney general and the city attorneys who have sued Uber and Lyft, accusing the companies of violating Assembly Bill 5 by misclassifying their employees as independent contractors.
The lawsuit was filed in San Francisco County Superior Court by Attorney General Xavier Becerra and the city attorneys for San Francisco, Los Angeles and San Diego.
AB5 requires employers to classify workers as employees instead of as independent contractors. Uber, Lyft and other gig companies operating in California have not reclassified their drivers as employees, while pouring over $100 million into a campaign to gain exemption from the law.
Misclassification allows companies to avoid providing basic worker protections including minimum wage, health insurance, Social Security, workers' compensation and more. These costs are passed off onto taxpayers, depriving states of revenue, and putting law-abiding companies at a competitive disadvantage. Misclassification schemes also avoid the payroll tax responsibility needed to maintain effective unemployment insurance systems.
"The Teamsters Union stands shoulder to shoulder with workers in the fight against misclassification," said Jim Hoffa, Teamsters General President. "Misclassification is an illegal practice that benefits corporations by hurting workers. It's immoral and illegal, and while it's harmful during normal times, during this pandemic we see just how much of an impact it has on workers struggling to get by, workers who have few of the protections that they deserve."
"It's notable that the city of San Francisco is a plaintiff in this suit, as the city is also home to the headquarters for Uber and Lyft. The city is also home to thousands of drivers who have sought our help to gain protections," said Rome Aloise, President of Teamsters Joint Council 7. "Uber and Lyft haven't put a dime into the state unemployment system, but have no shame in looking to the federal government to bail them out with unemployment checks to the workers."
"We're extremely pleased that this lawsuit was filed by Attorney General Becerra and city attorneys against Uber and Lyft to protect workers who are illegally subjected to and harmed by misclassification," said Randy Cammack, President of Teamsters Joint Council 42.
In the lawsuit, the plaintiffs stated in reference to Uber and Lyft, "And now, even amid a once-in-a century pandemic, they have gone to extraordinary lengths to convince the public that their unlawful misclassification scheme is in the public interest. Both companies have launched an aggressive public relations campaign in the hopes of enshrining their ability to mistreat their workers, all while peddling the lie that driver flexibility and worker protections are somehow legally incompatible. Uber and Lyft's motivation for breaking the law is simple: by misclassifying their drivers, Uber and Lyft do not "bear any of [the] costs or responsibilities" of complying with the law."
Founded in 1903, the International Brotherhood of Teamsters represents 1.4 million hardworking men and women throughout the United States, Canada and Puerto Rico. Visit www.teamster.org for more information. Follow us on Twitter @Teamsters and "like" us on Facebook at www.facebook.com/teamsters.
« Previous
Next »