COVID-19 News Updates for June 11, 2020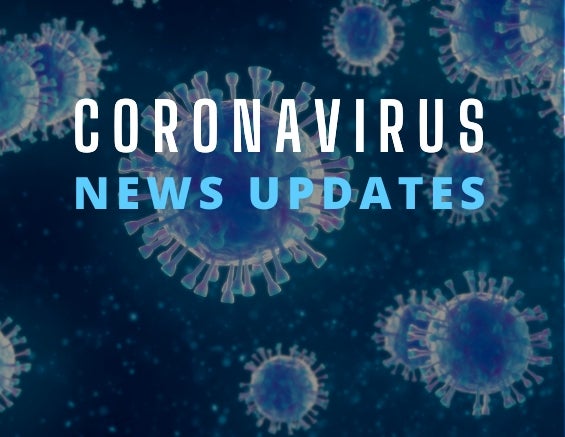 Guidelines for Opening Up America Again
President Trump has unveiled Guidelines for Opening Up America Again, a three-phased approach based on the advice of public health experts. These steps will help state and local officials when reopening their economies, getting people back to work, and continuing to protect American lives. Please click here for more information: Guidelines for Opening Up America Again
· Testing Overview (HERE)
· Testing Blueprint (HERE)
· Guidance for Cleaning and Disinfecting Public Spaces, Workplaces, Businesses, Schools and Homes (HERE)
· CDC guidance for Camps, Child Care Programs, Schools, Mass Transit, Restaurants And Bars, and Workplaces
· CDC Activities and Initiatives Supporting the COVID-19 Response and the President's Plan for Opening America Up Again (HERE)
White House COVID-19 Updates
· President Trump Participates in a Roundtable on the Transition to Greatness (HERE)
· 1600 Daily: President Trump Unveils Vision to Rebuild Our Cities (HERE)
HHS Awards $8 Million to Expand COVID-19 Training and Technical Assistance for Health Centers (HERE)
· This week, the U.S. Department of Health and Human Services (HHS), through the Health Resources and Services Administration (HRSA), awarded $8 million to 73 organizations that provide training and technical assistance (T/TA) to HRSA-funded health centers nationwide.
Nursing Home Residents' Right to Retain Federal Economic Incentive Payments (HERE)
· The Centers for Medicare & Medicaid Services (CMS) is aware of allegations that some nursing homes are seizing residents economic impact payments (or "Stimulus Checks") authorized under the CARES Act. This practice is prohibited, and nursing homes that seize these payments from residents could be subject to federal enforcement actions, including potential termination from participation in the Medicare and Medicaid programs.
NIH Researchers Identify Key Genomic Features that Could Differentiate Sars-Cov-2 from Other Coronaviruses that Cause Less Severe Disease (HERE)
· A team of researchers from the National Library of Medicine (NLM), part of the National Institutes of Health, identified genomic features of SARS-CoV-2, the virus that causes COVID-19, and other high-fatality coronaviruses that distinguish them from other members of the coronavirus family.
FDA June 10 – Daily Roundup (HERE)
· The U.S. Food and Drug Administration continues to announce actions taken in its ongoing response effort to the COVID-19 pandemic.
Domestic N95 Mask Production Expected to Exceed 1 Billion in 2021 (HERE)
· Thanks to work by the Defense Department's COVID-19 Joint Acquisition Task Force, U.S. industry is expected to greatly increase the production of N95 masks next year, the task force's director said.
Air Force Conducts Mass COVID-19 Test (HERE)
· Joint Base Langley-Eustis conducted mass rapid oral fluid COVID-19 testing of roughly 2% of its population.
Department of Justice Files Friend-of-the-Court Brief in Support of Free Speech Challenge to California's COVID-19 Ban on In-Person Political Protests (HERE)
· The Department of Justice today filed a friend-of-the-court brief in the U.S. Court of Appeals for the Ninth Circuit in support of a lawsuit by plaintiffs Ron Givens and Christine Bish, two individuals seeking to hold peaceful in-person protests of 500 to 1,000 people with social distancing on the grounds of the California State Capitol Building.
Georgia Resident Arrested for Scheme to Sell Illegal Products Claiming to Protect against COVID-19 (HERE)
· Stephen Matthew Shumaker has been charged with mail fraud and knowingly distributing and selling a misbranded pesticidal device.
EPA Providing Excess PPE for Fighting COVID-19 (HERE)
· Today, the U.S. Environmental Protection Agency (EPA) announced that it is working with the Federal Emergency Management Agency (FEMA) to transfer an additional 22,000 pieces of excess personal protective equipment (PPE) to emergency and health professionals on the COVID-19 frontlines. The Agency maintains a supply of PPE for mission-critical work such as the laboratory work conducted at EPA's Environmental Science Center at Fort Meade, Md., as well as responding to emergencies, including chemical, oil, radiological and biological incidents.
IRS provides guidance on employer leave-based donation programs that aid victims of the COVID-19 pandemic (HERE)
· The Internal Revenue Service today provided guidance for employers whose employees forgo sick, vacation or personal leave because of the COVID-19 pandemic.
For the most up-to-date information, please see the CDC's website: www.coronavirus.gov.
« Previous
Next »