COVID-19 News Updates for June 4, 2020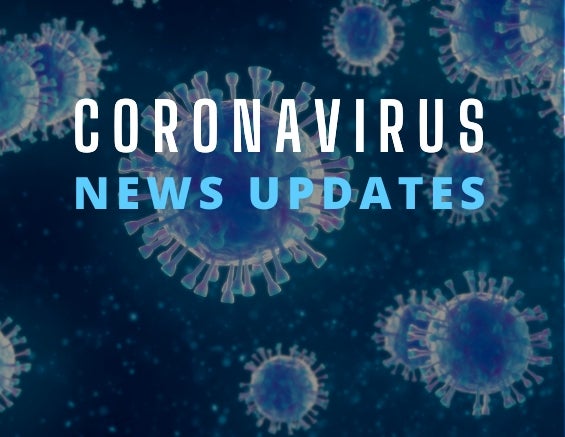 Guidelines for Opening Up America Again
President Trump has unveiled Guidelines for Opening Up America Again, a three-phased approach based on the advice of public health experts. These steps will help state and local officials when reopening their economies, getting people back to work, and continuing to protect American lives. Please click here for more information: Guidelines for Opening Up America Again
· Testing Overview (HERE)
· Testing Blueprint (HERE)
· Guidance for Cleaning and Disinfecting Public Spaces, Workplaces, Businesses, Schools and Homes (HERE)
· CDC guidance for Camps, Child Care Programs, Schools, Mass Transit, Restaurants And Bars, and Workplaces
· CDC Activities and Initiatives Supporting the COVID-19 Response and the President's Plan for Opening America Up Again (HERE)
IRS Provides Answers about Coronavirus Related Tax Relief for Qualified Opportunity Funds and Investors (HERE)
· The Internal Revenue Service today provided guidance for Qualified Opportunity Funds (QOFs) and their investors in response to the ongoing Coronavirus Disease 2019 (COVID-19) pandemic.
HHS Announces New Laboratory Data Reporting Guidance for COVID-19 Testing (HERE)
· Today, the U.S. Department of Health and Human Services (HHS) announced new Guidance that specifies what additional data must be reported to HHS by laboratories along with Coronavirus Disease 2019 (COVID-19) test results.
Nursing Home COVID-19 Data and Inspections Results Available on Nursing Home Compare (HERE)
· Today, the Centers for Medicare & Medicaid Services (CMS) is posting the first set of underlying coronavirus disease 2019 (COVID-19) nursing home data. On April 19, 2020, CMS announced the requirement that nursing homes to inform residents, their families, and their representatives of COVID-19 cases in their facilities.
FDA Publicly Shares Antibody Test Performance Data from Kits as Part of Validation Study (HERE)
· Today, the U.S. Food and Drug Administration publicly posted test performance data from four more antibody, or serology, test kits on open.fda.gov from its independent performance validation study effort with the National Institutes of Health's (NIH) National Cancer Institute (NCI).
o FDA Daily Roundup – June 4, 2020 (HERE)
FDA Approves Antibiotic to Treat Hospital-Acquired Bacterial Pneumonia and Ventilator-Associated Bacterial Pneumonia (HERE)
· Today, the U.S. Food and Drug Administration approved Recarbrio (a combination of imipenem-cilastatin and relebactam) to treat hospital-acquired bacterial pneumonia and ventilator-associated bacterial pneumonia (HABP/VABP) in patients 18 years of age and older.
Master Question List for COVID-19 (HERE)
· The Master Question List (MQL) is intended to quickly present the current state of available information to government decision makers in the operational response to COVID-19 and allow structured and scientifically guided discussions across the federal government without burdening them with the need to review scientific reports, and to prevent duplication of efforts by highlighting and coordinating research.
FEMA Provides Additional $12.4 Million for Colorado COVID-19 Response (HERE)
· The Federal Emergency Management Agency (FEMA) announced $12.4 million in additional funding for COVID-19 response efforts in Colorado. The assistance was made available under the major disaster declaration issued March 28 by President Trump.
In Case You Missed It: FEMA Administrator Discusses Hurricane Preparedness During COVID-19 Pandemic (HERE)
· Earlier today, FEMA Administrator Pete Gaynor spoke with The Weather Channel's Jim Cantore about the active start to the Atlantic hurricane season, with Tropical Storm Cristobal forming in the Gulf of Mexico. Gaynor discussed the agency's actions in preparing for this hurricane season on top of COVID-19 response actions, and guidance the agency released to local and state emergency managers.
USDA Farmers to Families Food Box Program Reaches 5 Million Boxes Distributed (HERE)
· U.S. Secretary of Agriculture Sonny Perdue announced today that the U.S. Department of Agriculture's (USDA) Farmers to Families Food Box Program has distributed more than five million food boxes in support of American farmers and families affected by the COVID-19 pandemic.
USDA Issues First Coronavirus Food Assistance Program Payments (HERE)
· U.S. Secretary of Agriculture Sonny Perdue today announced the USDA Farm Service Agency (FSA) has already approved more than $545 million in payments to producers who have applied for the Coronavirus Food Assistance Program.
Federal Housing Administration Announces Guidance for Insuring Single Family Home Mortgages in Forbearance (HERE)
· Today, the Federal Housing Administration (FHA) announced a new, temporary policy that provides guidance for lenders to obtain FHA insurance endorsements on mortgages where the borrower has requested or obtained a COVID-19 forbearance.
DOT Statement on Adjustment to Service Obligations (HERE)
· Today, the U.S. Department of Transportation issued Final Order 2020-6-2, finalizing its tentative decisions, as announced in Order 2020-5-5, to allow air carriers to incrementally adjust their service obligations under the Department's Order 2020-4-2. The Department is taking this action in light of ongoing challenges faced by air carriers due to the Coronavirus (COVID-19) public health emergency.
Arkansas Project Manager Charged in Oklahoma with COVID-Relief Fraud (HERE)
· A project manager employed by a major retailer was charged in a complaint unsealed Wednesday for allegedly filing fraudulent bank loan applications seeking more than $8 million in forgivable loans guaranteed by the Small Business Administration (SBA) under the Coronavirus Aid, Relief, and Economic Security (CARES) Act.
Governor's Emergency Education Relief Fund (HERE)
· Congress set aside approximately $3 billion of the $30.75 billion allotted to the Education Stabilization Fund through the CARES Act for the Governor's Emergency Education Relief Fund (GEERF).
Virtual Pacific Islands Dialogue on COVID-19 Assistance (HERE)
· The United States and Taiwan are enhancing our important cooperation to prevent the spread of COVID-19. We want countries around the world to benefit from the generous contributions and impressive expertise that Taiwan—a vibrant democracy and a force for good—brings to the global community, and improve the health and welfare of their people.
For the most up-to-date information, please see the below fact sheets and the CDC's website: www.coronavirus.gov.
« Previous
Next »