Solid Waste and Recycling Division Update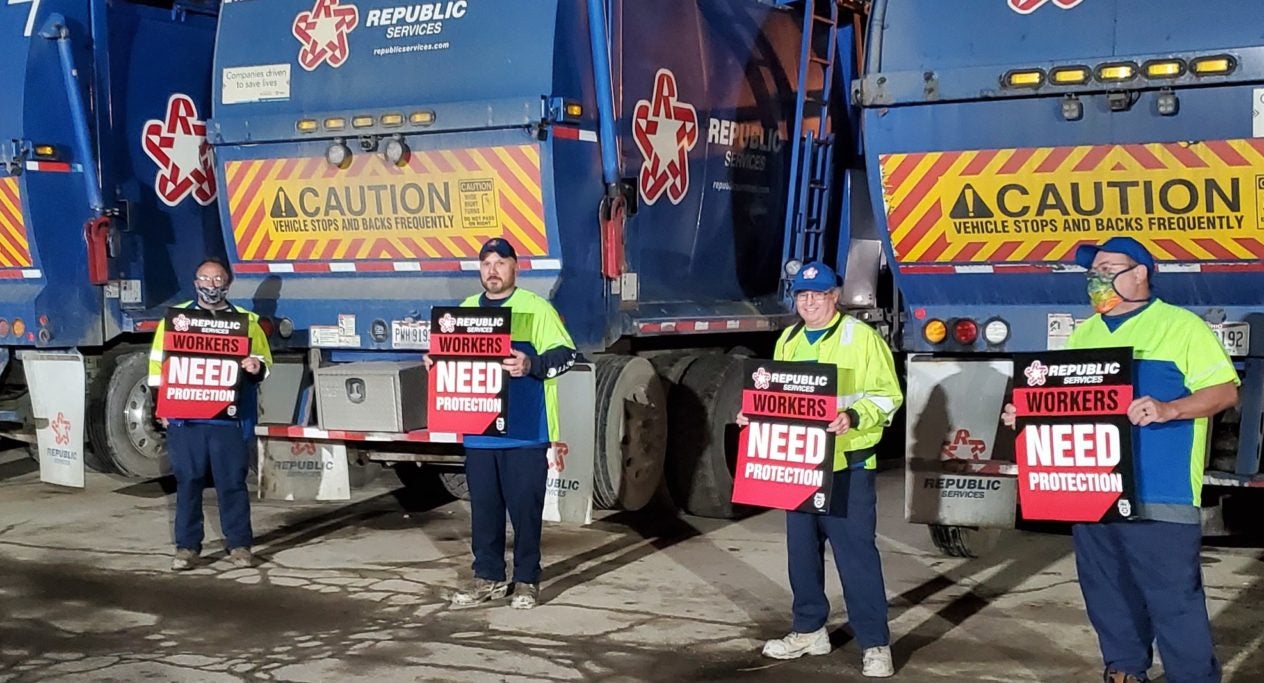 A Message to Division Members from Director Chuck Stiles — June 29, 2020
Members of the Teamsters Solid Waste and Recycling Division are still on the front lines of this pandemic, keeping our communities clean and protecting the public health from spread.
We continue to be in regular contact with Waste Management Inc. (WMI) and Waste Connections to ensure our members are protected on the job. As many of you know, WMI announced plans last year to acquire Advanced Disposal Services. Due to alleged concerns by the Department of Justice Anti-Trust Division, Waste Management renegotiated the terms of the deal to include significant divestitures. GFL Environmental, a non-union company headquartered in Canada, will now acquire $835 million in assets from Advanced Disposal, including operations in Michigan, Illinois, Wisconsin and Pennsylvania. While specifics have not been released, a number of Advanced facilities represented by Teamster Local Unions will likely be sold to GFL, should the deal be approved by regulators. The Waste Division has serious concerns over the inclusion of GFL, and is working with IBT staff, outside counsel and local union representatives to review the transaction. Rest assured that we will update members as soon as we learn more details. We will be doing everything in our power to ensure worker protections are upheld as this situation unfolds.
From the onset of this public health crisis, the aforementioned companies took many of the steps outlined by the division, responding to the union's initial recommendations and providing workers with safety protections and PPE. I was also pleased to hear that our division representatives and local unions in California continue to be in direct contact with Recology, a large employer of many division members on the West Coast. Although no company is perfect, I commend Recology as well as several of the smaller employers for their cooperation and responsiveness to the situation.
Unfortunately and unsurprisingly, Republic Services continues to remain the outlier, and I am sad to report that the issues go beyond the Covid-19 and the ongoing need for basic PPE; this pandemic is shining new light on Republic Services, and it is becoming increasingly clear that this company also has a race problem. Be it knowingly or unwittingly, racial injustice at Republic Services must end, and it is up to us as union members to call out management when we see it and hold the company accountable.
Let us never forget that Dr. King was assassinated while supporting striking Black sanitation workers in April of 1968. More than 50 years later, not much has changed. The industry is different—privatized, consolidated, unregulated—but we are still fighting for safety and respect for sanitation workers. Make no mistake, it is the same fight as 1968. It is a fight for justice.
Everything we fight for, from truck safety and PPE to wages and benefits, is part of a larger and longer fight for justice. We must continue to show our strength at these private waste companies and make sure the entire industry knows that the Teamsters are more united than ever. We must continue to remind the general public that sanitation work is ranked the fifth deadliest job in America, and that was long before the pandemic put workers' lives at even greater risk.
The past few months have made it clearer than ever just how essential and necessary sanitation workers are to this country. The American people are finally waking up to the service you provide and the risks you take every day to protect the public health. While improving on-the-job safety remains a top priority for the division, we also know the best way to truly protect waste workers is at the bargaining table.
Despite the pandemic, we continue to build our bargaining power nationwide. From Local 991 in Alabama to Local 324 in Oregon, waste workers across the country are winning strong new agreements that will provide our members with countless economic gains and protections.
Our power at the bargaining table is critical to improving industry standards. Likewise, our ability to build union density through organizing will allow for even more leverage at the bargaining table. In San Jose, California, members at Local 350 were able to secure major wins in both organizing and bargaining—winning new five-year contracts for two units at Recology while also ratifying a re-opener agreement and organizing clerical workers at Republic Services.
The ability to achieve our bargaining and organizing goals comes from our solidarity—our determination and willingness to stick together. It is more than just a union fight, it is a moral fight. Although the past few months have been trying, our members answered the call and truly are heroes. The silver lining is that our campaign is stronger than ever, more united than ever, and we are not backing down until justice has been achieved.
« Previous
Next »