Teamsters Hold National Food Supply Chain Day of Action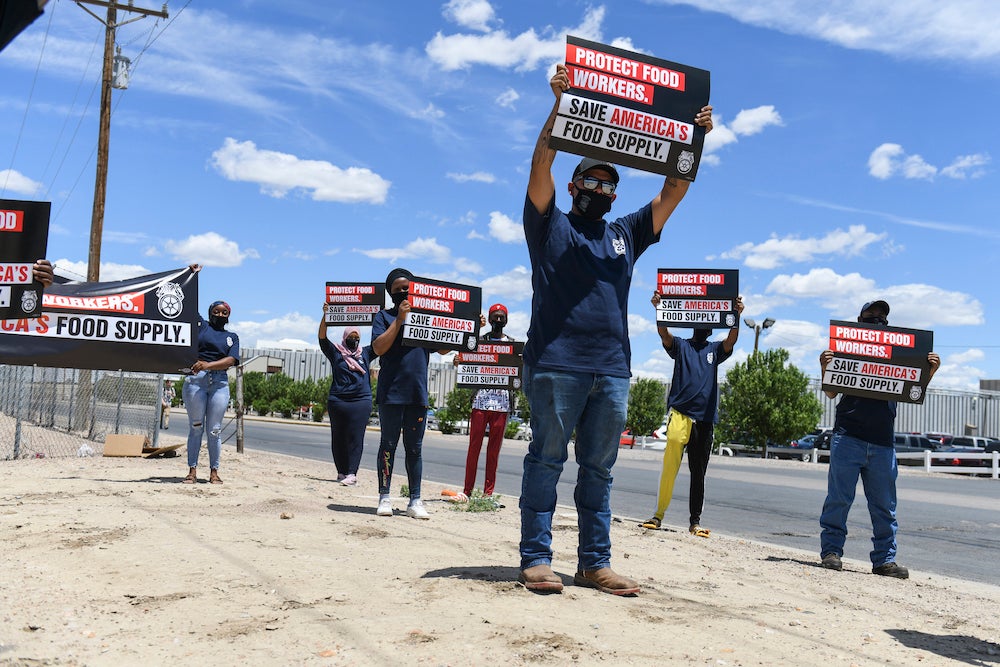 Workers Protest Across Country to Demand State Governments, Employers Provide Enhanced Safety Measures
In a nationwide protest, Teamsters working in all areas of the country's food supply chain today demanded state governments and employers take action to keep them safe and protect the nation's food supply amid the COVID-19 pandemic. Workers in more than 30 cities raised their voices to demand change in the wake of recent COVID-19 outbreaks in the food industry, specifically the need for enforceable safety standards, government funding for paid sick and family leave, hazard pay, access to PPE, and testing capacity.
The protests took place outside of major U.S. food facilities, including the Kroger warehouse in Memphis, TN and the UNFI warehouse in Denver, CO, and were held in cities from La Habra, CA to Springfield, MO to Houston, TX. COVID-19 cases have been reported at more than 115 meat and poultry processing facilities across 19 states, with over 5,000 food supply chain workers testing positive and more than 20 killed from the virus.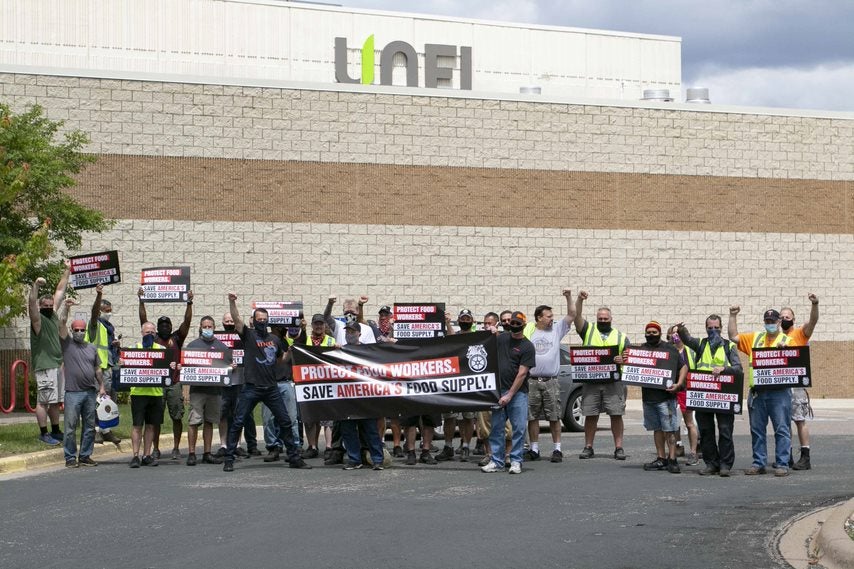 "Until employers, state governments and the federal government step up and deliver enhanced safety measures and federal funding to food facilities, warehouses and stores in need, millions of workers' lives will be at risk — not to mention the wellbeing of millions of American consumers," said Rome Aloise, Director of the Teamsters Food Processing and Dairy Divisions. "We are calling for a shield, test, trace and treat approach for food workers across the industry. This means providing PPE for all workers, adjusting work practices for social distancing, prioritizing regular COVID-19 testing and tracing for food supply chain workers, and covering all COVID-related health expenses and quarantine pay to prevent outbreaks for all workers impacted by COVID-19."
Teamsters represent nearly 500,000 workers at every level of the food chain — from meat and dairy processing, packing, transportation and delivery, to the country's largest breweries, bakeries, soft drink companies and grocery chains. The union fears a resurgence of COVID-19 could put the food supply on the brink of collapse. In order to protect food workers, both union and nonunion, and the country's food supply chain, the Teamsters are calling for enhanced safety measures at all food facilities and demanding protections that align with a report put out last month by Johns Hopkins University on the safety measures critical to securing the supply chain.
"Food workers are the foundation of this U.S. supply chain and account for more than 11% of our country's workforce, yet many continue to be treated like they are disposable," said Kevin Shappell, a dairy worker at Lehigh Dairy in Pennsylvania and member of Teamsters Local 429. "Protecting the food supply chain and the millions of workers running every level of it needs to be a top priority for employers and the government. My employer is doing their best but we know that's not the case in non-union facilities. I've seen how fragile our plant and warehouses are amidst this pandemic. We need government support at every level to promote and fund industry-wide solutions. We need to have real plans in place for a possible second wave."
At least a dozen facilities have shut down in response to COVID-19 outbreaks. As a result, the food supply chain, which accounts for more than 20 million jobs and over 5% of the U.S. GDP, is experiencing major shortages and is at risk of further disruptions as the pandemic continues.
"CVS took far too long to respond to numerous worker concerns, including crowding issues in my department, the Pharmacy Department, putting many workers at risk of being exposed to the virus," said Job Parra, an 11-year employee of the CVS Distribution Center in La Habra, Calif., who is a member of Local 952 in Orange. "As a result, 35 of us were possibly exposed to a co-worker who got infected, and we all had to be sent home for two weeks. I was very concerned about my family's health, including my baby daughter and son who will turn 4 in July."
BACKGROUND ON SOME KEY LOCATIONS
CVS Distribution Center, La Habra, CA: As of June 8, 17 workers have tested positive at the center and the company has been slow to respond to workers' health and safety concerns. Problems continue to plague the center and the local union has filed a complaint with CAL-OSHA outlining the workers' issues.
Kroger Warehouse, Memphis, TN: Kroger's Memphis distribution center had a massive COVID outbreak at the start of the pandemic, and in response, workers and members of Teamsters Local 667 refused to go into work for fear of their safety. This is what triggered Kroger's $2 hazard pay, which Kroger is now taking away from these essential workers.
UNFI Warehouse, Hopkins, MN: Workers at the UNFI warehouse in Hopkins have been provided insufficient PPE throughout the pandemic and are up against a system that is dangerously lacking in transparency. Workers have had no temperature checks at the facility and only have access to thin masks — raising workers' concerns for their and their families' health and safety. Meanwhile, UNFI has hired nearly 100 temporary workers throughout the pandemic, and COVID-19 cases have now been confirmed among 9 employees.
Americold Warehouse, Denver, CO: Workers at the Americold warehouse in Denver have raised concerns about the company's failure to monitor social distancing, even while management has told them to keep six feet apart. In fear for this safety amid the pandemic, members of Teamsters Local 455 sent a letter to Americold explaining how the social distancing standard cannot be met and new measures needed to be put in place. The union also called for the facility to shut down following the first COVID case at the start of the pandemic. These requests continue to go unanswered.
« Previous
Next »