Trucker Safety and Health Concerns Raised at Hearing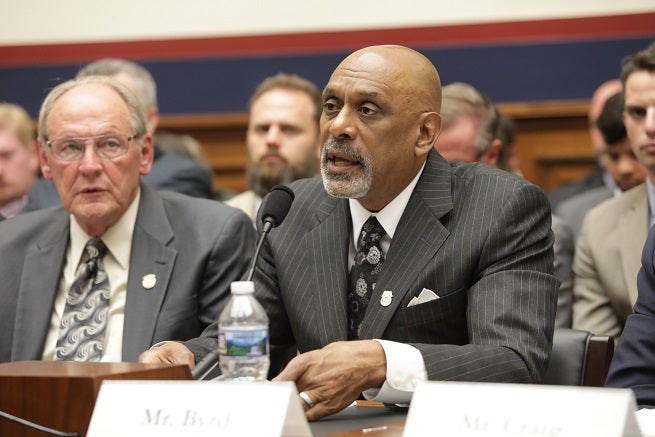 The Teamsters' top safety and health official told members of a House committee that more must be done to protect the lives of truck drivers who have placed themselves and their families at risk during the coronavirus pandemic to deliver groceries and other necessities to the public.
Testifying in front of the House Transportation & Infrastructure Committee yesterday, Lamont Byrd said the union's 600,000 members who transport goods have played an important role in keeping other essential workers safe. He noted, for example, that YRC drivers transported plexiglass safety shields to 1,500 locations nationally so workers and customers could be protected.
"In spite of being at an unprecedented health risk themselves, truck drivers and other transportation workers continue to perform essential services 24 hours a day, seven days a week," said Byrd, who is Director of the Teamsters Safety and Health Department. "They deliver goods and perform their jobs regardless of the fact they might be working at a COVID-19 hotspot."
Due to the current crisis, many truckers have been pressured to deliver more freight and work longer hours. But because of public health concerns, they have had to do their jobs with limited access to restrooms and restaurants, which makes for a challenging work environment.
Byrd said more must be done to protect drivers. The union backs legislation such as the Essential Employee Transportation Act and the Every Worker Protection Act because it would provide these workers with necessary personal protective equipment (PPE) and put more standards in place to ensure their safety on the job.
"When the economic recovery begins, shippers will be counting on carriers, large and small, to transport their goods," he said. "We need them and their drivers ready to answer this call."
The Teamsters have been at the forefront of the movement to protect frontline workers who have continued to show up on the job and provide essential services. That means pushing for the Occupational Safety and Health Administration (OSHA) to issue a temporary emergency standard that covers all workers, including public sector employees in states that have not opted into OSHA coverage, as well as transportation workers not covered by another federal safety agency.
Congress and the administration must also provide funds for appropriate PPE and make those materials widely available. A non-retaliation policy is also a necessary piece of comprehensive health and safety standards to ensure that workers can report non-compliance violations without fear of reprisal.
"We understand the legislation process can be slow," Byrd said. "In the interim, if the Congress could give [OSHA] the authority to enforce the CDC guidelines and other best practices immediately, that would go a long way."
« Previous
Next »