Teamsters on East, West Coasts Continue Strikes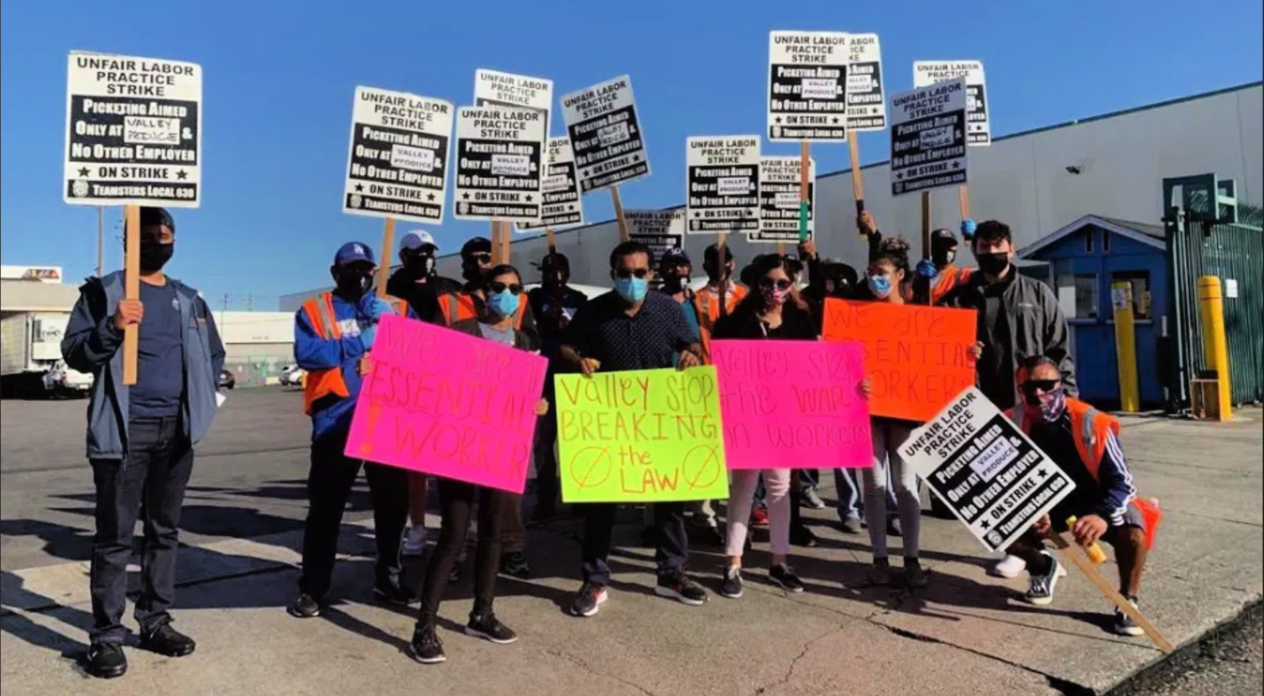 Striking Teamsters on the East and West coasts may be separated by nearly 3,000 miles, but both groups have strength and solidarity as they continue fighting for justice.
Members of Local 630 at Valley Produce, a wholesale fruit and vegetable company have been on an Unfair Labor Practice (ULP) strike since May 25. And in the Boston area, Local 25 members who are paratransit drivers began a strike on Sunday, July 12.
The Local 630 members are protesting the company's refusal to negotiate in good faith. Valley Produce is the largest and most profitable distributer in the Los Angeles wholesale product market, but it still received taxpayer-backed Paycheck Protection Program (PPP) loans through Congress' COVID-19 small business relief efforts.
José A. Lara is a worker on strike who has worked at Valley Produce for more than 10 years. He said that for more than a year he and his fellow essential service workers at the company have been trying to reach an agreement that's amenable to both sides.
"We are essential because we are the workers who arrive in the early hours of the day so that companies, supermarkets, schools and others can function," said Lara. "Over time they have been giving us shorter benefits such as health insurance, which no longer covers many things."
In Boston, about 350 Local 25 members who have been providing essential services throughout the COVID-19 pandemic as paratransit drivers continued their strike today over the company's demands for significant health insurance contribution increases.
The drivers work for Veterans Transportation, which contracts with the transit agency MBTA to provide rides to the elderly and for people with disabilities. The workers voted Sunday to reject the company's final contract over the health insurance issue, and went on strike that day.
"The company is trying to cut back on health insurance in the worst possible time, and it's just unacceptable," Local 25 shop steward Ray Domkowski told a local TV station. "We've finally reached the end, it was just like hamsters on a merry go round. No progress and we kept talking and talking and trying different scenarios to come up with a solution to the situation, and this is where we wind up."
Picket lines have been set up in the communities of Everett and Watertown, in Massachusetts 24 hours a day.
« Previous
Next »