Teamsters, XPO Drivers Leaflet Outside Toyota Facility in San Diego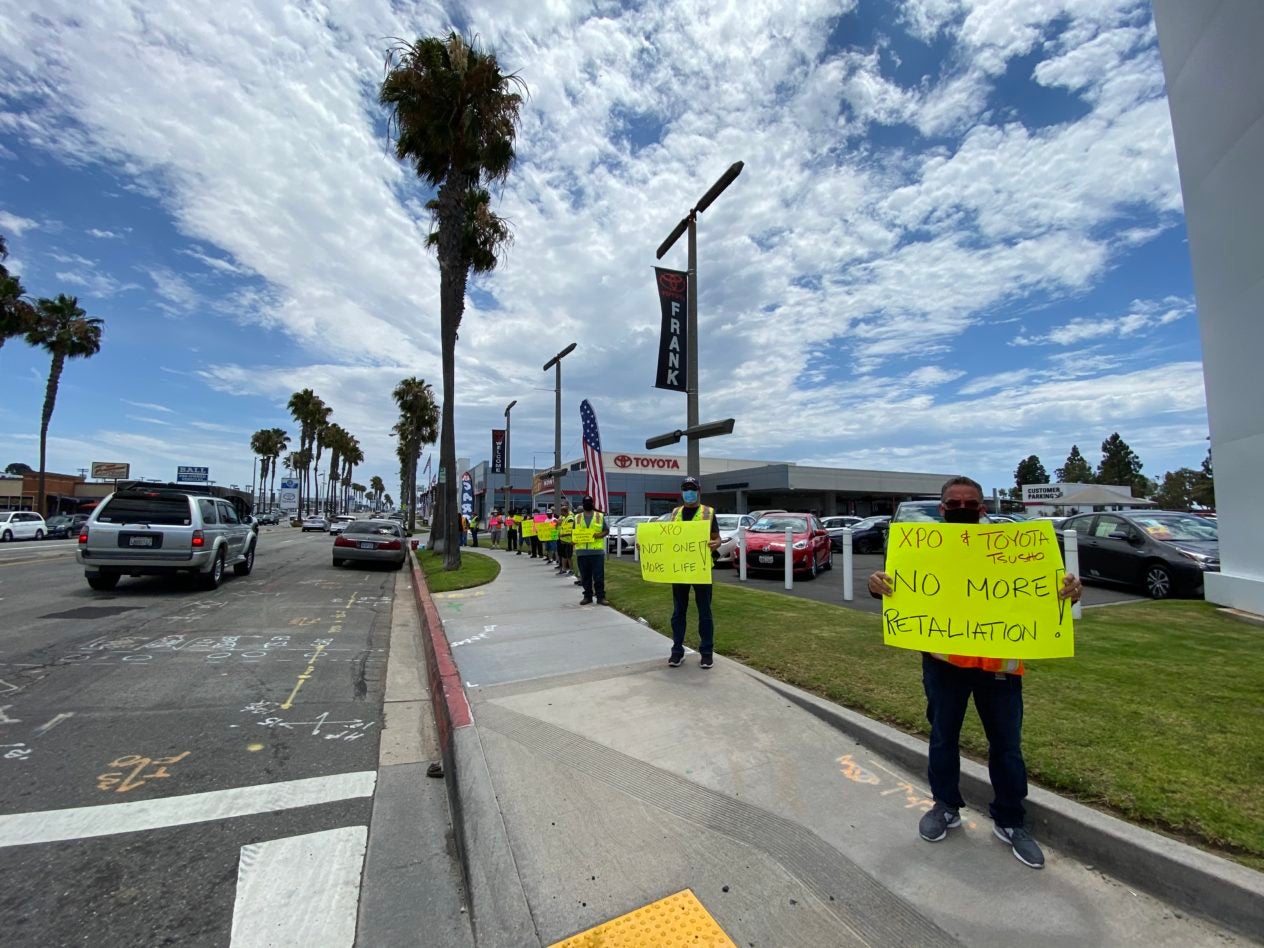 Toyota Tsusho Corp. Bans Driver for Speaking Out Against Working Conditions Amid COVID-19 Crisis
Intermodal truck drivers employed by XPO Logistics held an informational leafleting outside of Frank Toyota in San Diego Saturday to inform the public that they have filed charges against Toyota Tsusho Corporation for effectively firing an XPO driver who raised the alarm on drivers' conditions amid the COVID-19 pandemic.
XPO has failed to enforce key safety procedures or provide drivers with proper PPE, and Toyota — the main customer of XPO in the region — has failed to ensure that the XPO drivers in its supply chain are protected. One XPO driver who delivered Toyota parts has already died from COVID-19.
On June 29, drivers held demonstrations in front of both XPO and Toyota Tsusho Corporation, and delivered a petition to elected officials and the boards of XPO and Toyota, demanding the pay and protections they deserve as essential workers in the midst of a global pandemic, including a restoration of pay rates, compensation for waiting time and proper PPE. Due to XPO misclassifying drivers as independent contractors, these drivers do not have access to paid sick leave, health insurance or other basic social safety nets that are critical during this global pandemic.
XPO HAS FAILED WORKERS DURING COVID-19 CRISIS
According to firsthand worker accounts, there have been coronavirus-related deaths among XPO workers, which increases health and safety concerns and highlights a lack of consistency of implementation and effectiveness in the company's COVID-19 response.
In May, the Teamsters sent a letter to investors urging shareholders to vote against the "excessive" pay given to the company's CEO, Bradley Jacobs, who received a mega-equity award of over $25 million. The stark pay gap between frontline workers and XPO management is not new for the company, and XPO has had to defend numerous class-action lawsuits related to employee wages and misclassification of workers over the last decade. Amid the coronavirus outbreak, however, workers are ramping up calls on XPO to protect them and their essential work, as coworkers test positive and fall severely ill from the virus at increasing rates.
Workers have raised concerns about a lack of PPE, gloves, and sanitizing wipes for misclassified drivers; paid sick leave for workers; no access to health insurance or free COVID-19 testing; and insufficient information around workplaces protections and safety measures to prevent the virus. Additionally, some misclassified intermodal drivers have reported that if they get sick, their contracts are terminated and they are fired, while others' loads have significantly decreased with their work schedules being cut down to one day a week.
« Previous
Next »