COVID-19 News Updates for August 11, 2020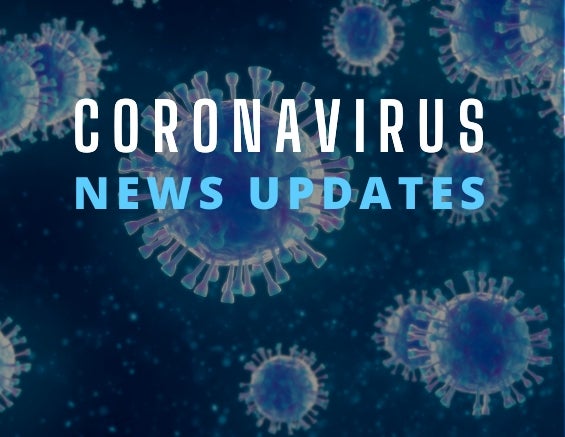 Trump Administration Collaborates With Moderna to Produce 100 Million Doses of Covid-19 Investigational Vaccine (HERE)
Under the leadership of President Trump, the U.S. Department of Health and Human Services (HHS) and Department of Defense (DoD) today announced an agreement with Moderna, Inc. to manufacture and deliver 100 million doses of the company's COVID-19 vaccine candidate. The federal government will own these vaccine doses.
Secretary Azar Highlights the Importance of Open, Transparent Global Health Leadership During Visit to Taiwan (HERE)
Secretary Azar met with former Vice President Chen and a group of COVID-19 response experts for a discussion on Taiwan's pandemic response and ways the United States and Taiwan can further their collaboration on disease response and other global health issues.
Healthy Food Choices at Home (HERE)
In this NIH #CopingWithCOVID19 livestream titled "Healthy Food Choices at Home," Dr. Holly Nicastro, program director at the National Institute of Diabetes and Digestive and Kidney Diseases discusses ways to follow diet and nutrition
The Critical Role of Health Care Professionals during the COVID-19 Pandemic (HERE)
Dr. Stephen Hahn, FDA Commissioner speaks with health care professionals about the FDA's role in responding to the COVID-19 public health emergency, and the critical role of medical professionals as they face the challenges of COVID-19 response.
Working Virtually: Avoid Phishing Scams; Part 4 of Security Summit Tips for Tax Professionals (HERE)
The Internal Revenue Service and the Security Summit partners today warned tax professionals to be alert to new phishing scams that try to take advantage of COVID-19, Economic Impact Payments and increased teleworking by practitioners.
SBA Announces Historic Results and Gains in FY2019 Small Business Federal Procurement Scorecard (HERE)
The annual scorecard is an assessment tool that measures how well federal agencies reach their small business and socio-economic prime contracting and subcontracting goals. The prime and subcontracting component goals include targets for small businesses, women-owned small businesses, small disadvantaged businesses, service-disabled Veteran-owned small businesses, and small businesses located in Historically Underutilized Business Zones.
USDA Announces More Eligible Commodities for CFAP (HERE)
U.S. Secretary of Agriculture Sonny Perdue announced today that additional commodities are covered by the Coronavirus Food Assistance Program (CFAP) in response to public comments and data. Additionally, the U.S. Department of Agriculture (USDA) is extending the deadline to apply for the program to September 11th, and producers with approved applications will receive their final payment.
U.S. Department of Labor Awards More than $1.3 Million to Delaware in Grants in Response to Coronavirus Public Health Emergency (HERE)
The U.S. Department of Labor today announced the award of $1,341,690 in a Dislocated Worker Grant (DWGs) to Delaware to help address the workforce-related impacts of the coronavirus public health emergency. This award is funded under the Coronavirus Aid, Relief and Economic Security (CARES) Act, which provided $345 million for DWGs to prevent, prepare for and respond to coronavirus.
Charlotte, North Carolina, Transportation Company Pays Back Wages to Employee Instructed to Self-Quarantine Due to Coronavirus Concerns (HERE)
After an investigation by the U.S. Department of Labor's Wage and Hour Division (WHD), a Charlotte, North Carolina, branch of Premier Transportation & Warehousing Inc. – a trucking and warehousing service based in Long Beach, California – has paid $3,116 in back wages after failing to provide an employee two weeks of paid sick leave after the worker received instructions from a healthcare provider to self-quarantine due to coronavirus concerns.
El Paso Plumbing Contractor Pays Back Wages to Employee after Denying Paid Leave to Care for Children Who's School Closed for Coronavirus (HERE)
After an investigation by the U.S. Department of Labor's Wage and Hour Division (WHD), Texas MEP Contractors LLC – a plumbing contractor based in El Paso, Texas – has paid $804 in back wages to an employee wrongly denied paid sick leave for a qualifying reason covered under the Emergency Paid Sick Leave Act (EPSLA) provisions of the Families First Coronavirus Response Act (FFCRA).
U.S. Department of Labor Announces $1.8M in Grants to Promote Short-Time Compensation in Missouri (HERE)
The Coronavirus Aid, Relief and Economic Security (CARES) Act signed by President Trump on March 27, 2020, provides up to $100 million for grants to states to implement or improve a Short-Time Compensation program and for the promotion to and enrollment of employers. The maximum amount available to each state is set in statute. Missouri was the first state to apply and receive the maximum amount available.
U.S. Department of Commerce Continues to Invest Cares Act Funding to Boost Economic Development Programs Critical to Helping Communities Respond to Coronavirus (HERE)
EDA CARES Act Recovery Assistance, which is being administered under the authority of the bureau's flexible Economic Adjustment Assistance (EAA) program, provides a wide-range of financial assistance to eligible communities and regions as they respond to and recover from the impacts of the coronavirus pandemic. For complete information, please visit EDA CARES Act Recovery Assistance page.
Federal Agencies to Hold Virtual Hearings on Seasonal and Perishable Produce (HERE)
U.S. Trade Representative Robert Lighthizer, U.S. Secretary of Agriculture Sonny Perdue, and U.S. Secretary of Commerce Wilbur Ross will deliver opening remarks on Thursday, August 13, 2020, at the first of two virtual hearings to discuss foreign trade practices that may be harming American growers of seasonal and perishable produce.
VA Prepares to Welcome Volunteers Back to Health Care Facilities (HERE)
The U.S. Department of Veterans Affairs (VA) announced today plans to gradually and safely reintroduce volunteers to its health care facilities. While volunteers are important to the operation of VA services and programs, most volunteer activities have been paused to prevent the spread of the virus that causes COVID-19.
For the most up-to-date information, please see the CDC's website: www.coronavirus.gov.
« Previous
Next »