COVID-19 News Updates for August 3, 2020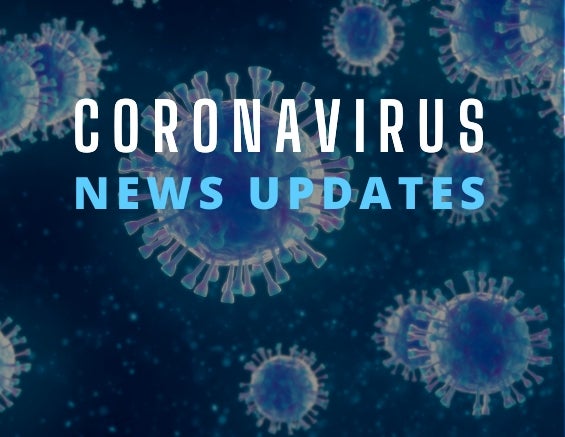 Assistance for American Workers and Families
American Workforce Policy Advisory Board – Call to Action: The American Workforce Policy Advisory Board has released a call-to-action to help the millions of workers who need assistance now, and build the resilient and agile workforce of the future powered by skilled American workers. Specific actions:
Expedite American workers' return to employment and upward mobility by investing in career pathways and implementing skills-based hiring practices.
Remove obstacles to the modernization of American education and training to accelerate reskilling and facilitate innovation in workforce development.
Build the technological infrastructure necessary for the future of work.
Find Something New: FindSomethingNew.orgcan help workers of all ages and backgrounds identify the right path for their career goals by recommending multiple educational pathways, providing aptitude testing, offering a directory of critical resources for child care, food assistance, internet access and more. Educational pathways featured include online learning, professional certification programs, associate's degrees, and vocational, technical and trades education.
Economic Impact Payments: The CARES Act provides for Economic Impact Payments to American households of up to $1,200 per adult for individuals whose income was less than $99,000 ( or $198,000 for joint filers) and $500 per child under 17 years old – or up to $3,400 for a family of four. More information can be found here.
Preserving Jobs for American Industry: The CARES Act offers meaningful financial support to American businesses and job creators so they can better support employees and be prepared to get back to business as soon as possible. More information can be found here.
Supporting Child Care: The CARES Act provided an additional $3.5 billion to the Child Care and Development Block Grant to support families with child care options during this public health crisis. Additional information and State-level information can be found here.
Dislocated Worker Grants: The U.S. Department of Labor is providing Dislocated Worker Grants to prevent, prepare for and respond to COVID-19. State-by-State data and additional details can be found here.
Assistance for Communities
CARES Act Recovery Assistance Grants: The U.S. Department of Commerce's Economic Development Administration (EDA)is awarding CARES Act Recovery Assistance Grants to assist communities in responding to the coronavirus pandemic. These grants are being administered under the authority of the bureau's flexible Economic Adjustment Assistance (EAA) program, which provides a wide-range of financial assistance to eligible communities and regions as they respond to and recover from the impacts of the coronavirus pandemic. For complete information, please visit the recently updated EDA CARES Act Recovery Assistance page.
Opportunity Zones: Opportunity Zones were created under the 2017 Tax Cuts and Jobs Act, signed into law by President Donald J. Trump on December 22, 2017, to stimulate economic development and job creation, by incentivizing long- term investments in low-income neighborhoods. During the COVID-19 pandemic, President Trump directed the White House Opportunity and Revitalization Council to focus on underserved communities impacted by the virus. For more information, visit opportunityzones.gov.
How to Help
Donate COVID-19 Plasma
If you have fully recovered from COVID-19, you may be able to help patients currently fighting the infection by donating your plasma. Because you fought the infection, your plasma now contains COVID-19 antibodies. These antibodies provided one way for your immune system to fight the virus when you were sick, so your plasma may be able to be used to help others fight off the disease. Learn more here.
To find where you can donate source plasma, visit donatingplasma.org.
Donate Blood
The COVID-19 pandemic has caused unprecedented challenges to the U.S. blood supply. Donor centers have experienced a dramatic reduction in donations due to the implementation of social distancing and the cancellation of blood drives. Blood is needed every day to provide lifesaving treatments to a variety of patients. You can help ensure that blood continues to be available for patients by finding a blood donor center near you to schedule your donation. Learn more here.
To find where you can donate blood, visit aabb.org.
Donate Supplies and Equipment
If you represent a business that would like to donate medical supplies, equipment or pharmaceuticals, please provide details on what you would like to give. This form is for donations only.
Sell Supplies and Equipment
If you are interested in doing business with FEMA with your company's non-medical goods and/or services, submit your inquiry to the Department of Homeland Security (DHS) Procurement Action Innovative Response Team (PAIR) team at DHSIndustryLiaison@hq.dhs.gov.
The federal government is purchasing medical supplies or equipment under the Defense Logistics Agency (DLA) Request for information (RFI). Visit the DLA website for more information.
Developing Medical Countermeasures
If you would like to meet with a federal agency regarding a vaccine, diagnostic, therapeutic or other medical device that you are developing for SARS-CoV-2 or COVID-19, please go to medicalcountermeasures.gov.
Other Forms of Help
If you or someone you know represent a hospital or healthcare provider in need of medical supplies, please contact your state, local, tribal or territory department of public health and/or emergency management agency.
If you represent a private sector business and wish to learn more about getting involved in a way that is not listed here, please e-mail nbeoc@max.gov or visit our National Business Emergency Operations Center page.
For additional information, please visit FEMA's website: www.fema.gov/coronavirus/how-to-help.
Guidelines for Opening Up America Again
President Trump has unveiled Guidelines for Opening Up America Again, a three-phased approach based on the advice of public health experts. These steps will help state and local officials when reopening their economies, getting people back to work, and continuing to protect American lives.
Testing Overview (HERE)
Testing Blueprint (HERE)
Guidance for Cleaning and Disinfecting Public Spaces, Workplaces, Businesses, Schools and Homes (HERE)
CDC guidance for Camps, Child Care Programs, Schools, Mass Transit, Restaurants And Bars, and Workplaces
CDC resources and tools for school administrators, teachers, parents, guardians, and caregivers when schools open this fall:
o The Importance of Reopening America's Schools this Fall
o School Decision-Making Tool for Parents, Caregivers, and Guardians
o Guidance for K-12 School Administrators on the Use of Cloth Face Coverings in Schools
o Screening K-12 Students for Symptoms of COVID-19: Limitations and Considerations
o Back to School Planning: Checklists to Guide Parents, Guardians, and Caregivers
o FAQ for School Administrators on Reopening Schools
CDC Activities and Initiatives Supporting the COVID-19 Response and the President's Plan for Opening America Up Again (HERE)
CDC Videos:
o Practicing Social Distancing
o Cleaning and Sanitizing Toys and Child Care Programs
o Cleaning and Disinfecting Your Homes
o Staying Safe at Aquatic Venues
o Dinning with Friends and Family with Higher Risk for Severe Illness
o Visiting Friends and Family with Higher Risk for Severe Illness
o Stopping the Spread of Germs
o Considerations for Bars and Restaurants
o Wear a Mask to Protect You and Your Friends
Operation Warp Speed
The President is using all available means to ensure safe vaccines, therapeutics, and diagnostics are developed, manufactured, and distributed in unprecedented time and scale in response to COVID-19.
Earlier this year, President Trump launched Operation Warp Speed, a groundbreaking partnership between the Federal Government, scientific community, and private sector to develop and deliver vaccines in record time.

Operation Warp Speed's goal is to produce and deliver 300 million doses of safe and effective vaccines with the initial doses available by January 2021.

The Administration has made large investments in multiple vaccine candidates to provide financial infrastructure for mass manufacturing, in parallel with late-stage clinical trials.
Operation Warp Speed has invested in more than five vaccines and teamed up with multiple pharmaceutical companies to safely produce as many effective vaccines as possible.
A number of vaccine candidates have shown promising early clinical results and are either in or starting Phase 3 clinical trials, including AstraZeneca, Moderna, and Pfizer.
White House Updates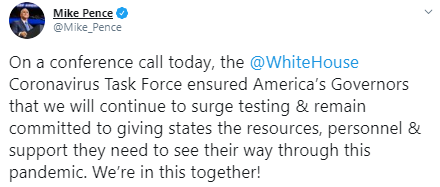 Trump Administration Proposes to Expand Telehealth Benefits Permanently for Medicare Beneficiaries beyond the COVID-19 Public Health Emergency and Advances Access to Care in Rural Areas (HERE)
The Centers for Medicare & Medicaid Services (CMS) is proposing changes to expand telehealth permanently, consistent with the Executive Order on Improving Rural and Telehealth Access that President Trump signed today.
Readout from the SBA / Treasury Roundtable Discussion with Minority Depository Institutions (HERE)
The discussion focused on the MDIs' experiences as lenders in the Paycheck Protection Program (PPP), including their work to serve small businesses in low- and moderate-income communities. Administrator Carranza and Deputy Secretary Muzinich thanked the MDIs for their continued efforts in ensuring that PPP funds reach all communities in need. As of July 24, 2020, 171 MDIs had participated in the PPP, approving over 120,000 loans for more than $10 billion.
In Coronavirus Economy, Trump Administration Pulling Out All Stops to Help Small Business: SBA Administrator (HERE)
"At the direction of the president, federal agencies have already taken more than 700 deregulatory actions, including temporarily waiving and rescinding rules that create obstacles to job creation and growth."
Trump Administration Invests $462 Million to Modernize Water and Wastewater Infrastructure in Rural Communities (HERE)
"Upgrading the infrastructure that delivers safe drinking water and modern wastewater management facilities will improve public health and drive economic development in our small towns and cities," Deputy Under Secretary for Rural Development Bette Brand said. "Under the leadership of President Trump and Agriculture Secretary Perdue, USDA continues to be a strong partner with rural communities, because we know that when rural America thrives, all of America thrives."
HUD Awards over $74 Million in Grants to Support Affordable Rental Housing for Extremely Low-Income Persons with Disabilities (HERE)
"We are committed to ensuring that extremely low-income persons with disabilities have access to safe, sanitary, accessible, and affordable rental homes with the supportive services they need to live independently," said HUD Secretary Ben Carson. "The Trump Administration has strongly supported our efforts to serve this population, including making $15 million in supplemental funds available under the CARES Act to help prevent, prepare for, and respond to coronavirus."
U.S. Department of Labor Hosts Virtual Event to Encourage Recruiting, Retaining Veterans for Contractors and Community-Based Organizations (HERE)
The U.S. Department of Labor's Office of Federal Contract Compliance Programs (OFCCP) will host an online town hall symposium on Aug. 4, 2020, for veterans and their spouses; federal contractors; state, local and federal agencies; and community-based organizations to highlight a locality-based model for recruiting and retaining veterans in Georgia.
FDA Coronavirus (COVID-19) Update: Daily Roundup August 3, 2020 (HERE)
The U.S. Food and Drug Administration continue to announce the actions taken in its ongoing response effort to the COVID-19 pandemic.
Made in America: EDA Accelerates U.S. Business Success through Trade Adjustment Assistance Programs, RLFs, Infrastructure, and More (HERE)
EDA makes Economic Adjustment Assistance (EAA) grant awards to establish Revolving Loan Funds (RLFs) that make loans to businesses that cannot otherwise obtain traditional bank financing. These loans provide access to capital as gap financing that enables small businesses to grow and lead to new employment opportunities with competitive wages and benefits.
U.S. Department of Commerce Continues to Invest Cares Act Funding to Boost Economic Development Programs Critical to Helping Communities Respond to Coronavirus (HERE)
EDA CARES Act Recovery Assistance, which is being administered under the authority of the bureau's flexible Economic Adjustment Assistance (EAA) program, provides a wide-range of financial assistance to eligible communities and regions as they respond to and recover from the impacts of the coronavirus pandemic. For complete information, please visit EDA CARES Act Recovery Assistance page.
VA, America's Adopt a Soldier Partner to Help Veterans at Risk of or Experiencing Homelessness Stay Connected (HERE)
"While America's Adopt A Soldier has had a long-standing partnership with VA to help Veterans at risk of homelessness in other ways, this project allows for the organizations to meet the urgent needs of Veterans at risk of or experiencing homelessness during the COVID-19 pandemic," said Mary Keeser, founder and chair of America's Adopt a Soldier and former U.S. Army Officer. "The success of this project will also ensure we are able to better plan for and respond to future or long-term requirements."
For the most up-to-date information, please see the CDC's website: www.coronavirus.gov.
« Previous
Next »