COVID-19 News Updates for August 7, 2020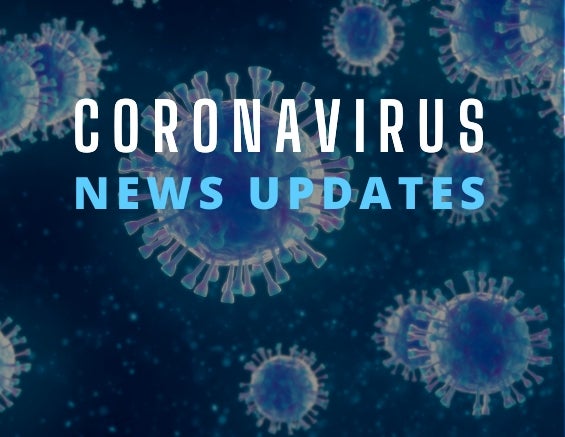 President Trump has unveiled Guidelines for Opening Up America Again, a three-phased approach based on the advice of public health experts. These steps will help state and local officials when reopening their economies, getting people back to work, and continuing to protect American lives.
Testing Overview (HERE)
Testing Blueprint (HERE)
Guidance for Cleaning and Disinfecting Public Spaces, Workplaces, Businesses, Schools and Homes (HERE)
CDC guidance for Camps, Child Care Programs, Schools, Mass Transit, Restaurants And Bars, and Workplaces
CDC resources and tools for school administrators, teachers, parents, guardians, and caregivers when schools open this fall:
o The Importance of Reopening America's Schools this Fall
o School Decision-Making Tool for Parents, Caregivers, and Guardians
o Guidance for K-12 School Administrators on the Use of Cloth Face Coverings in Schools
o Screening K-12 Students for Symptoms of COVID-19: Limitations and Considerations
o Back to School Planning: Checklists to Guide Parents, Guardians, and Caregivers
o FAQ for School Administrators on Reopening Schools
CDC Activities and Initiatives Supporting the COVID-19 Response and the President's Plan for Opening America Up Again (HERE)
CDC Videos:
o Practicing Social Distancing
o Cleaning and Sanitizing Toys and Child Care Programs
o Cleaning and Disinfecting Your Homes
o Staying Safe at Aquatic Venues
o Dinning with Friends and Family with Higher Risk for Severe Illness
o Visiting Friends and Family with Higher Risk for Severe Illness
o Stopping the Spread of Germs
o Considerations for Bars and Restaurants
o Wear a Mask to Protect You and Your Friends
o Symptoms of Coronavirus Disease 2019
o COVID-19 Stop the Spread of Germs
o Know Your Risk of Getting COVID-19
Operation Warp Speed
The President is using all available means to ensure safe vaccines, therapeutics, and diagnostics are developed, manufactured, and distributed in unprecedented time and scale in response to COVID-19.
Earlier this year, President Trump launched Operation Warp Speed, a groundbreaking partnership between the Federal Government, scientific community, and private sector to develop and deliver vaccines in record time.

Operation Warp Speed's goal is to produce and deliver 300 million doses of safe and effective vaccines with the initial doses available by January 2021.

The Administration has made large investments in multiple vaccine candidates to provide financial infrastructure for mass manufacturing, in parallel with late-stage clinical trials.
Operation Warp Speed has invested in more than five vaccines and teamed up with multiple pharmaceutical companies to safely produce as many effective vaccines as possible.
A number of vaccine candidates have shown promising early clinical results and are either in or starting Phase 3 clinical trials, including AstraZeneca, Moderna, and Pfizer.
White House Updates
Presidential Message on National Purple Heart Day, 2020 (HERE)
Message from Larry Kudlow "We had another great month of jobs!" (VIDEO)
HHS Announces Allocations of CARES Act Provider Relief Fund for Nursing Homes (HERE)
"These new funds for nursing homes continue the Trump administration's emphasis on protecting the most vulnerable, including older Americans," said HHS Secretary Alex Azar. "By linking these funds to performance in controlling COVID-19, we are providing powerful tools and incentives for nursing homes to better protect their residents from the virus."
Fact Sheet: Explaining Operation Warp Speed (HERE)
Operation Warp Speed (OWS) aims to deliver 300 million doses of a safe, effective vaccine for COVID-19 by January 2021, as part of a broader strategy to accelerate the development, manufacturing, and distribution of COVID-19 vaccines, therapeutics, and diagnostics (collectively known as countermeasures).
On the Road | Health v. Health: Chicago, IL (HERE)
Secretary Alex Azar visited Rush University Medical Center, one of the frontline hospitals during the height of the COVID-19 outbreak in Chicago. Rush has instituted safe procedures so that it can now help reconnect people to health care, meaning non-COVID patients can again come in for elective and urgent surgical procedures as well as routine screening.
NIH-funded Project Seeks to Identify Children at Risk for MIS-C (HERE)
The National Institutes of Health has announced research funding to encourage the development of approaches that identify children at high risk for developing Multisystem Inflammatory Syndrome in Children (MIS-C), thought to be a severe complication of COVID-19. Up to $20 million will be awarded to successful research proposals over four years.
CMS Administrator Seema Verma Hosts Virtual Roundtable in Boston on Telehealth (HERE)
On Thursday, August 6, Seema Verma, Administrator of the Centers for Medicare & Medicaid Services (CMS) and a member of the White House Coronavirus Task Force, convened a roundtable discussion with Boston-area health care leaders to discuss the effects the coronavirus disease 2019 (COVID-19) has had on care delivery, and the impact of telehealth on patient access to care.
FDA Coronavirus (COVID-19) Update Daily Roundup – August 7, 2020 (HERE)
The U.S. Food and Drug Administration continues to announce actions taken in its ongoing response effort to the COVID-19 pandemic.
ICYMI: PPP Loans are Providing a "Huge Relief" in Greensboro, NC (HERE)
The SBA met with manufacturing firms in Greensboro, NC to hear how the COVID-19 pandemic has affected them. The Paycheck Protection Program (PPP) loans have proven to be a "huge relief" to these businesses. The PPP has helped small business and non-profits from numerous industries across the country. If you are a small business or non-profit that has been impacted by COVID-19, please visit the SBA's website to learn more about the PPP: http://www.sba.gov/paycheckprotection.
Statement by U.S. Secretary of Labor Scalia on the July Jobs Report (HERE)
"Today's strong jobs report completes a full week of encouraging economic news, including growth in manufacturing and services and declines in filings for unemployment benefits. The July job gains, which are the third largest in history, occurred in a period when some of our largest states were tightening restrictions in response to rising coronavirus cases. Even with these gains, far too many Americans remain out of work, and the Administration is determined to provide enhanced, targeted support for the unemployed while pursuing the pro-growth policies that led to the exceptional economy Americans experienced prior to the virus."
Secretary Carson Announces HUD Will Safely Resume Physical Inspections (HERE)
U.S. Department of Housing and Urban Development (HUD) Secretary Ben Carson announced today the Department will resume Real Estate Assessment Center (REAC) inspections of HUD multifamily and public housing properties and units under strict safety protocols during the national recovery from the COVID-19 pandemic.
Development Programs Critical to Helping Communities Respond to Coronavirus (HERE)
EDA CARES Act Recovery Assistance, which is being administered under the authority of the bureau's flexible Economic Adjustment Assistance (EAA) program, provides a wide-range of financial assistance to eligible communities and regions as they respond to and recover from the impacts of the coronavirus pandemic. For complete information, please visit EDA CARES Act Recovery Assistance page.
VA to Award More Than $400 Million in Grants to End Veteran Homelessness (HERE)
"Helping Veterans exit homelessness and remain in stable housing is more important now than ever," said VA Secretary Robert Wilkie. "The Supportive Services for Veteran Families Program remains a vital resource to ensure that every Veteran has a safe and stable place to call home, especially during the COVID-19 pandemic."
VA Responds to COVID-19 with Schedule Revisions to Electronic Health Record Implementation (HERE)
After delays due to the COVID-19 pandemic, the U.S. Department of Veterans Affairs (VA) revised its previous schedule to convert facilities to its new electronic health record (EHR) capabilities with updated timelines for deployments in August in Columbus, Ohio, and October in Spokane, Washington.
For the most up-to-date information, please see the CDC's website: www.coronavirus.gov.
« Previous
Next »