Teamsters Lead the Charge on Hurricane Laura Disaster Relief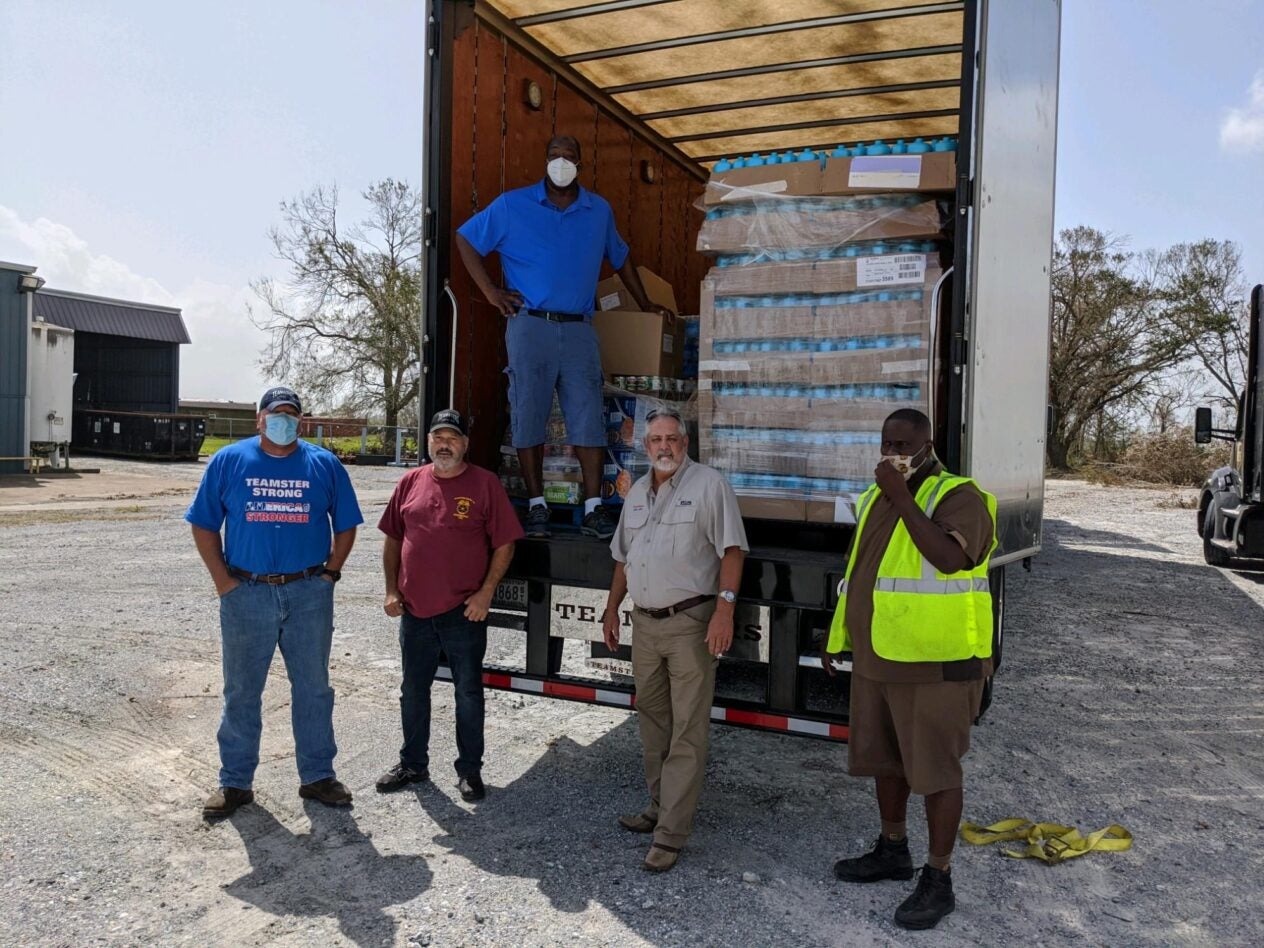 The Teamsters Disaster Relief Program arrived in Louisana and Southeast Texas coast on August 24, a few days before the Category 4 storm Hurricane Laura made landfall in Cameron Parish. Members of the Teamsters disaster relief team have been working with the Texas AFL-CIO, Louisiana AFL-CIO, American Red Cross and other partners to provide assistance for the hardest hit residents and Teamster members throughout the affected region.
Located only about 50 miles from Cameron Parish, Lake Charles is the largest city in Southwestern Louisiana and it also took a direct hit from the hurricane. The scene on the ground throughout the city is dire – cell phone service is difficult to find and there are no utility poles left standing for miles. Gas lamps are down, few people have running water and those that do have to boil it for potability. There wasn't even a single building in Lake Charles that was capable of housing the first responders when they first arrived in the area.
In spite of this, Teamsters Locals 270, 19, 988 members found ways way to work around these obstacles to get members and residents the supplies that they need until they are back on their feet. The team started work out Houston, making two and three-hour trips back and forth each day to deliver supplies and coordinate other duties. Working with the United Association of Plumbers and Pipefitters Local 198, the Teamsters set up a transfer station and have since used it to deliver supplies donated by Teamsters Locals 120 in Minneapolis, 122 in Boston, 238 in Cedar Rapids, IA and more.
Teamsters Joint Council 13 Human Rights Division Coordinator Roy Gillespie said that the Teamsters are making monumental progress in their mission to get the communities in the Gulf of Mexico affected by the storm rebuilt and thriving again as quickly as they can.
"We're looking to offer lifeboats, not a cruise ship" said Roy Gillespie. "The pandemic has certainly made things more difficult, but it will take more than the coronavirus to stop us from helping the people here get the assistance that they need."
The Federal Emergency Management Agency (FEMA) has designated the following parishes as areas where residents and/or households are eligible for individual assistance: Acadia, Allen, Beauregard, Calcasieu, Cameron, Grant, Jackson, Jefferson, Davis, Lincoln, Natchitoches, Ouachita, Rapides, Sabine, Vermilion, Vernon and Winn Parishes. If you are a resident of any of these parishes, you may be eligible for financial assistance from FEMA and can apply here.
Many Teamster members throughout Louisiana and Texas have lost their homes and had their lives upended by Hurricane Laura and they are in urgent need of our support. To make a donation to the Teamsters Disaster Relief fund, click here.
« Previous
Next »