Political Field Organizers Power Teamsters Election Efforts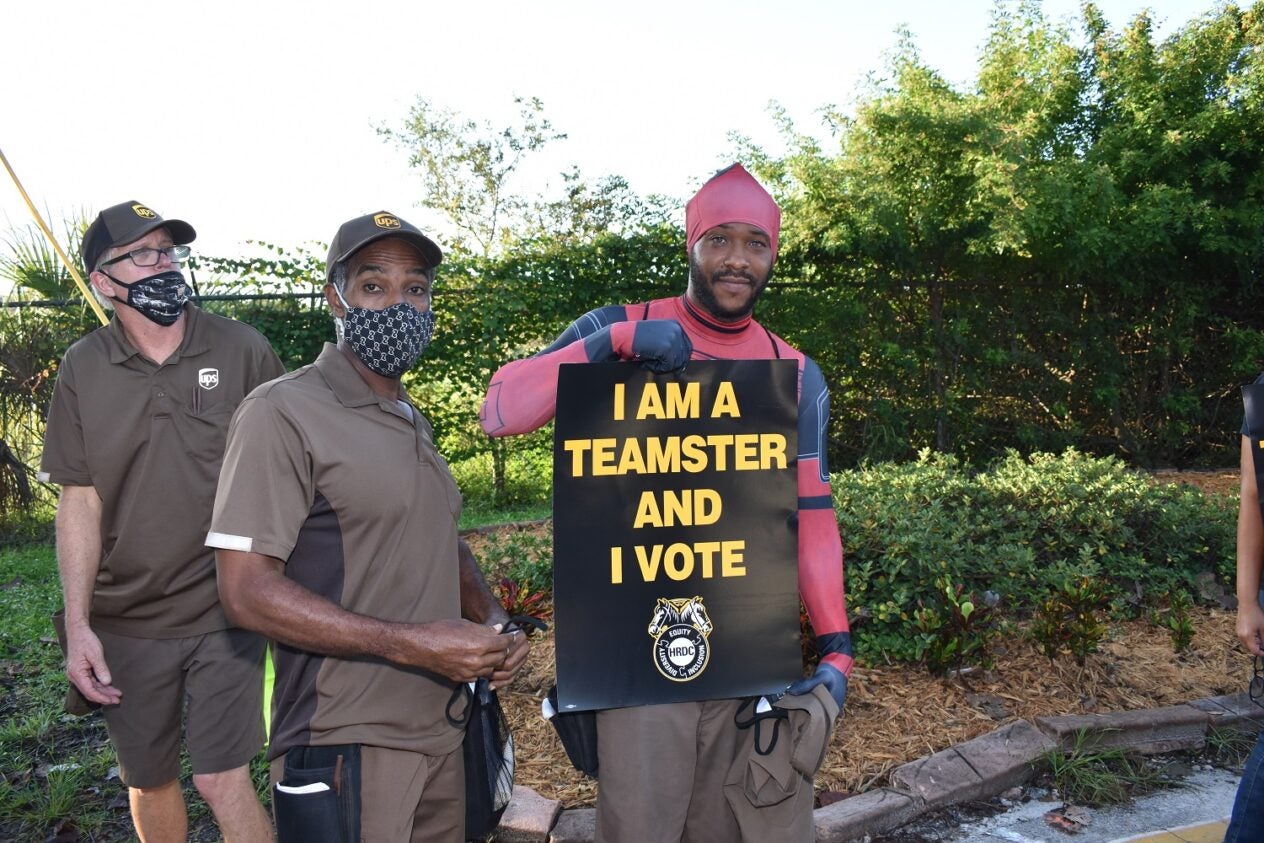 Back in the spring of 2019, the Teamsters committed to getting involved in the 2020 election with the goal of electing a president who would pledge to make the lives of working Americans better.
Eighteen months later – Mission Accomplished!
The election of Joe Biden as president and Kamala Harris as vice president is the result of the hard work of some 150 Teamster members acting as political field organizers (PFOs) nationwide, as well as other union volunteers and staff. Together, they made 340,000 phone calls and sent 1.2 million text messages. The union also sent out 1.3 million pieces of mail and reached more than 350,000 members via digital advertising.
"We found that with members talking directly to members, there were some good conversations had," said Katie Finn, the National Field Director of the Teamsters. "It allowed us to identify members who were undecided or maybe had questions or concerns about the candidates and to work through those with them."
In addition to educating members on the candidates, the Teamsters 2020 program encouraged members to vote by mail or in-person early to avoid the lines and stay safe. As a result, some 55,000 members voted early for Joe Biden & Kamala Harris in key battleground states prioritized by the Teamsters. More than 25 percent of the union's membership in Michigan and Wisconsin, swing states narrowly won by the Biden-Harris ticket, had already voted before Election Day. PFOs also helped get key lawmakers elected down ballot as well.
Even those who worked in states that ultimately weren't won by Biden-Harris said there were positives that came from the experience. Bryan Bezpiaty, a Local 769 member who works for UPS, said the new ways of reaching out to members that the union was forced to use due to the ongoing coronavirus pandemic will pay dividends in the future.
"It is something to build on," the Florida Teamster said. "It is the wave of the future as far as communications and we have to be open to new ideas and new ways to reach the members. … When we were reaching people at home, they had time to talk, so it had its positives."
Local 71 member Sabrina Tate, who works as a UPS driver in Charlotte, N.C., said she spoke to one woman who was totally against voting and got her to reconsider her stance. She also teamed up with a fellow member to assist a disabled Teamster in his effort to get to the polls.
"We really went the extra mile, me and my representative at Local 71, to get him to the polls," she said. "But that's what it's all about. It is about getting our Teamsters all of the information they need to make an informed decision at the ballot box, and if need be, help them get there."
For many, the election results became an emotional experience. Local 200 member Twin McClain, who works for Kroger, said was overcome by his feelings when Wisconsin came in for President-elect Biden.
"I was sitting inside of Local 344 with just tears in my eyes," he said. "And there were a lot of people looking at me and saying, 'Are you OK?', and I'm like, there are a lot of people in this room who don't know what we accomplished."
« Previous
Next »