The Million-Mile Teamster Woman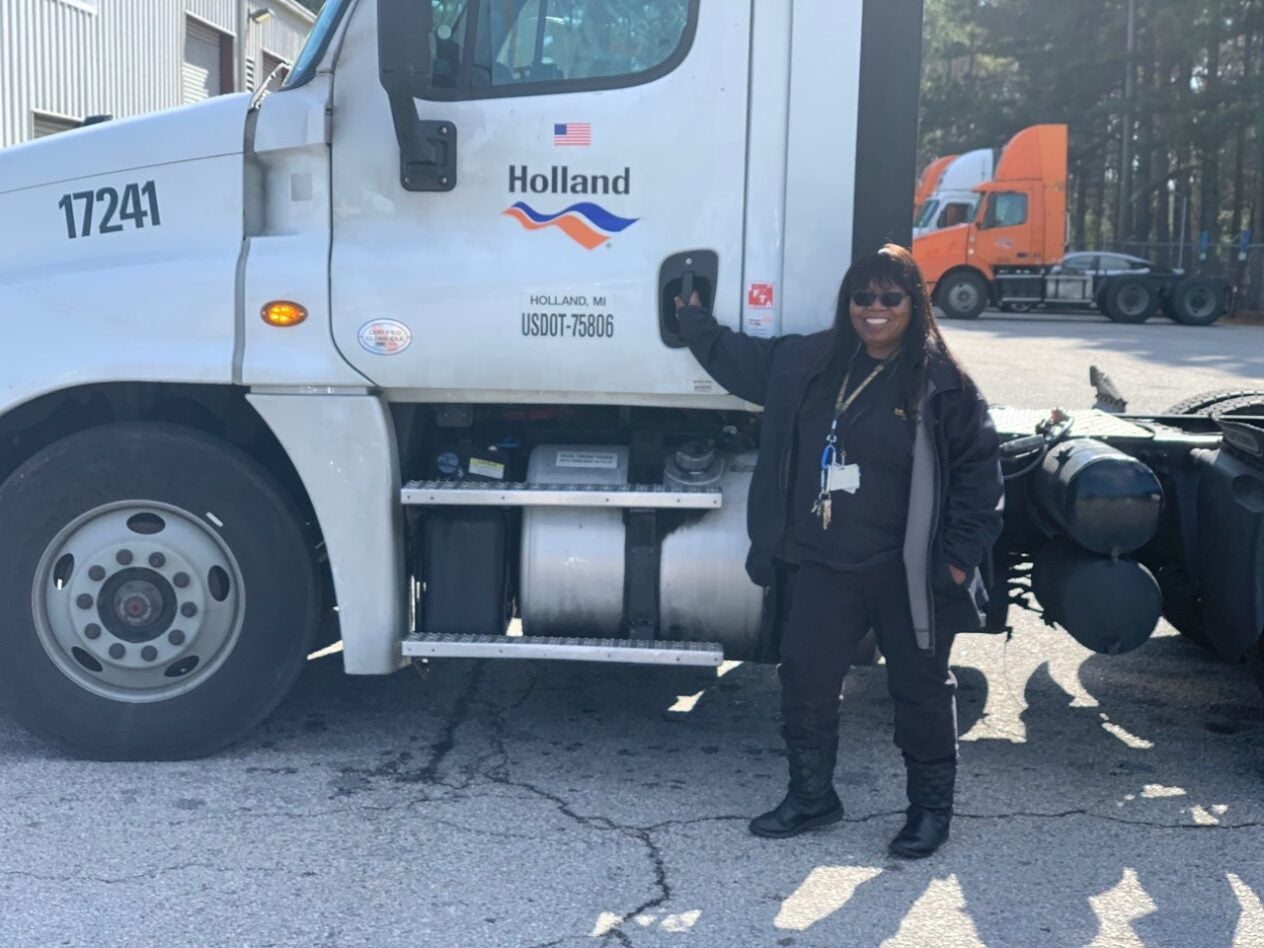 Local 728 Member Reaches Historic Milestone at Holland
Delores Wright, a seven-year member of Teamster Local 728, achieved a tremendous milestone at USF Holland last week by becoming the company's first female driver at the Atlanta terminal to reach one million miles on the road.
Wright is among an elite group of Teamster drivers to achieve the record. To lend some perspective to this milestone, driving one million miles is equivalent to making two round trips to the moon.
"This really was a team effort; I couldn't have done it without the help of my co-workers—from dispatchers to my fellow drivers," said Wright, who also serves as a union steward at Holland. "I try to make myself available and do what's necessary for the company to succeed and so that my co-workers can succeed."
Following her record-breaking accomplishment last week, Wright was met with a standing ovation when she entered the union hall on Saturday to attend Local 728's membership meeting
Wayne Brown, Local 728 Freight Business Agent, was on hand to deliver the big news to the membership, recognizing Wright for her dedication to the job and the union.
"Delores hit the ground running when she started working for Holland seven years ago. Reaching a million miles in seven years is a rare feat, but we weren't surprised. Delores never complains and always shows up. She shows up to every meeting, even after 12-14 hour shifts the night before," Brown said. "I don't know what we'd do without her and can't say enough about her dedication to the union."
In addition to serving as a steward, Wright is also a trustee on the executive board of the Teamsters National Black Caucus (TNBC) Georgia Chapter and is an active member of Local 728's Women's Group.
"We are enormously proud of Delores and her remarkable achievement. The entire union is inspired by her years of hard work," said Local 728 Business Agent and Southern Region TNBC Vice President Vickie Beavers.
The one-million-mile record is an exceedingly rare accomplishment, especially in such a short amount of time. Moreover, Wright is one of the first Teamster women to reach the rare milestone.
"On behalf of the Teamsters Women's Conference, I want to congratulate Sister Wright on her historic accomplishment of reaching one million miles. We are thankful for her commitment to safety and excellence behind the wheel as well as her dedication to the union," said Teamsters Women's Conference Director Nina Bugbee.
Wright takes great pride in being a Teamster steward and said the key to her success is working as a team with her co-workers, educating herself on the issues and making herself available whenever possible.
"I always try to keep learning and stay up to date on the issues so that I can be the best steward I can be for my brothers and sisters at Holland," Wright said. "It's been a wonderful journey being a Teamster."
« Previous
Next »