Montana Teamsters Unite to Defeat Anti-Union Bills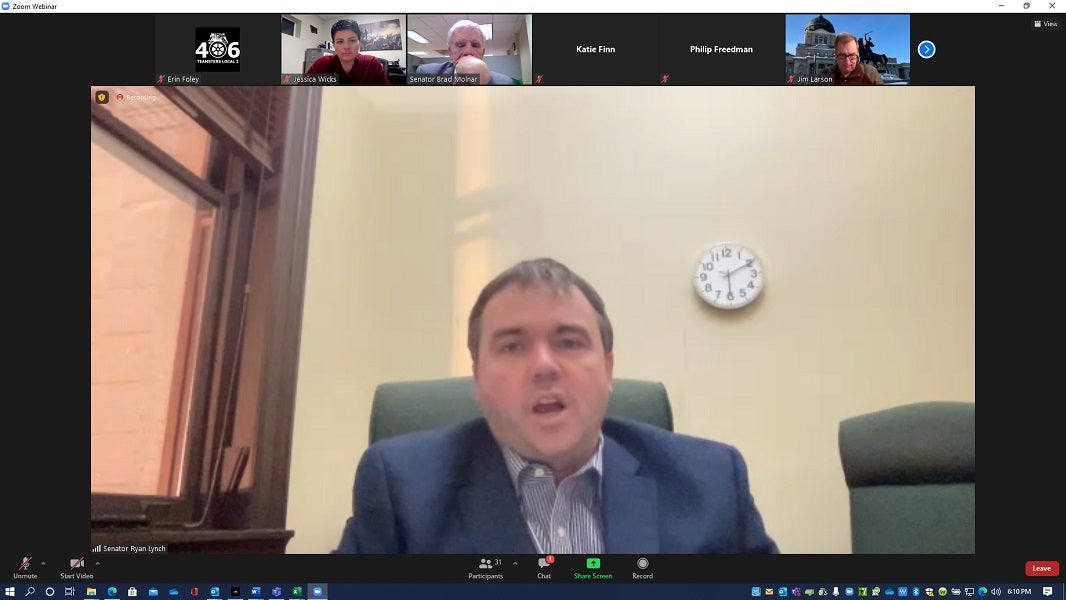 Big business and their legislative cronies in Helena are trying to tear down hardworking Montanans who for generations have joined together to advocate for better wages and benefits. But the Teamsters aren't having any part of it.
Bills have already been introduced that would implement so-called "right to work" (RTW) in the state and bar employers from processing union deductions in the paychecks of public sector workers in Montana. But Big Sky State Teamsters are coming together and committed to fighting and defeating these measures.
Both Local 2 and Local 190 in the state "are a united front and working in solidarity with other Montana labor unions as well as their national partners to combat the attacks coming out of the Montana Capitol," Jessica Wicks, Local 2's Political Coordinator, told Teamster members on a statewide call Thursday night.
Jim Larson, Secretary-Treasurer of Local 190, said the proposed legislation would devastate workers. He noted that SB 89 and HB 168, which address union deductions, "are an unnecessary attack on the voluntary agreement between employers and employees. Both of these bills are an unlawful government intrusion in the voluntary relationship between unions and their members."
Teamsters members are the essential workers that are keeping communities safe and economies moving – they should be supported, not attacked. In fact, these issues shouldn't even be political. During the Teamsters' call, both a Democrat and a Republican state senator shared their opposition about legislation that would curb workers' union rights.
Sen. Brad Molnar (R-District 28), a member of the Laborers' union, pledged to vote against the bill, just like he's been doing for the past three decades. "I am a solid anti-RTW vote and activist every time it comes up," he said.
Bipartisan opposition will be necessary to defeat these terrible bills, said Sen. Ryan Lynch (D-District 37). "There are a number of bills coming at us," he said. "Hopefully we have some friends on the other side of the aisle who will stand up for the working men and women in this state." But Montana Teamsters can't just leave it up to lawmakers – they have to make their voices heard! Those in the state need to reach out to their elected officials and let them know that RTW is a ruse that lowers wages and makes workplaces more unsafe for all. Teamster local unions in Montana are asking all members, retirees and their families to sign up to join the fight at www.MontanaUnified.org.
« Previous
Next »