A Message to Waste Division Members from Director Chuck Stiles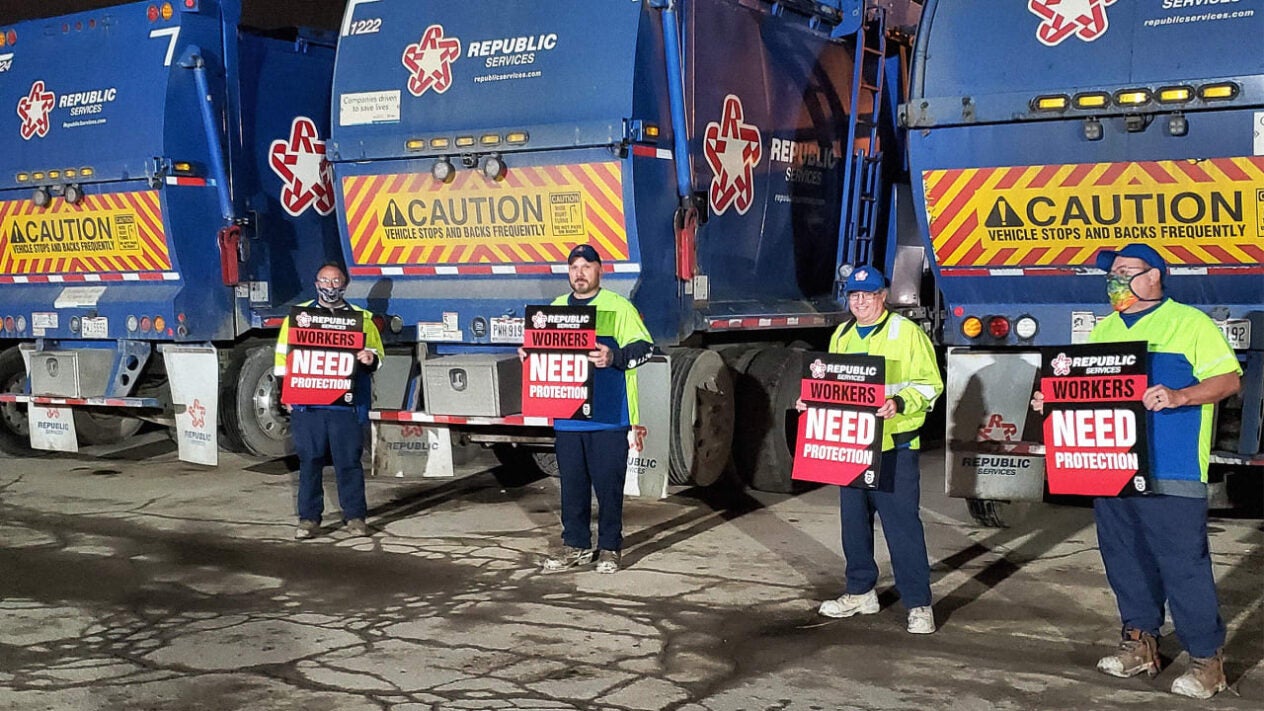 The Teamsters Solid Waste and Recycling Division is off to a strong start in 2021. I am proud to report that we are seeing success across the board nationwide. Our division is showing the entire union what happens when members stand strong and united as part of a worker movement. We are also increasing our organizing efforts, prioritizing collective bargaining and fighting back against companies that violate workers' rights and safety.
As we mark the one-year anniversary of the pandemic, let the past year be a reminder that our members are on the front lines every day, keeping our communities safe and protecting public health from the spread of COVID-19. At the same time, the Teamsters Union is on the front lines against employers that take advantage of workers to increase their bottom lines.
Even before COVID-19, waste workers were performing the fifth most dangerous job in America. Our members have long known that the best protection on the job is a strong Teamster contract. That's why we aren't backing down in our fight to bargain the best possible agreements for our members.
In Georgia, Local 728 members at Republic Services are standing strong against the attack on collective bargaining. These workers realize that the stall tactics and bad-faith bargaining is part of a corporate agenda meant to suppress their union rights.
Given the roadblocks created by anti-union management at the company's Cumming and McDonough locations, our division is standing with Local 728 by joining with elected officials and community leaders who are calling on Republic Services to bargain in good faith and put an end to years of anti-union practices in Georgia.
Republic Services is feeling the pressure, but we will not back down until an agreement is ratified for workers in McDonough and Cumming. I would like to thank our friends and allies for their continued support of our campaign for worker justice. Let it be a reminder to all members that elections matter and why it is so important to elect pro-labor politicians.
Georgia workers are also seeing success in the courts. On Feb. 27, Local 728 won a tremendous victory in federal court, finalizing a settlement against the City of McDonough for interfering with the distribution of union literature during the 2018 strike at Republic Services. This landmark settlement is a great example of our dedication to protecting workers' First Amendment rights. The City of McDonough has agreed to not enforce or repeal door-to-door soliciting ordinances that were challenged by Local 728, setting a precedent that will allow workers to make their voice heard while restoring First Amendment rights to the people of McDonough.
With more than 9,000 Teamsters across the country, the fight at Republic Services is part of a national campaign for worker justice. It is crucial for workers to keep the union informed so that we can hold this company accountable. Thanks to worker engagement, we are also fighting against the injustice that members experienced in January, when the division confirmed that Republic Services gave MLK Day as a working holiday to all non-union employees but failed to offer the same benefit to its union employees. The division has encouraged all locals representing Republic Services, who do not already have MLK Day under contract as a paid holiday, to demand it be given to your members.
In 2021, no employer should deprive its employees of the right to participate in this federal holiday, especially in the waste industry. Martin Luther King Jr. Day began as a union demand during contract negotiations. Throughout the 1970s, tens of thousands of union workers demanded and secured MLK Day as a paid holiday – often through work stoppages and other job actions. For Republic Services to now co-opt this holiday and offer it only to non-union employees, is just another example of Republic's total disregard for union workers. As we prepare to mark the 53-year anniversary of Dr. King's assassination on April 4, let us never forget that he lost his life while supporting the collective bargaining rights of Memphis sanitation workers.
Our commitment to bargaining goes hand in hand with our organizing goals. Our ability to build union density through organizing will allow for even more leverage at the bargaining table, and our power at the bargaining table is critical to improving industry standards.
That is why last fall we refocused our efforts at Stericycle, Inc., and its subsidiary, Shred-it. Already, we are organizing new members at an increasing rate. Just last month, Shred-it workers in Pawtucket, Rhode Island voted overwhelmingly to join Local 251. The organizing victory at Local 251 follows a September 30 organizing win for Stericycle workers who are currently bargaining a first contract. Just days after Shred-it workers in Rhode Island secured Teamster representation, Shred-it workers in Lawrenceville, New Jersey, filed for their union election with Teamsters Local 469. We have been talking with locals in the U.S. and Canada for more organizing drivers in the months ahead.
We are also keeping anti-union management at Stericycle in check. Due to anti-union practices during the unionization effort, both Local 469 and Local 251 have filed unfair labor charges (ULP) at the National Labor Relations Board (NLRB) for the company's attempts to misinform, intimidate and retaliate against workers during the organizing campaign, including the unjust terminations of lead members of the organizing committee. Likewise, Local 628 fought back and won a terrific victory at the NLRB against Stericycle after management violated federal labor laws during negotiations. I applaud the Board for issuing this rightful decision and commend Local 628 for holding the company accountable.
From the beginning, we understood the need to unite Stericycle and Shred-it workers under the union banner. The ability to organize in a pandemic is a testament to workers' desire to gain union representation as well as our ability to continue our organizing efforts despite the challenges of social distancing and other hurdles caused by COVID-19.
Lastly, I want every member to know that the division will never stop fighting to keep you safe. I want to take this opportunity to recognize your dedication and courage during the pandemic, and let you know that we have contacted every employer—including sending letters to Waste Management, Inc., Waste Connections and Republic Services—to implement nationwide workplace vaccination programs to prevent the further spread of COVID-19. This includes making sure companies provide workers with easy access and proper time off to receive the vaccine. We are committed to protecting the health and safety of all waste workers and will continue to update locals and members in the days and weeks ahead.
I also want to recognize all the Teamsters who have been impacted COVID-19 directly. If there is any silver lining to this pandemic, it is that waste workers are more united than ever and, despite the challenges, we continue to achieve our bargaining and organizing goals.
The ability to achieve these goals our comes from our solidarity—our determination to fight under a united voice. For members of the Waste Division, it is more than just a union fight, it is a moral fight. We will not back down until justice is secured for all workers in the private waste industry. Together, we have created a true worker movement.
« Previous
Next »