Lawmakers Look to Accelerate PRO Act Through House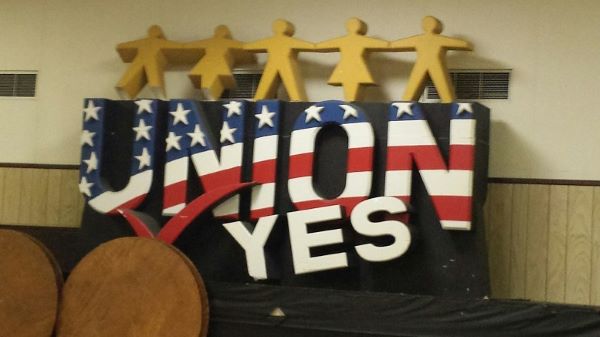 The Teamsters are prioritizing the strengthening of unions as part of its Build Back Stronger campaign so workers can join together and have a bigger voice in their workplace when it comes to wages, working conditions and benefits. Now a vehicle has been rolled out in the House that could place the issue on the fast track towards passage.
Last week, Reps. Jared Golden (D-Maine) and Andy Levin (D-Mich.) led an effort in the House signed by 110 of their colleagues that called on House leadership to bring the Protecting the Right to Organize (PRO) Act, which passed the House during the last legislative session, directly to the House floor for a vote.
The PRO Act, the most comprehensive pro-labor legislation in decades, provides updated protections for workers and unions, giving them more power to negotiate with employers, companies and executives and imposes more meaningful penalties on employers who violate the law.
"The PRO Act will strengthen the National Labor Relations Act (NLRA) so that workers seeking to organize a union and negotiate higher wages and better benefits will be protected," Teamsters General President Jim Hoffa said. "Workers deserve a safe workplace, the ability to stand together and negotiate better working conditions, and to live a middle-class lifestyle."
For generations, it has been well known that the nation's labor laws are inadequate to protect the rights of millions of workers. Under current law, unscrupulous employers, armed with limitless funds, routinely violate the NLRA and block workers' ability to exercise their right to bargain. The PRO Act would level the playing field and give workers a fair shot when they join together to have a voice in the workplace.
This legislation increases penalties on employers who break the law and gives workers a private right of action if they've been terminated for union activity. It prohibits the use of coercive activities like captive audience meetings and establishes a process for mediation and arbitration to stop stalling tactics at the bargaining table and help parties achieve a first contract.
Importantly, the bill addresses rampant intentional misclassification under the NLRA and ensures that misclassified workers are not deprived of their right to form a union. It also would crack down on bad actors by streamlining procedures to grant swift solutions to workers. And it would update the NLRA to make it to apply to today's 21st century workforce.
Lawmakers, in the letter sent to House leadership, noted that union-busting efforts are currently being used by retail giant Amazon to tamp down on the organizing of one of the company's warehouses in Alabama. That is unacceptable behavior.
Elected officials, now is the chance to prove you are listening. Give people the power they deserve!
« Previous
Next »