NLRB Issues Major Complaint Against Universal Logistics Holdings-Affiliated Companies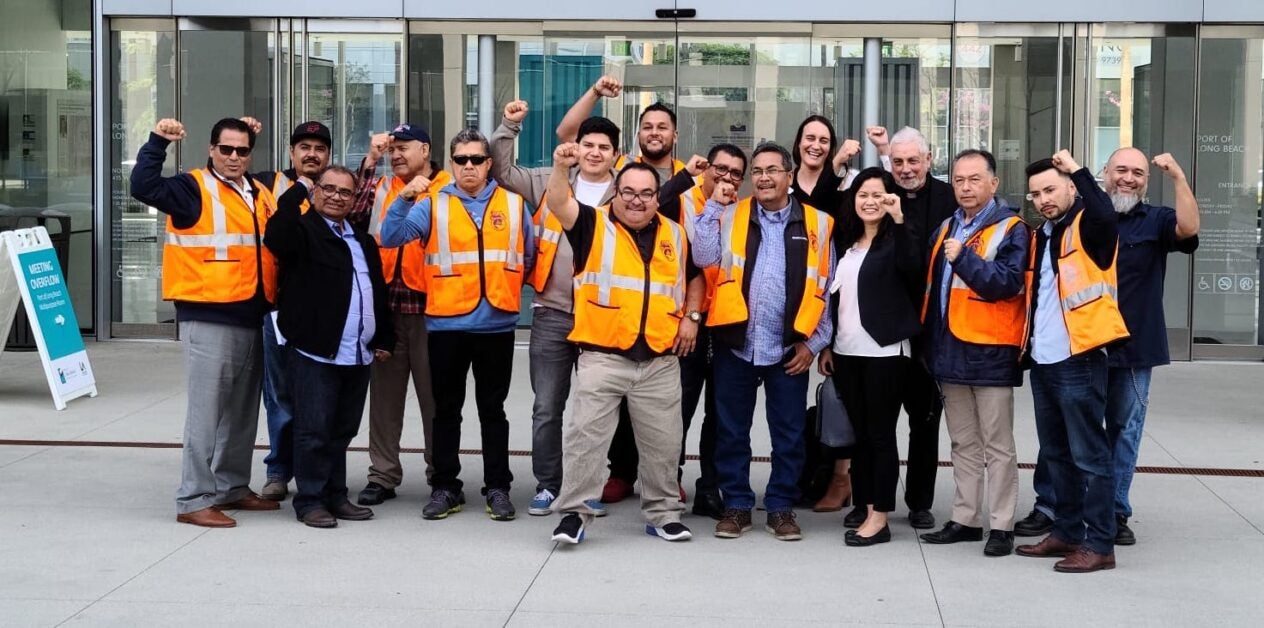 NLRB Also Finds ULH, Affiliated Companies, Are a Single Employer
Press Contact: Matt Lopez Phone: (805) 377-2950 Email: Matt.Lopez@berlinrosen.com
(LOS ANGELES) — In a landmark victory for the rights of truck drivers who work at the Ports of Los Angeles and Long Beach, Region 21 of the National Labor Relations Board issued a complaint Wednesday against Universal Logistics Holdings (ULH) affiliated business enterprises Universal Intermodal Services, Southern Counties Express, Roadrunner Intermodal Services and Universal Truckload.
In the course of its investigation against the ULH-affiliated companies, the NLRB found over 20 egregious violations of federal labor law. Notably, the Board alleges that ULH-affiliated Universal Intermodal Services (UIS) violated the law by terminating its workforce of unionized drivers shortly following their union election victory in December 2019. The company then unlawfully transferred work from the recently-unionized facility to drivers misclassified as independent contractors at ULH-affiliated Southern Counties Express, the complaint alleges.
The complaint, based on charges filed by the International Brotherhood of Teamsters Port Division, also named ULH and its affiliates operating at the Ports of Los Angeles and Long Beach as a single integrated business enterprise constituting a "single employer" and "alter egos" under the National Labor Relations Act (NLRA).
"The NLRB complaint makes clear that the Universal group of companies is one single entity that has been violating the law at the Ports of Los Angeles and Long Beach in a blatant effort to trample on employees' fundamental right to form a union, using its misclassification of drivers as independent contractors to further this goal," said Ron Herrera, Teamsters Port Division Director. "We cannot allow any corporation, no matter how big or powerful, to ignore the law, especially during a pandemic that has devastated essential workers and their communities."
The NLRB's complaint sets a trial date of June 14, 2021 on over 20 violations of federal labor law, including:
Suspending and terminating two lead union supporters in retaliation for their union activity shortly after they began exercising their rights to organize a union;
Terminating/laying off all Roadrunner company drivers in retaliation for and to prevent union activity;
Terminating/laying off all Universal Truckload company drivers in retaliation for and to prevent union activity;
Reducing drivers' hours and pay after their union election in retaliation for their Union activity and without bargaining with the Union;
Failing and refusing to bargain with the Union for a first contract and over a multitude of mandatory subjects of bargaining; and
A host of other hallmark violations of the NLRA, such as unlawful interrogation, soliciting grievances and promising benefits, discouraging employees from filing charges with the NLRB, refusing to provide the Union with information it is required to provide, and dealing directly with unit employees
"When we were fired days before Christmas for organizing our union, we knew that the only way to hold the company accountable was to speak out and make our voices heard," said port truck driver Rich Tatge. "I'm thrilled the NLRB has finally recognized that Universal broke the law by firing us – but I also know that there's so much more to be done to win justice for me and my co-workers. We need backpay, we need our basic rights, and we need our union respected. We'll keep fighting until we win."
Due to the severe nature of the violations and the irreparable harm without swift remedial action, the Teamsters have also requested that the NLRB petition the federal district court to order Universal to reinstate the wrongly discharged employees, re-establish the unionized bargaining unit, and bargain in good faith for a fair collective bargaining agreement. Through trial, Universal will also face liability for more than a year of backpay for over 60 former Universal Intermodal Services, Roadrunner, and Universal Truckload employees terminated in retaliation for their union activity.
NLRB Complaint Follows Years of Worker Misclassification, Exploitation
The unfair labor practices alleged in the NLRB complaint reflect an oft-used tactic by employers who are bad actors, including corporate shell games and restructuring, shutting down or relocating when employees begin organizing or ultimately form a union.
Employees at Universal began organizing in late 2019 and almost immediately the company fired multiple drivers in an attempt to intimidate other employees seeking to do the same. When employees at one location nonetheless voted to unionize, the employer took retaliatory and preemptive action shortly before Christmas and terminated the entire workforce — not only at that facility, but also numerous workers at two other locations where nascent union organizing efforts existed.
Universal's unlawful efforts grew even more insidious when the company transferred work from the unionized Universal employee company, Universal Intermodal Services, to a Universal company with misclassified drivers, Southern Counties Express (SCE), as part of its effort to rid itself of union supporters and avoid unionization.
Universal is using misclassification of its drivers at SCE—and as the Teamsters have alleged, in a recent related charge, of its drivers at ULH Container Connection — not only to actively interfere with employees' rights to organize, but also to avoid compliance with a host of other federal, state and local laws that provide rights to basic safety net protections to employees. The COVID-19 pandemic has illustrated the crisis of misclassified drivers being denied basic protections like sick leave, unemployment insurance, disability insurance, worker compensation, and health insurance because of their misclassification as independent contractors.
Earlier this week truck drivers working at another ULH-affiliated company, Container Connection, filed a Cal/OSHA complaint alleging a systemic failure to protect drivers and demands that Cal/OSHA conduct an immediate on-site investigation of their workplace and investigate Container Connection's lack of a COVID-19 Prevention Program. The complaint details a long list of COVID-19 hazards present throughout the course of the drivers' day-to-day work, during which they pick up shipping containers at the Port and transport them to the warehouses of such companies as Whirlpool and Ross. At virtually every point along the way, the complaint alleges, ULH/Container Connection fails to implement procedures to keep drivers safe from COVID-19.
Misclassification also cheats city, state and local government—and ultimately the public—of tax dollars, and puts high-road employers that comply with the law at a competitive disadvantage. Prior to its purchase by ULH, Container Connection also engaged in past shell games to avoid millions of dollars in wage theft judgments, eventually paying workers only after the Labor Commissioner's Office issued "Stop Work" orders demanding it stop doing work in California until it paid its workers.
Region 21 of the NLRB is also currently investigating unfair labor practice charges recently filed by the Teamsters against ULH/Container Connection, a repeat offender that has long misclassified its workers as independent contractors and is part of the same ULH single integrated enterprise as Universal Intermodal Services and Southern Counties Express.
« Previous
Next »