Tennessee Teamsters Build Toward Victory on RTW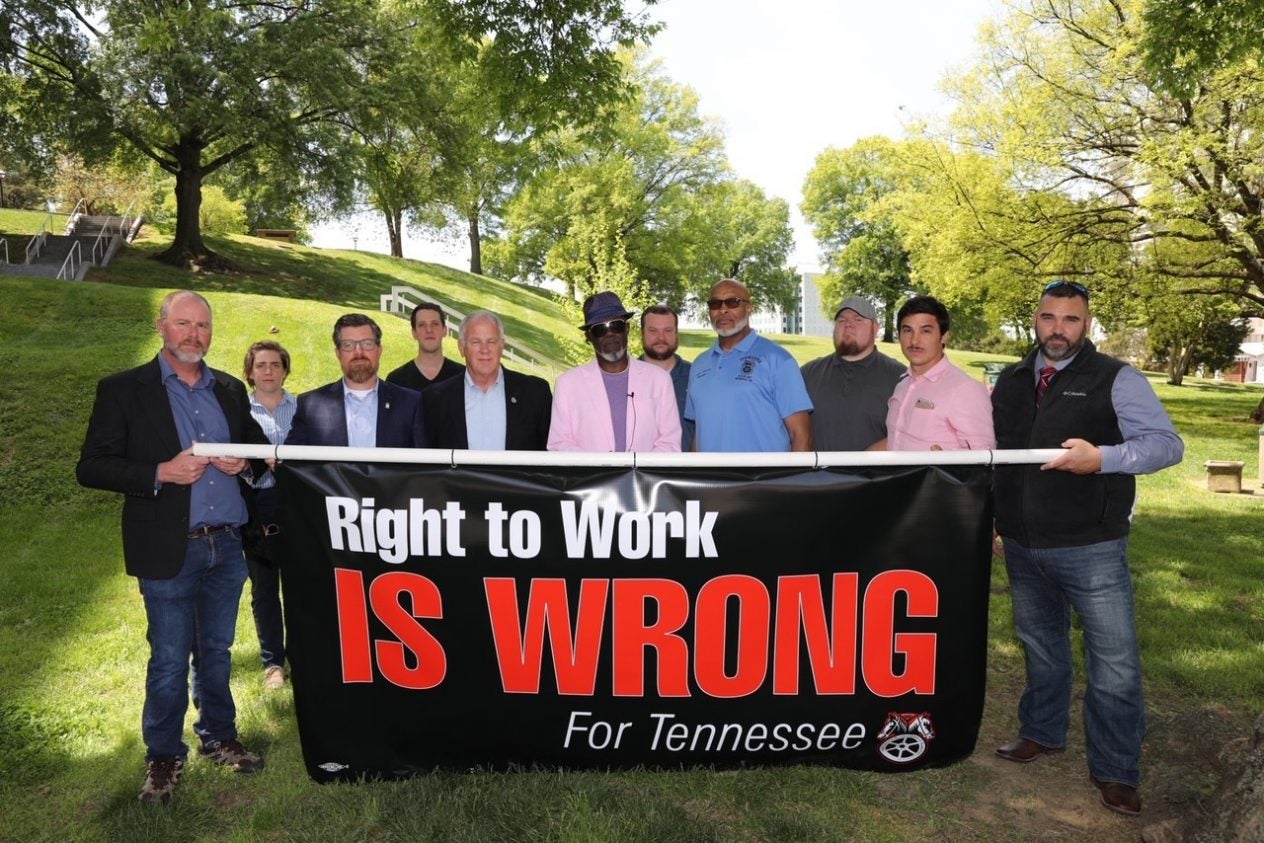 Teamsters in the "right to work" state of Tennessee had a fight on their hands this year. A bill was introduced in the legislature as part of a three-step process to enshrine so-called right to work (RTW) into the state constitution. If successful, this would make RTW much more difficult to ever repeal. Tennessee law dictates that constitutional amendments must be twice passed by the legislature in consecutive sessions, with a majority and two thirds majority respectively. After clearing those two hurdles, an amendment question is then placed on the ballot for voters to decide.
With overwhelming Republican majorities in both the state house and senate, the bill was easily passed with a majority in the 2020 session, with only one Republican legislator voting against the bill. So, the thought of convincing the eight needed Republican to change their vote in the 2021 session was highly unlikely.
But Tennessee Teamsters, along with other state union leaders and their members, didn't just accept that fate. They did what Teamsters do – they organized like crazy, joining with labor allies and reaching out to their local membership as well as lawmakers in Nashville. In the end, they came just two votes short of stopping the legislation in the House. Tennessee Teamsters were directly responsible for convincing the majority of those six Republican 'no' vote lawmakers to do the right thing. While not victorious this time around, the lessons learned and relationships that were built will benefit them in future legislative fights and as they prepare to fight RTW on the ballot in 2022.
"It was a great campaign – very aggressive," Local 667 President James Jones said. "It's an accomplishment and gives us a great starting point for next year. When it hits the ballot, we'll be ready to go."
Local 480 President Lendon Grisham stated, "There wasn't any surprise in the result – we're in Tennessee. But you know what? They know who we are now."
The knowledge gained from the effort cannot be understated. Using every tool in the toolbox, Teamster locals educated and engaged members in the campaign and broadened relationships with elected officials on both sides of the aisle, as well as their fellow union allies. Tennessee leaders said there is much to build upon.
"It was good seeing our stewards and members get engaged," Local 327 President Joe Bennett said.
That sort of engagement is what it will take to defeat RTW on the ballot next fall. The effort to use the state constitution to take away rights of workers is an extreme move being driven by out-of-state corporate interests. But the union proved that it could work in a bipartisan way and find common ground. That's important, especially in such a Republican stronghold like the Volunteer State. Members and lawmakers of all stripes need to be committed to supporting working families in the state.
"When this gets on the ballot, it is going to be about educating our Republican members," said Wes Trotterchaud, President of Local 519. "They are the majority."
« Previous
Next »